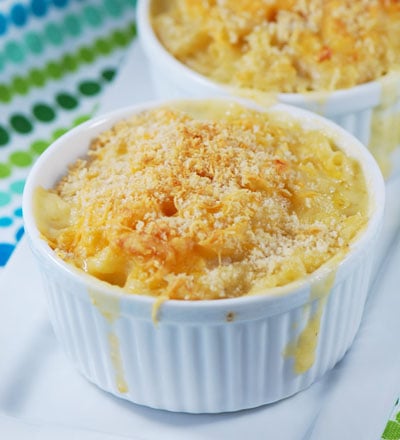 Ingredients from Cooking Light
1  teaspoon  olive oil
1  cup  finely chopped onion (about 1 medium)
2  tablespoons  all-purpose flour
1  garlic clove, minced
1 1/2  cups  1% low-fat milk
1  bay leaf
1/2  cup  (2 ounces) crumbled Gorgonzola cheese
3/4  cup  (3 ounces) grated Parmigiano-Reggiano cheese, divided
1/4  teaspoon  salt
2  cups  uncooked elbow macaroni (about 8 ounces)
Cooking spray
2/3  cup  (about 2 1/2 ounces) shredded part-skim mozzarella cheese
2/3  cup  panko (Japanese breadcrumbs)
1/8  teaspoon  freshly ground black pepper
Preparation
1. Heat oil in a medium saucepan over medium heat. Add onion to pan; cook 8 minutes or until tender, stirring occasionally. Add flour and garlic; cook 1 minute, stirring constantly. Stir in milk and bay leaf; bring to a boil. Cook 2 minutes or until thick, stirring constantly with a whisk. Add Gorgonzola, 1/2 cup Parmigiano-Reggiano, and salt; stir until cheeses melt. Discard bay leaf.
2. Preheat oven to 375°.
3. Cook pasta in boiling water 5 minutes or until almost tender, omitting salt and fat; drain well. Add pasta to cheese mixture, stirring well. Place about 1/2 cup pasta mixture into each of 6 (1-cup) ramekins coated with cooking spray. Sprinkle evenly with mozzarella. Top evenly with remaining pasta mixture. Combine remaining 1/4 cup Parmigiano-Reggiano and panko; sprinkle evenly over pasta mixture. Spray lightly with cooking spray; sprinkle with black pepper. Bake at 375° for 25 minutes or until heated.
Nutritional Information
Calories:
321 (28% from fat)
Fat:
9.9g (sat 5.6g,mono 2.3g,poly 0.9g)
—————————————————————————–
I'm going to start off by saying that I am a Velveeta type girl. When it comes to macaroni and cheese I like mine creamy. I've started to go away from the box stuff, because of all the sodium, and that powdered cheese just seems nasty to me. Who else just loves Velveeta? My favorite store bought mac and cheese is from Trader Joe's. You can find it in the frozen section. It is the creamiest macaroni and cheese that I have ever had and it is so good. I pick up 2 of those little dinners (for me it's enough for 4 little meals. The SO doesn't like mac and cheese, can you believe that? So, whenever I'm craving it I just make enough for myself.
This recipe was just ok. It wasn't creamy like I like it. I do however like the panko bread crumbs on top. I don't like Gorgonzola cheese so I just threw whatever types of cheese that I liked in it.
Tomorrow starts my diet. I'm going to SERIOUSLY start counting points again.  I'll be making my favorite diet meals this week and a new one with Salmon. We bought a ton of frozen fruit at Sam's Club to make smoothies with. I want to pick up some Whey Protein Powder sometime. Just a scoop has 20 grams of protein in it, and I want to mix that in with my smoothies and have that for breakfast in the mornings.