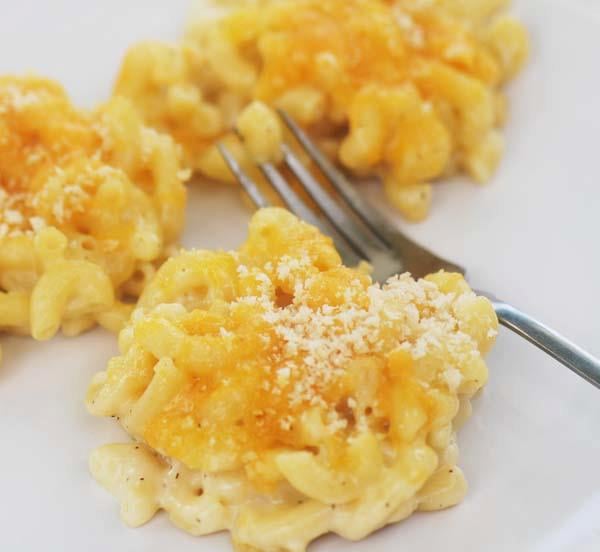 Normally, regular mac and cheese takes like 30-45 minutes to bake in the oven once you've combined everything together in the casserole dish.  Since, I cooked these in a muffin tin, they only took 12 minutes to bake. I think that's my most favorite part about this recipe. You can take the leftovers once they've cooled and freeze them to use later. I just halved my favorite recipe for mac and cheese, which happens to be one of Ina Garten's recipes. Instead of putting the mac and cheese in a regular casserole dish, use a muffin tin instead.
These really didn't take they're cupcake form until after the mac and cheese cupcakes cooled off a bit. I was excited to eat them and took them out of the pan right away, so that's why they look like little blobs of noodles and cheese.
Last night I canned 6 more jars of tomatoes and updated my post on canning tomatoes a couple of posts down. We now have 8 freezer bags of marinara sauce, 4 very large jars of salsa, and 6 jaars of whole tomatoes. There's more coming but on Wednesday night it's supposed to get down to 30 degrees and I'll have to cover to them. We have a ton of apples growing on our tree and I plan on canning apple sauce and apple pie filling with the apples.
Ingredients from Ina Garten
Kosher salt
Vegetable oil
1 pound elbow macaroni or cavatappi
1 quart milk
8 tablespoons (1 stick) unsalted butter, divided
1/2 cup all-purpose flour
12 ounces Gruyere, grated (4 cups)
8 ounces extra-sharp Cheddar, grated (2 cups)
1/2 teaspoon freshly ground black pepper
1/2 teaspoon ground nutmeg
3/4 pound fresh tomatoes (4 small)
1 1/2 cups fresh white bread crumbs (5 slices, crusts removed)
Directions
Preheat the oven to 375 degrees F.
Drizzle oil into a large pot of boiling salted water. Add the macaroni and cook according to the directions on the package, 6 to 8 minutes. Drain well.
Meanwhile, heat the milk in a small saucepan, but don't boil it. Melt 6 tablespoons of butter in a large (4-quart) pot and add the flour. Cook over low heat for 2 minutes, stirring with a whisk. While whisking, add the hot milk and cook for a minute or two more, until thickened and smooth. Off the heat, add the Gruyere, Cheddar, 1 tablespoon salt, pepper, and nutmeg. Add the cooked macaroni and stir well. Pour into a 3-quart baking dish.
Slice the tomatoes and arrange on top. Melt the remaining 2 tablespoons of butter, combine them with the fresh bread crumbs, and sprinkle on the top. Bake for 30 to 35 minutes, or until the sauce is bubbly and the macaroni is browned on the top.