I've decided to start making some of my recipes I've previously had on my blog that were full of fat, lighter. Yay! Better than Sex cake was really easy to make lighter. The only thing I had trouble with was the toffee candy on top. There's no way to make that lighter, but is there? Ever heard of Skinny Cow candy? It is heavenly. They have different flavored candy bars and chocolate covered caramel, I believe their called turtles for only 110 calories. They're so good too. They had this one candy bar that almost reminded me of a Nutter butter. I was walking down the candy aisle trying to find something to put on top of the cake, and saw these. It's been awhile since I've had them and I thought they would make a great topping for the cake and they did. Thank goodness.
The one thing I didn't like about the full fat better than sex cake, was that it was really sweet. This version cuts back on the sweetness. Is it better than sex? That is up for you to decide.
I tried making the cool whip frosting orange for Halloween. It turned out more like a peach color.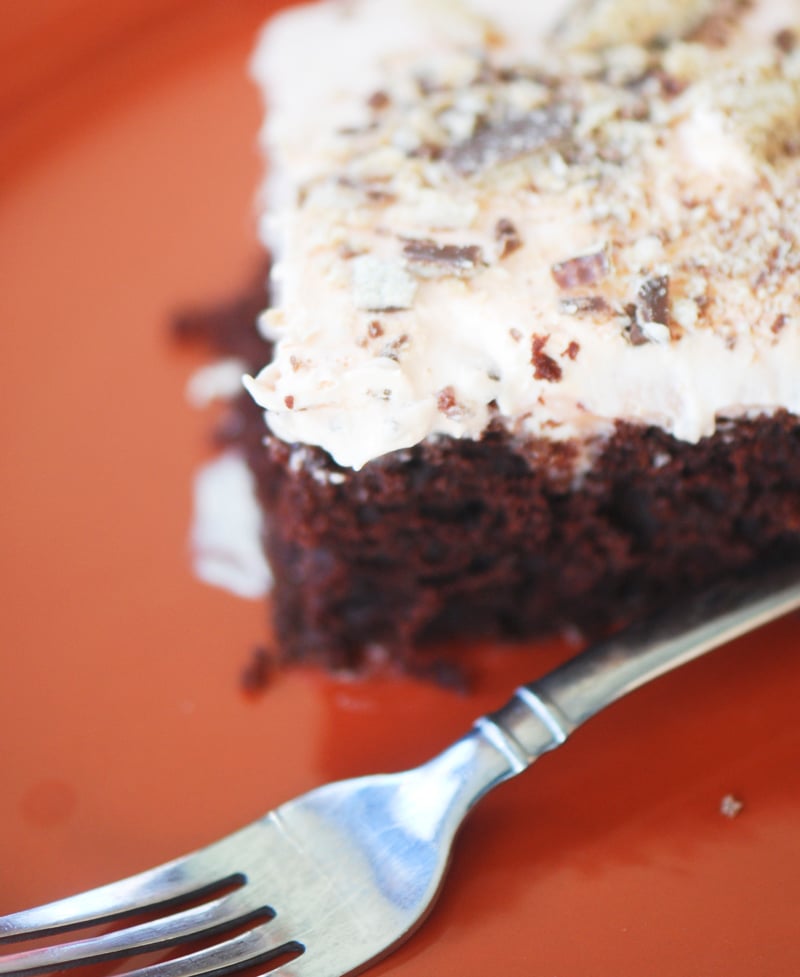 Servings: 15
Points Plus: 4
Calories 131; Fat 4.87g; Carbohydrate 20.05g;  Fiber 0.9g; Protein 2.28g

Better than Sex Cake
Print recipe
Ingredients
10 oz Devil's Food Cake Mix
1 can diet soda (any kind)
1 package sugar free instant cheese cake pudding
1 container cool whip light
2 cups milk (1% or fat free)
4 bars Skinny Cow (Heavenly Crisp Bars)
Directions
Step 1
Make cake according to directions on the back of the box. Use the diet soda in replace of the other ingredients.

Step 2
While cake is cooling, make the cheese cake pudding.
Step 3
After the cake has cooled, poke holes in the cake, with the back of a wooden spoon.
Step 4
Pour the pudding over the cake so the pudding gets into the holes.
Step 5
Spread the whole container of cool whip over the cake.
Step 6
Cut the candy bars into bite size pieces and sprinkle them over the cake. Serve cold.