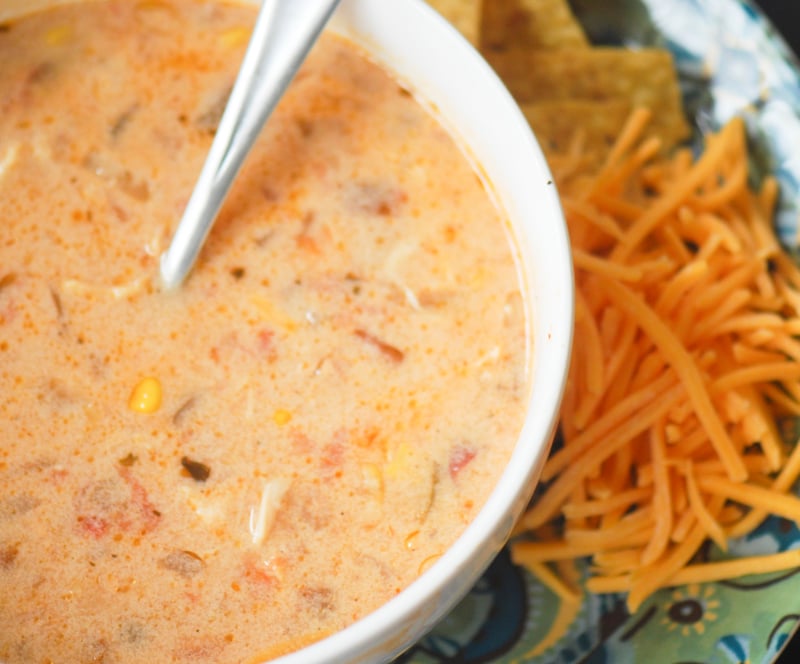 I'm not a country western fan, but this soup might change my mind. This is Trisha Yearwood's version of chicken tortilla soup. She had this on her show the weekend before Halloween and it looked really good, so I thought I'd give a try. All of her recipes that she makes looks really good, and she also sometimes will sing on her show. She has a really nice voice and she can cook.
This recipe might be my new go to recipe for chicken tortilla soup. The recipe makes a TON, so if you're only making the soup for 2 people I'd half the recipe. I'm thinking about freezing the rest of it because there's so much. One of the reasons I like this recipe is because it doesn't call for a whole brick of velveeta cheese. It's nice and creamy without that processed cheese. To make it lighter I cut back on the half-and-half and used 1% milk. You can also cut back on the butter a bit and use light butter. I'd make make this recipe again.
Servings: 10 (1 cup)
points plus: 8 (used 1% milk to figure nutrition info)
Calories 328, Fat: 10.3g, Carbs: 29.6g, Fiber 6g, Protein: 30g

Trisha Yearwood's Chicken Tortilla Soup
Ingredients
•3 tablespoons butter
•1 teaspoon garlic
•1 medium onion (chopped)
•2 tablespoons flour
•3 14oz cans chicken broth
•4 cups half-and-half (or low fat millk)
•1 cup prepared salsa
•4 chicken breasts (boneless skinless (already cooked))
•1 15oz can kidney beans
•1 15oz can black beans
•1 15oz can corn
•2 teaspoons ground cumin
•1 package fajita seasoning
•1 15oz can cream of chicken soup
Instructions
Step 1
Melt the butter in a large pot over medium heat. Add the garlic and the onion and saute until softened, 5 minutes. Add the flour and stir well, cooking for 1 minute more. Add the broth and the half-and-half. Stir in the cream of chicken soup, salsa, chicken, beans, corn, cumin and fajita seasoning. Continue to simmer over low heat for 15 minutes.
Step 2
Crumble the tortilla chips into individual bowls and top with a ladle of soup. Sprinkle each serving with cheese and add a dollop of sour cream.
If you like Trisha Year Wood Recipes try the following….
Or her Peanut Butter Balls!