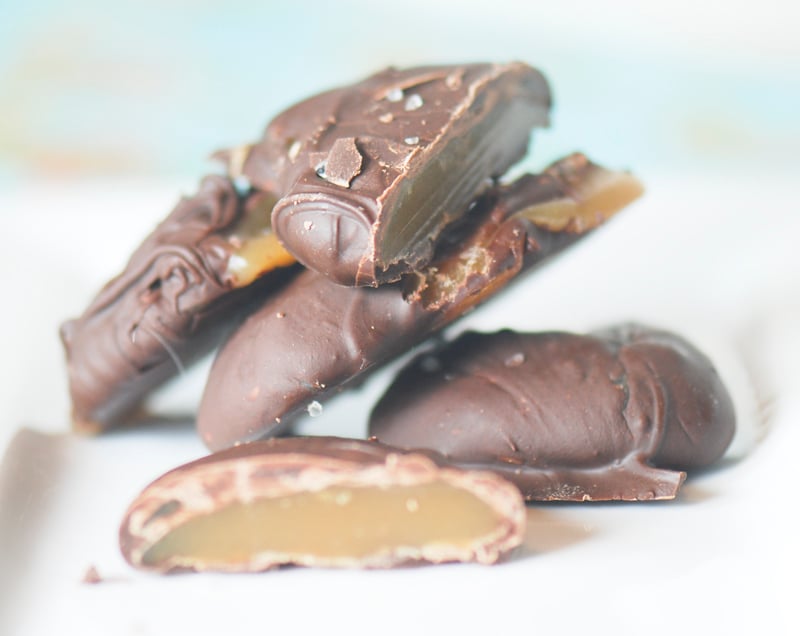 This last weekend, I made caramels. I was mad because I couldn't blog about it right away, but now I FINALLY can. Caramels were always difficult for me to make. The pot would end up getting burnt on the bottom or the caramel wouldn't get to it's soft stage. I think it had something to do with the thermometer. The one thermometer I had tried previously wasn't digital, and the sauce would take forever to get to a certain temperature. The digital thermometer worked, and the caramel turned out perfectly.
You will definitely like these caramels. They are addicting. I plan on making some more for Christmas gifts this year. I went to Costco for the first time ever and they had a container of these exact same things there. Luckily we don't have a membership there yet, cause I would have bought 5 containers of them.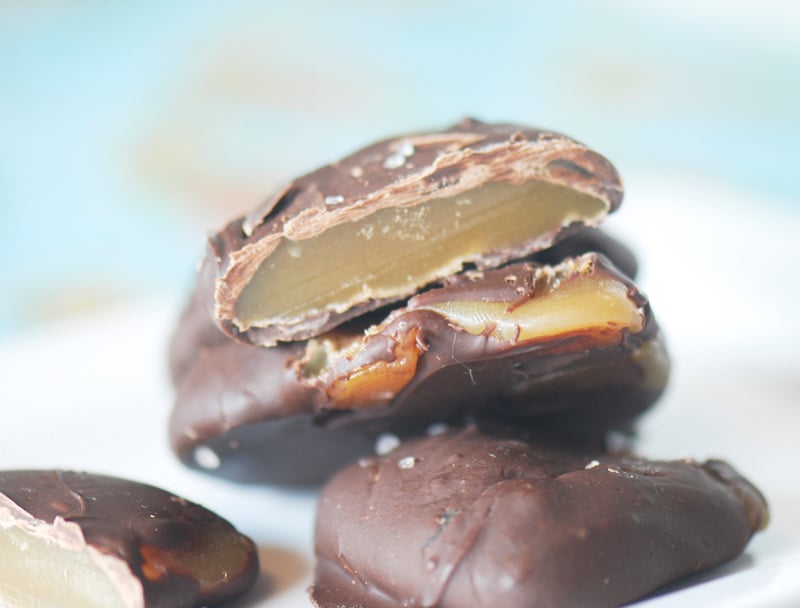 Recipe from DoughMesstic
Dark Chocolate Sea Salt Caramels
Print recipe
Ingredients
14 tablespoons butter
3/4 cups light brown sugar
1/2 cup sugar
2 teaspoons sea salt
1/4 cup heavy cream
2 teaspoons bourban (I used vanilla extract)
2 cups dark chocolate (melted)
1 tablespoon seal salt
Directions
Step 1
In a heavy bottomed pot, such as enameled cast iron, combine all caramel topping ingredients save for the bourbon. Bring to a boil and stir until sugars are dissolved and the mixture is well combined. Using a candy thermometer, watch for the goal of about 230 degrees. Without a thermometer, watch for a rich caramel color – about 5-10 minutes. Remove from heat and stir in the bourbon. Allow to cool for a couple of minutes, then pour into an 8×8 silicone pan or a regular pan lined with parchment. Refrigerate for several hours. Once chilled, cut into small squares.
Step 2
To make chocolate coating, melt the chips in the microwave in 30 second increments. After the first 30 seconds, add in the shortening, and reheat another 30 seconds. Be sure to stir after each heating. Coating is ready when the chocolate is smooth and liquid.
Step 3
Dip the cold caramel squares in the chocolate, and shake a bit with a fork, removing extra chocolate. Place on parchment paper to dry, after a light sprinkle of sea salt.