I've been sick lately and haven't been in the mood to cook anything until tonight. Being sick around Christmas time sucks. I was supposed to go to my cousin's in Grand Forks, ND but I didn't, because I didn't want to get my whole entire family sick. They were having prime rib and my Mom said that it was fantastic when she got back on Christmas day. Hopefully getting sick around Christmas time doesn't become an annual thing…..
This has been one of the best recipes on pinterest I've found in quite a long time. I think I look at pinterest too much during the day, because I've noticed that a lot of recipes get pinned over and over again. Every once and awhile, I'll find something good I want to try though.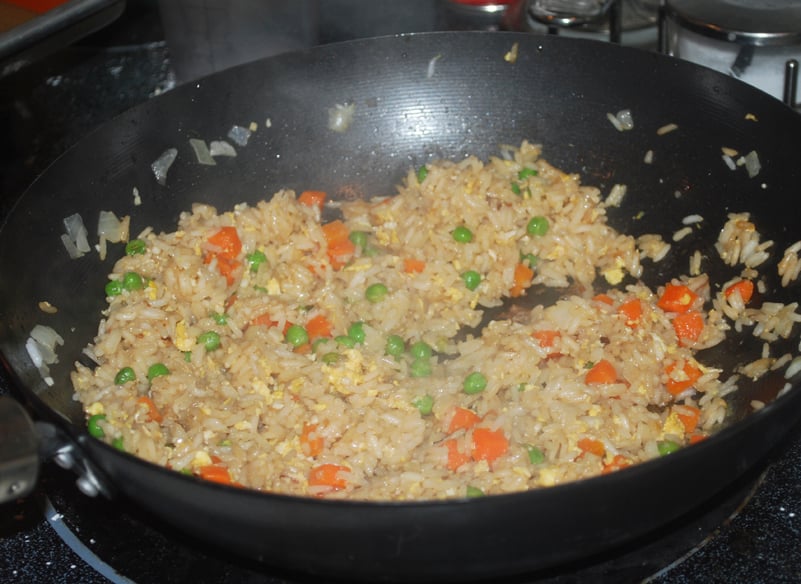 The rice reminded me of the rice they served at the Habachi restaurant I went to at the beginning of this month. The only thing that was missing was the butter, so I added a tablespoon. I swear, I think when I saw them making it, they added a whole stick. The sweat and sour chicken was great too. You could totally cheat with this recipe and buy some of those chicken bites in the store that are already breaded and just dump the sauce over that. I will be making this recipe again. The next time you feel like going out for Chinese food stay at home and make it instead. You probably already have a lot of the ingredients on hand. Having frozen peas, carrots, and onions in the freezer always helps too! Here is the recipe. The recipe for the fried rice can be found at the link below too.
Recipe from Life as a Loft House
Baked Sweet and Sour Chicken
Print recipe
Ingredients
3-4 bonless chicken breasts
salt and pepper
1 cup corn starch
2 eggs beaten
1/4 cup canola oil
3/4 cups sugar
1/2 cup distilled white vinegar
1 tablespoon soy sauce
1 tsp garlic salt
4 tablespoons ketchup
Directions
Step 1
Start by preheating your oven to 325 degrees.
Step 2
Rinse your chicken breasts in water and then cut into cubes. Season with salt and pepper to taste. Dip chicken into the cornstarch to coat then dip into the eggs. Heat your 1/4 cup oil in a large skillet and cook your chicken until browned but not cooked through.
Step 3
Place the chicken in a 9x13 greased baking dish. Mix all of your sweet and sour sauce ingredients in a bowl with a whisk and then pour evenly over the chicken. Bake for one hour and during the baking process you will need to turn the chicken every 15 minutes.