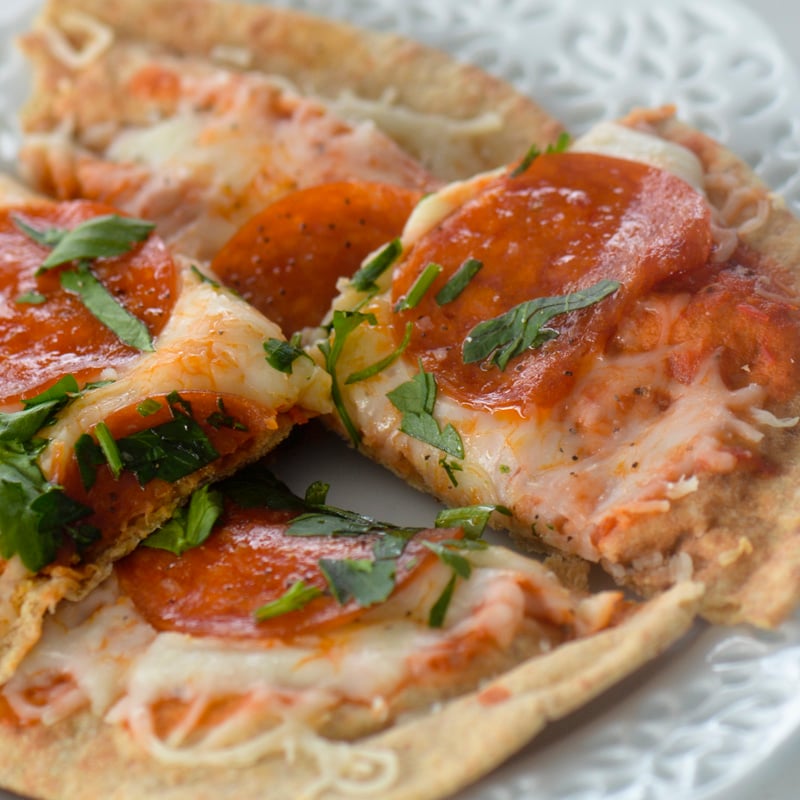 If you haven't noticed lately, I've been trying to post more healthy recipes. I've been watching my google analytics a lot lately, and that is what you people seem to like the most that visit my site. So, more healthy recipes it is! Don't be surprised if I post a really fattening recipe
These lighter pepperoni pizzas are only 7 points plus a piece for the whole pizza if using turkey pepperoni slices. Pepperoni is fattening in general and hard to not avoid all the fat and calories. I really like using pitas for a pizza crust now. You can do a lot with them. Let your pizza creativity run wild. The pita brand I like is called Josephs' and one pita has 60 calories and less than 1 gram of fat per pita.
Ingredients
1 Josephs' Pita Bread 60 calorie
1 tablespoon of pizza sauce
2 tablespoons of reduced fat mozzarella cheese
6 slices of Turkey Pepperoni
Optional:
Italian Flat Leaf Parsley
Parmesan Cheese
Directions:
Preheat oven to 400 degrees. Place 1 pita bread on a sheet pan and bake in the oven for 5 minutes. Take the pita out and top it with the sauce, cheese, and pepperoni. Bake in oven for 10 minutes or until the cheese is all melted. Garnish with parsley or parmesan cheese.
Serving Size: 1 pizza
Calories: 262
Carbs: 14.07
fat: 13.28
Fiber: 5.5
Protein: 25.76