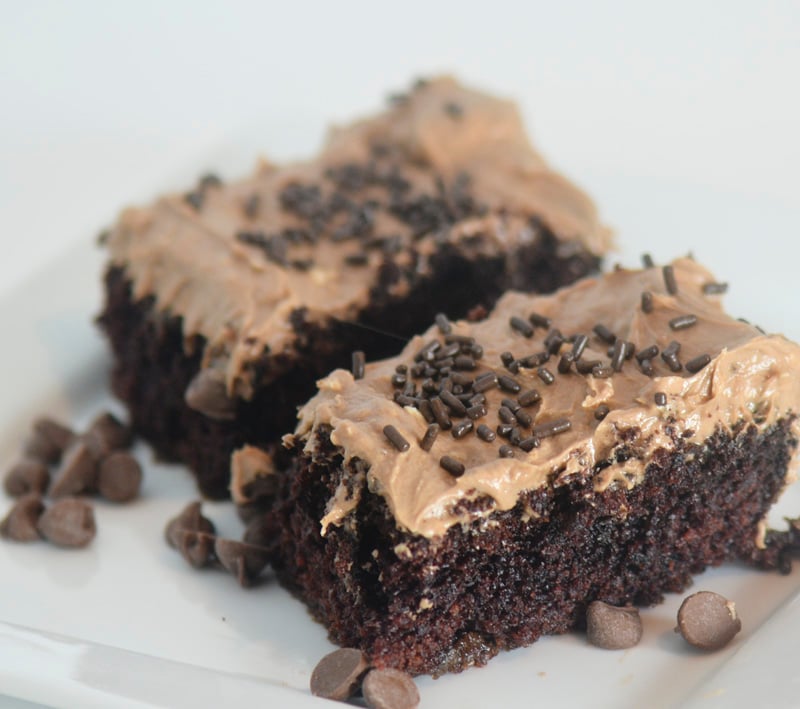 This chocolate cake calls for a cup of coffee. I have tried adding coffee to recipes, but it just doesn't do anything to it. I know that coffee is supposed to help enhance the flavor of chocolate but it doesn't. I've also tried many times to like the taste of coffee and recently I've discovered that I like mochas. That is probably because they're loaded with really fattening things like heavy cream and chocolate inside. A good thing I'm not really addicted to that. My husband doesn't like coffee either.
Instead of coffee I used just a cup of water. The original recipe for the cake didn't have a recipe for frosting so I ended up making a different one and omg it was so good. This cake didn't last very long in our house, just ask my husband. He pretty much ate the whole entire thing.
Ingredients
1 3/4 c all purpose flour
2 c sugar
3/4 c cocoa, unsweetened
1 1/2 tsp baking soda
3/4 tsp salt
2 large
2 eggs
1 c buttermilk
1/2 c butter, melted
1 Tbsp vanilla extract
1 c hot coffee
Directions
1. Preheat oven to 350. Grease and flour 2-9 inch baking pans or line with parchment paper circles and set aside.
2. In a large bowl of a standing mixer stir together flour, sugar, cocoa, baking soda and salt.
3. Add eggs, buttermilk, melted butter and vanilla extract and beat until smooth about 3 minutes.
4. Remove bowl from mixer and stir in hot coffee with a rubber spatula. Batter will be very runny.
5. Pour batter evenly between the 2 pans and bake on the middle rack of oven for 35 minutes or until toothpick inserted in center comes out clean with just a few moist crumbs attached.
6. Allow to cool 15 minutes in pans then run a butter knife around the edges of each cake. Place a wire cooling rack over top of each pan.
7. Wearing oven mitts use both hands to hold the racks in place while flipping the cakes over onto the racks.
8. Set the racks down and gently thump on the bottom of the pans until the cakes release. Cool completely before handling or frosting.