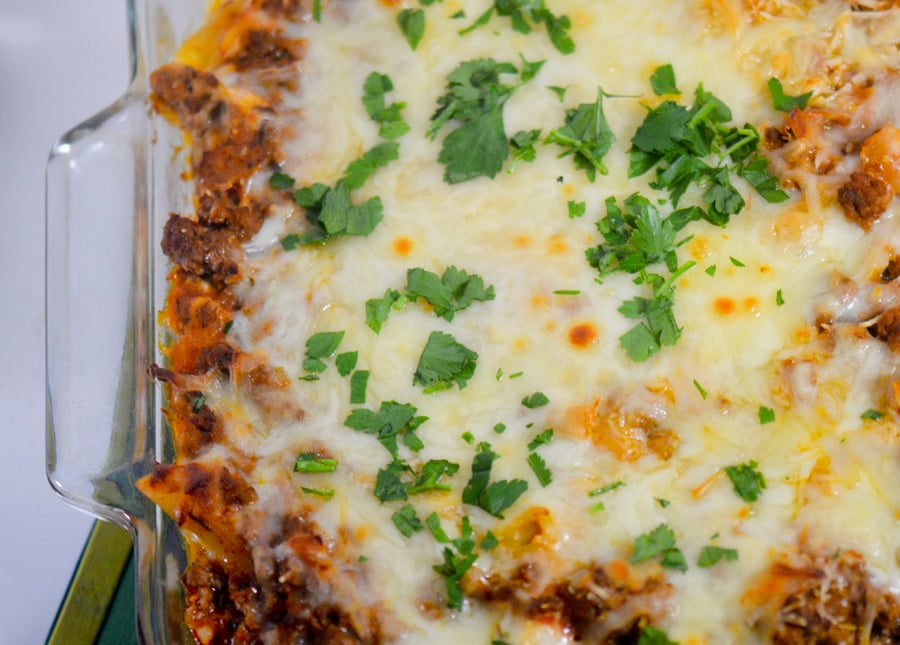 Ohhhhhhhhhhhhhhhhhhhhh my god this was sooooooooooooo good. I've already made two recipes for the Pioneer Woman's episode that was on Saturday and they were both fantastic! Many of my friends are now making Chocolate lava cakes for Valentine's Day now.
I changed a few things. I like beefier meat sauce so I left out a 15 ounce can of whole tomatoes and used a 15 oz can of whole tomatoes and 1  15 ounce can of tomato sauce. Ground beef and sausage together is a genius combination in a meat sauce. If you're looking to make this a low fat version use lean ground turkey sausage and lean ground beef as a combo.  My husband is lactose intolerant , so I made half of the casserole without cheese. I didn't  half the cheese portion of the recipe  on my half, and I think that is one of the reasons it was so good. Who doesn't like extra cheese?
I really hate it the next day when you have leftovers how have of the liquid from the sauce has been absorbed by the noodles. That makes the noodles extra soggy to me. Yuck, with how meaty the sauce is I don't believe I'll have that problem with my leftovers tomorrow.
Ingredients
2 Tablespoons

Olive Oil

3 cloves

Garlic, Minced

1 whole

Large Onion, Diced

1 pound

Italian Sausage

1 pound

Ground Beef

1 can

(28 Ounce Can) Whole Tomatoes, With Juice

2 cans

(14.5 Ounce) Tomato Sauce Or Marinara Sauce

2 teaspoons

Italian Seasoning

1/2 teaspoon

Red Pepper Flakes

Salt And Pepper, to taste

16 ounces, weight

Ziti Or Mostaciolli, Cooked Until Not Quite Al Dente

1 tub

(15 Ounce) Whole Milk Ricotta Cheese

1-1/2 pound

Mozzarella Cheese, Grated

1/2 cup

Grated Parmesan Cheese

1 whole

Egg

Fresh Minced Parsley
Preparation Instructions
Heat olive oil in a pot over medium heat. Add onions and garlic and saute for several minutes, or until starting to soften. Add Italian sausage and ground beef and cook until browned. Drain off fat, leaving a bit behind for flavor and moisture.
Add tomatoes, tomato juice, salt, pepper, Italian seasoning, and red pepper flakes. Stir and simmer for 25 to 30 minutes. After that time, remove 3 to 4 cups of the sauce to a different bowl to cool down.
Preheat oven to 375 degrees.
In a separate bowl, mix together the ricotta cheese, 2 cups of the grated mozzarella, Parmesan, egg, and salt and pepper. Stir together just a couple of times (do not mix completely).
Drain the pasta and rinse under cool water to stop the cooking and cool it down. Pour it into the bowl with the cheese mixture and toss to slightly combine (there should still be large lumps.) Add the cooled meat sauce and toss to combine.
Add half the coated pasta to a large casserole dish or lasagna dish. Spoon half of the remaining sauce over the top, then top with half the remaining mozzarella cheese. Repeat with another layer of the coated pasta, the sauce, and the mozzarella.
Bake for 20 minutes, or until bubbling. Remove from oven and let stand 5 minutes before serving.