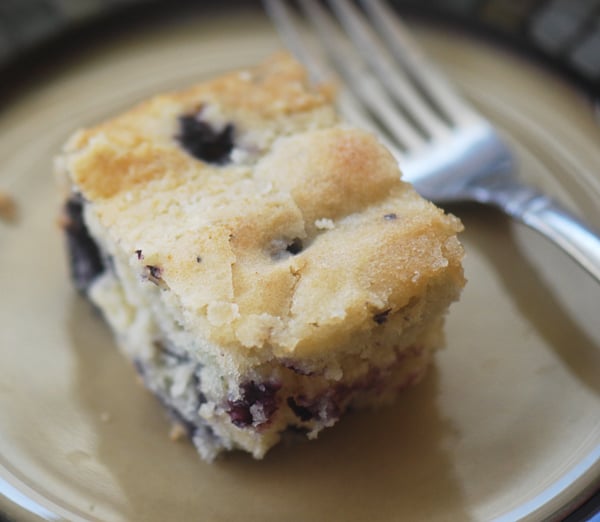 Halloween is coming up and I haven't been in the mood to make any Halloweenish type food. I'm not really in the mood to dress up either. I'm against any Halloween costume that makes girls look like their sluts. Halloween isn't a slutty Holiday, it's a SCARY Holiday.   Witches, bats, goblins, vampires, etc. It's sad how all scary Halloween costumes have turned into scary/slutty Halloween costumes these days. I guess you can blame the movie Mean Girls for that?
I've been on the search for Halloween treats too and haven't found any thing cool to make. Last year I thought those witch finger cookies were pretty cool and I made those.  This year all I can come up with is blueberry buttermilk cake. The scary part about this was trying to figure out the measuring.
The first time, I made this, I thought I was a math genius and knew what 7/8 cup was. The batter wound up being REALLY thick and the cake itself lacked in sweetness. I screwed up that's for sure. I had to google what 7/8 cup was and it ends up being that 1 cup is 8 ounces, so 7/8 cup is 7 ounces. Most liquid measuring cups these days have an oz scale on them somewhere so that was relief.
The second time this cake came out way better. It was moist and flavorful. Never again, will I trust my math skills. I should have known better, since Math was never my favorite class in high school and I was never good at it.If you're looking for something different with blueberries in it, other than blueberry muffins… you should try this cake. It was very moist and flavorful, and the crunchy sugar top was very good.
Ingredients from Alexandra's Kitchen
Serves 6-8
½ cup unsalted butter, room temperature
2 tsp. lemon zest or more — zest from 1 large lemon
7/8 cup + 1 T. sugar
1 egg, room temperature
1 tsp. vanilla
2 cups flour
2 tsp. baking powder
1 tsp. kosher salt
2 cups fresh blueberries
½ cup buttermilk
1. Preheat the oven to 350ºF. Cream butter with lemon zest and 7/8 cup of the sugar until light and fluffy.
2. Add the egg and vanilla and beat until combined. Meanwhile, toss the blueberries with ¼ cup of flour, then whisk together the remaining flour, baking powder and salt.
3. Add the flour mixture to the batter a little at a time, alternating with the buttermilk. Fold in the blueberries.
4. Grease a 9-inch square baking pan (or something similar) with butter or coat with non-stick spray. Spread batter into pan. Sprinkle batter with remaining tablespoon of sugar. Bake for 35 minutes. Check with a toothpick for doneness. If necessary, return pan to oven for a couple of more minutes. (Note: Baking for as long as 10 minutes more might be necessary.) Let cool at least 15 minutes before serving.