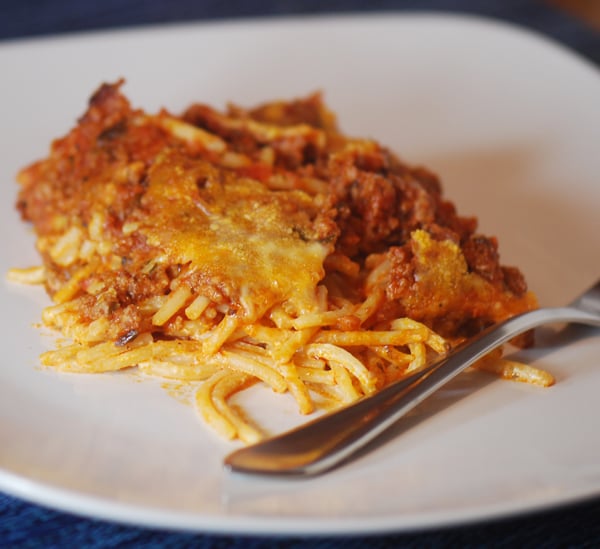 This post has been updated on 7/9/14. Made this again and had a hard time getting the cream cheese and noodles to stir together properly. Once I got it all together and into the casserole dish it was all good. I wanted to retake the picture because the one above was driving me crazy. Needed an update that is for sure.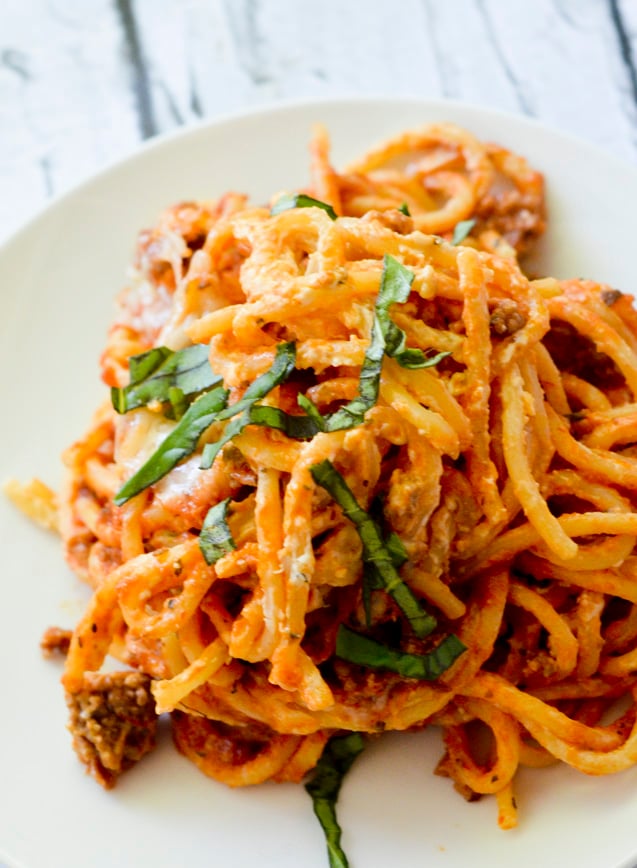 The husband and I both really liked this dish and it's been awhile since I've found a really good casserole recipe to keep. I liked how creamy the noodles were and I used my stand by jarred roasted garlic tomato sauce for this. That sauce is the bomb and I suggest if you live by a Trader Joe's to go and get some.
I think it's kind of hard to make a pasta dish low in fat. I had a hard time trying to keep that mac and cheese recipe around 400 calories per serving. This is another pasta dish where it's around 400 calories.  I guess you could use those crappy tofu shirtiaki noodles  that Hungry Girl is always raving about, but why? Real pasta is so much better to use, than noodles. There's spaghetti squash which I haven't tried yet and I'm hoping to here some day. Anyways… if you can think of ways to make this dish even lower in calories by all means go for it.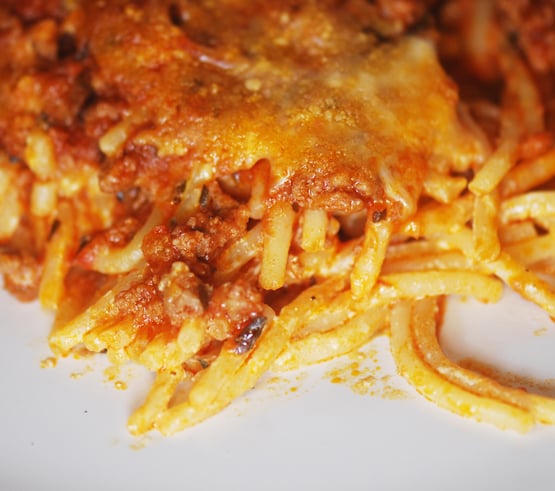 ingredients from Plain Chicken
Print
Baked Cream Cheese Spaghetti Casserole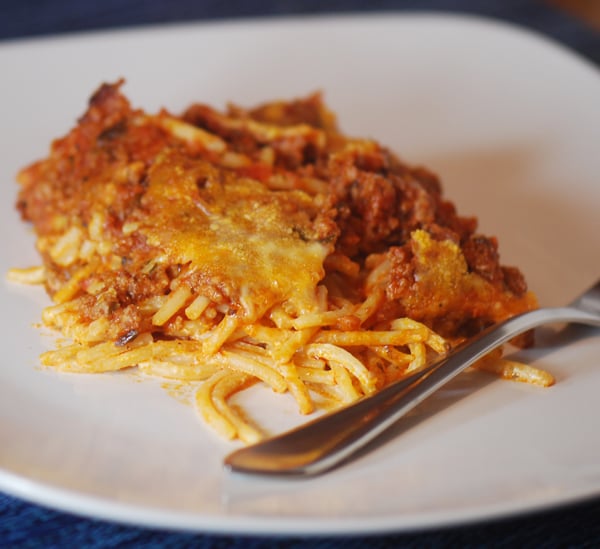 Ingredients
12 oz spaghetti
1 (28 ounce) jars prepared spaghetti sauce
1 lb lean ground beef lean ground turkey
1 tsp Italian seasoning
1 clove garlic, minced
8 ounces cream cheese fat free cream cheese
1/2 cup parmesan cheese, grated
Instructions
Preheat oven to 350 F degrees.
In a skillet, brown the ground beef until cooked through; drain fat and stir in spaghetti sauce. Set aside.
Cook spaghetti according to directions on packet. Drain and place cooked spaghetti in bowl. Add cream cheese, Italian Seasoning and minced garlic. Stir until cream cheese is melted and the spaghetti is thoroughly coated.
Lightly grease a 9×13″ pan. Spread a small amount of meat sauce in the bottom of the dish. Put spaghetti on top of sauce and top with remaining meat sauce. Sprinkle parmesan cheese on top.
Bake for 30 minutes, until bubbly.
Notes
Points Plus: 10
Smart Points: 11
Nutrition
Serving Size:

8

Calories:

405

Sugar:

3.79

Fat:

13.12

Saturated Fat:

4.17

Carbohydrates:

44.07

Fiber:

2.7

Protein:

27.89