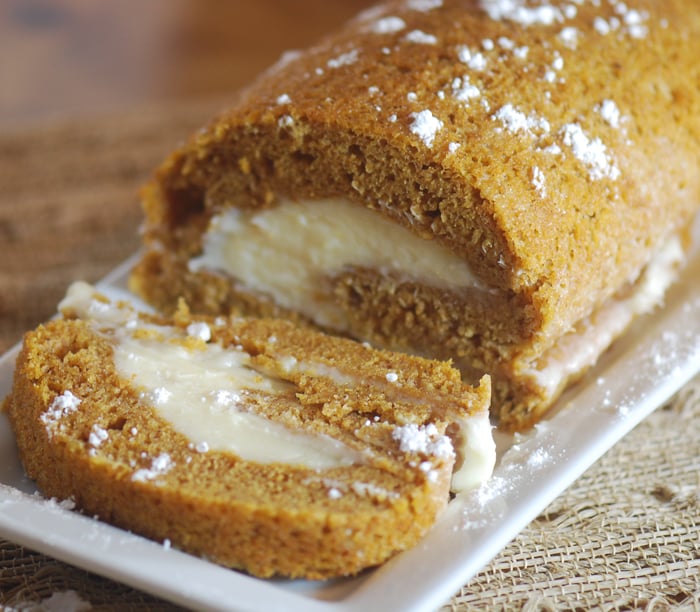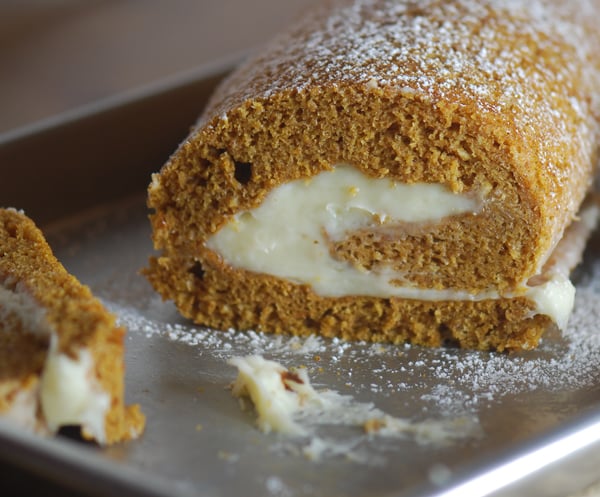 It took me 3 times to get a pumpkin cake roll right. I don't remember the first time very well. Just remembered that it didn't turn out. 2nd time, it worked, but my pumpkin roll looked like the Bermuda triangle and it cracked on the top. The third time was a lot better because I had read some tips over at My Baking Addiction for making the perfect pumkin roll.
The second time, I tried rolling the cake when it was cooled down. Maybe that's why it ended up cracking? On My Baking Addiction, one of their tips was to roll the cake when it was warm. This is why the parchment paper is a must, under making these types of cakes. You can just take it out of the pan right away. Also, make sure to discard the parchment paper when you put the cake on the towel to roll up. The towel helps you to roll the pumpkin cake really tight to get those pretty swirls. My swirls don't look as pretty, but I'm satisfied and glad that the cake didn't end up cracking.   3 times is always a charm.
When you're tired of pumpkin pie, impress your guests at Thanksgiving this year, with one of these pretty rolled up cakes. The cake only takes 15 minutes to bake in the oven and you can make the cream cheese frosting while waiting for the cake to cook.  I don't have to cook a big Thanksgiving dinner this year. I hope to one year though because I think it would be fun. My only job is to bring the Strawberry Pretzel Salad.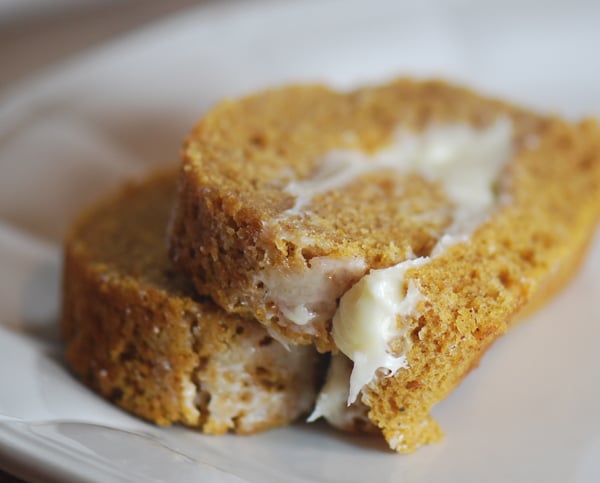 Pumpkin Roll from My Baking Addiction (link above)
Yield: 10 servings
Prep Time: 25 minutes
Cook Time: 15 minutes
Ingredients:
For the Cake
1/4 cup powdered sugar (to sprinkle on towel)
3/4 cup all-purpose flour
1/2 teaspoon baking powder
1/2 teaspoon baking soda
1 tablespoon pumpkin pie spice
1/4 teaspoon salt
3 large eggs
1 teaspoon pure vanilla extract
1 cup granulated sugar
2/3 cup pure pumpkin puree (Libby's)
For the Filling
1 (8 ounce) package cream cheese, softened
1 cup powdered sugar, sifted
6 tablespoons butter, softened
1 teaspoon vanilla extract
1/4 cup powdered sugar (optional)
Directions:
1. Preheat oven to 375 degrees F. Line a 15 x 10-inch jelly-roll pan with parchment paper and spray with non-stick cooking spray. Sprinkle a clean tea towel with powdered sugar. Set pan and towel aside.
2. In a medium bowl, combine flour, baking powder, baking soda, pumpkin pie spice and salt. In a large bowl with an electric mixer, beat eggs, vanilla and sugar until thick. Add in pumpkin and mix to combine. Stir in flour mixture. Spread batter evenly into prepared pan.
3. Bake for 13 to 15 minutes or until top of cake springs back when touched. Immediately loosen and turn cake onto prepared towel. Carefully peel off paper. Roll up cake and towel together, starting with narrow end. Cool on wire rack.
4. In a medium bowl, beat cream cheese, powdered sugar, butter and vanilla extract until smooth. Carefully unroll cake; remove towel. Spread cream cheese mixture over cake. Reroll cake. Wrap in plastic wrap and refrigerate at least one hour.
*note if looking for a low fat pumpkin cake roll Gina over at Skinny Taste has one.