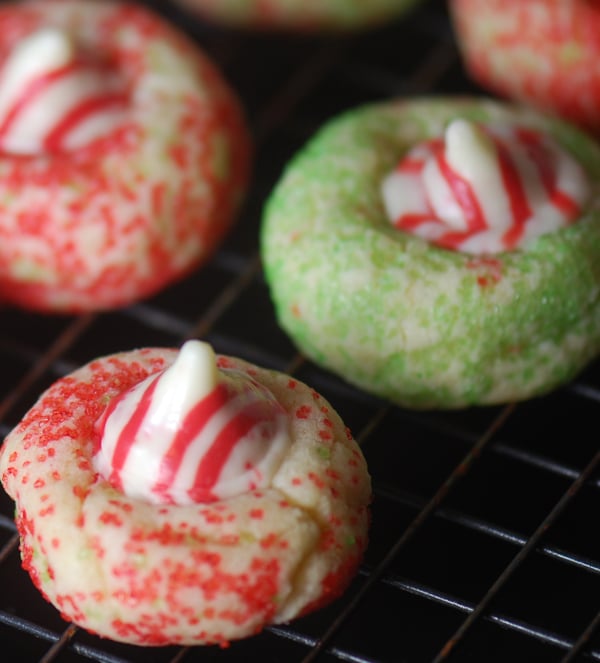 It's that time of year again. Time to hang up all the Christmas lights, and put up the Christmas tree, buy presents for loved ones and friends.  We were thankful for nice weather here and was able to do that when it was 45 degrees outside. My family is kind of boring about the Christmas gifts and all they ever want are gift cards. There's nothing really wrong with that because you end up getting what you want. I've told my family this before but that's all they want still. Oh well. Why can't they ever want something fun like a new set of pots and pans, bake ware, spoons and spatulas, a diamond ring… etc.??
My favorite part about Christmas is baking cookies. Last year, I purchased a tiny catalog and it had probably 50 different cookie recipes in it to try. I think I baked about 10 of the recipes in that book. Since pinterest came around, I've been finding lots of cookie recipes to try on that website. This was one of them. I love those little peppermint Hershey kisses and when I saw this recipe, I wanted to make them right away. I didn't have a bag of the kisses lying around at the time, until this weekend. The recipe says to wait 2 – 3 minutes before the cookies have cooled to place the peppermint kisses on them, but if you put them on right away and eat them they become all melted and gooey. I kind of like that. That's why some of the peppermint kisses in the picture look like they've collapsed.
1 bag Hershey;s Kisses brand Candy Cane Kisses
1/2 cup butter, softened
1 cup granulated sugar
1 1/2 teaspoons vanilla extract
1 egg
2 cups all purpose flour
1/4 teaspoon salt
1/4 teaspoon baking soda
2 tablespoons milk
Red and Green colored sugar
Preheat over to 350 degrees Fahrenheit. Remove wrappers from candies (approx. 35)
Beat butter, sugar, vanilla, and egg in large bowl until well blended. Stir together flour, baking soda and salt; add alternatively with milk to butter mixture, beating until well blended.
Shape dough into 1 inch balls. Roll in red and/or green colored sugar. Place on ungreased cookie sheet.
Bake 8 – 1o minutes or until edges are lightly browned and cookies is set. Remove from oven; cool 2 to 3 minutes. Press candy piece into center of each cookie. Remove from cookie sheet to wire rack. Cool completely. Yields approximately 35 cookies.