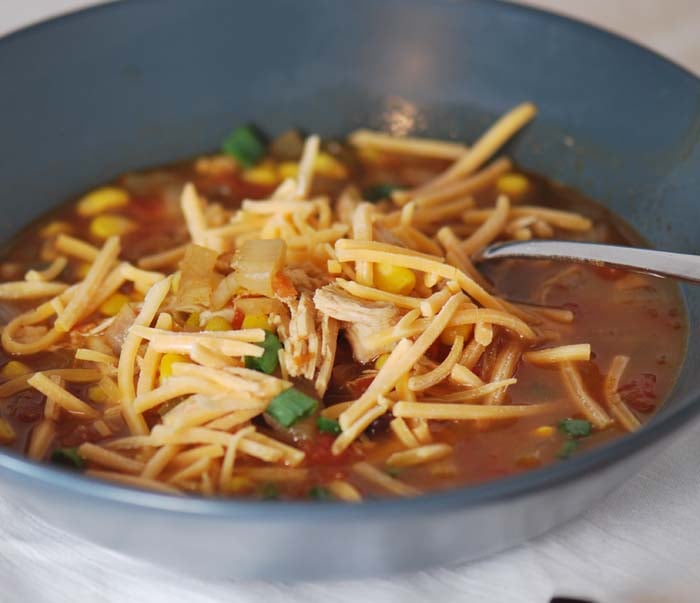 I've been doing Jillian Michael's 30 Day shred now for 10 days and so far I've lost 2 inches off my waste and I'm starting to develop some muscle in my arms. I've been trying to eat less too and some days, I just can't help myself though. Just an FYI, in case any of you are thinking of starting that DVD. I know it's pretty popular on the Weight Watcher boards.
This enchilada soup was fantastic. It was nice and spicy. I left out the butter, flour, and milk because when I make enchiladas, I don't use any of those ingredients. Just enchilada sauce, chicken, flour tortillas and cheese. Just those ingredients alone wouldn't make a very good soup now wouldn't it? I added a jalapeno instead of a diced pepper. One serving is about 1 1/2 cups. Anything extra like chips, cheese, and sour cream is extra.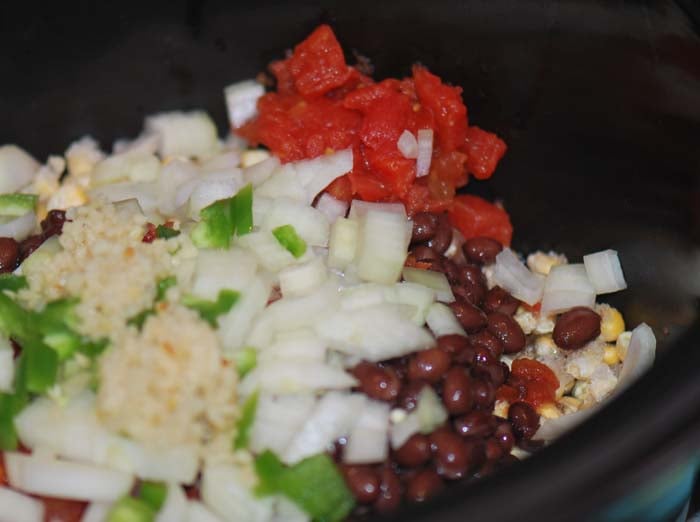 Look at all those veggies. 😉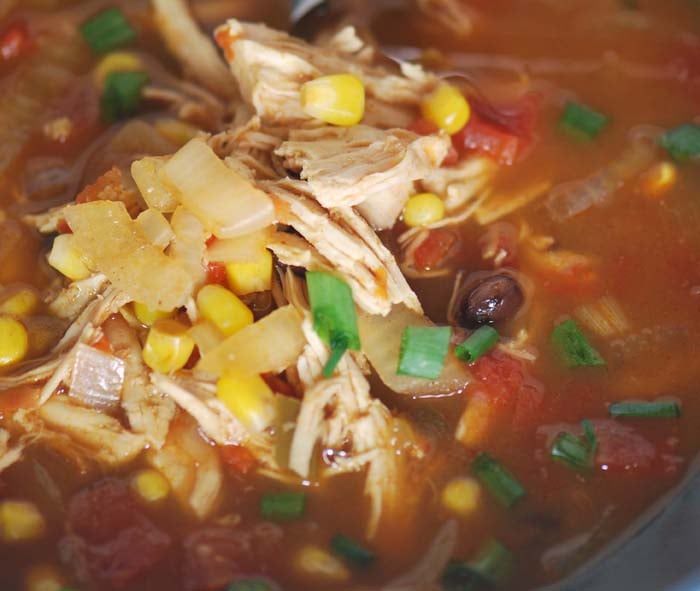 Crockpot Chicken Enchilada Soup
Calories 226 | Fat 4.44g | Carbohydrate 23.32g | Fiber 4.9g | Protein 22.73g
Jenna's Weight Watcher Recipes
Servings: 8 (1 1/2 cups)
Points Plus: 5
Ingredients: adapted from Dainty chef
1 can (15 ounce) black beans, rinsed and drained
1 can (14.5 ounce) Rotel diced tomatoes and jalapenos
1 package (10 ounce) frozen corn
½ cup onion, chopped
½ cup bell pepper, diced
1 can (10 ounce) Enchilada sauce
5 cups of low fat, low sodium chicken broth
2 whole chicken breasts
1 cup shredded Monterrey Jack cheese
What you'll do:
In a crockpot, combine drained beans, tomatoes, corn, onion, and jalapeno. Place the chicken breasts on top of the mixture. Pour chicken broth and enchilada sauce over ingredients in cooker. Cover; cook on low heat for 6 to 8 hours or on high for 3 to 4 hours. When you are ready to serve, remove chicken and cut or shred into bite-sized pieces. Add chicken back into the soup, mix together. Top with cheese and serve. I topped ours with slices of avocado, sour cream, and crushed tortilla chips.