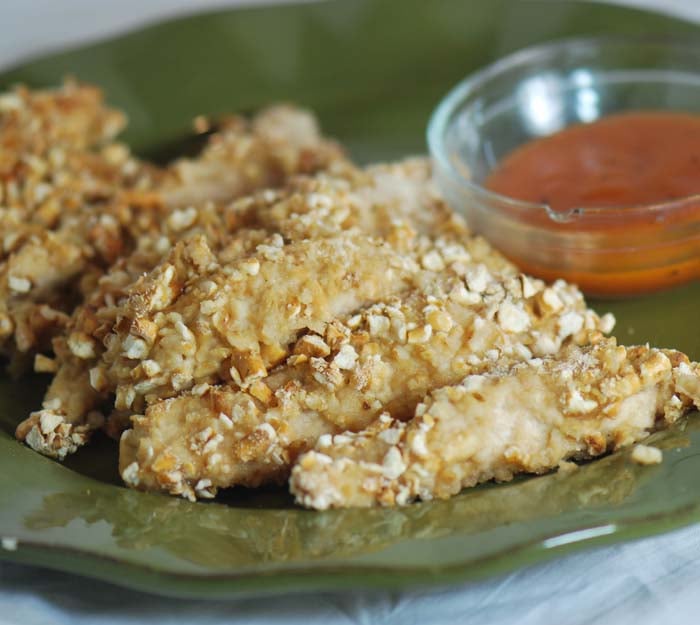 I found this recipe on pinterest and it was from Hungry Girl. I'm going to come right out and say this, but I'm not a very big fan of her. I've tried many of her recipes and thought that most of them lacked in flavor. I do however like to watch her on the Cooking Channel to get ideas. So, I thought I'd give this a try and sure enough it was kind of a flop. The idea of coating chicken in pretzels sounded really good to me and I thought the pretzel coating would make the chicken really crispy. WRONG. The honey mustard actually made the pretzels really soggy.
I think if I were to do this over again I'd just dip the chicken in flour first, then the eggs, and then the pretzels. The honey mustard sauce can be used for dipping. I made my own honey mustard sauce and it's pretty easy. It's just honey, dijon mustard, and vinegar. I had these chicken strips a long with this beautiful blood orange salad. The salad had lettuce, blueberries, blood orange, green onions, and walnuts in it.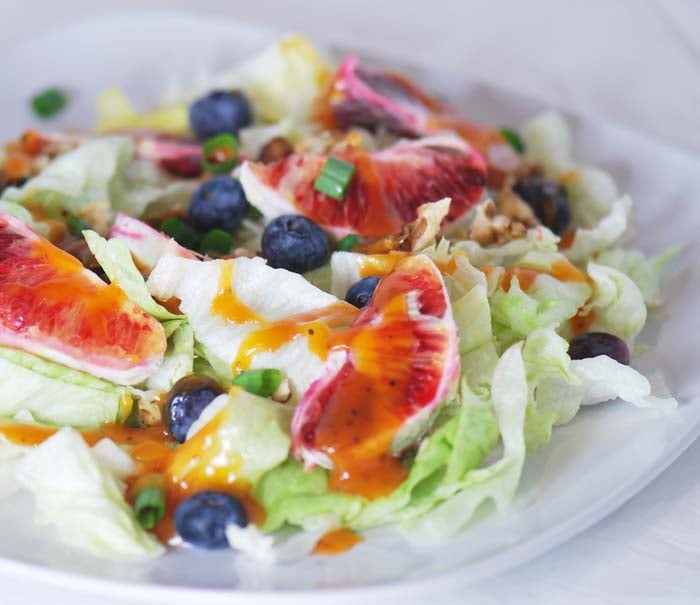 Recipe adapted from Hungry Girl

349 calories | 2.5g fat | 39g carbs | 1g fiber | 37g protein
Points Plus: 8 (4 chicken strips)
Ingredients
10 oz. raw boneless skinless lean chicken breast, cut into 8 strips
1/4 tsp. salt
1/4 tsp. black pepper
1/4 cup plus 2 tbsp. honey mustard
1/4 cup fat-free liquid egg substitute (like Egg Beaters Original)
20 standard-sized (not mini) hard salted thin pretzel twists
1 tbsp. plus 1 tsp. granulated sugar
Directions
Preheat oven to 375 degrees. Spray a baking sheet with nonstick spray and set aside.
Season chicken strips with salt and pepper. Set aside.
In a large bowl, combine honey mustard with egg substitute and whisk well. Submerge chicken in mustard-egg mixture, and set aside to marinate for at least 5 minutes.
Meanwhile, place pretzels in a sealable plastic bag, seal, and finely crush through the bag with a meat mallet or other heavy utensil. Add sugar, reseal, and shake to mix. Spread the mixture out on a large plate or in a large dish. Set aside.
Using tongs, transfer chicken strips to the pretzel-sugar mixture and thoroughly coat. Then transfer them to the baking sheet. (Discard excess mustard-egg mixture.) Mist the tops of the strips with nonstick spray. Bake in the oven for about 20 minutes, flipping chicken halfway through baking, until the chicken is cooked through.
———————–