I always like discovering recipes that teach you how to make something lighter. I'm discovering that most  of the times, all you have to do is cut back on the butter. I just love making bars for treats, but they're loaded with all that butter for the crust. This one recipe doesn't use a ton of butter to make the crust and it's enough for a crust on the the top of the bar.  Now, I have other bar recipes running through my head that I could possibly make, just using the base of this recipe. It's so nice how you can change a recipe like that to suit your needs.
This was a recipe found on a website called WW-recipes.net. I've never tried any of their recipes on that website before, but this one looked good. Cream cheese and M&Ms? What's not to like about that? The mini m&ms are so cute too. You could make this and just sub different colored ones for different Holidays. I used fat free greek yogurt instead of cream cheese and it turned out pretty good. Left out the nuts too since I wasn't a fan.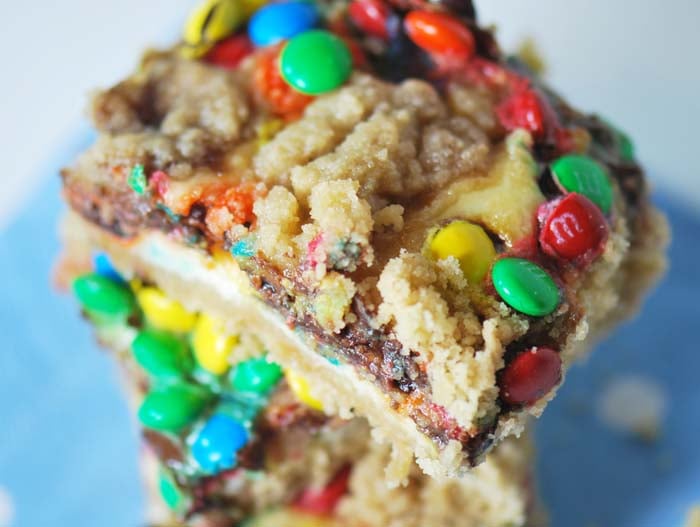 Points Plus: 4
Calories 122 | Fat 5g | Carbohydrate 16.69g | Fiber 0.3g | Protein 2.36g
Makes 16 squares
Recipe from http://ww-recipes.net
Ingredients
1 (8 ounce) package cream cheese, softened
3/4 cup M&M or Smarties candies
1/2 cup walnuts, chopped (left out)
1 egg
1/3 cup margarine
1 cup flour
1/4 cup sugar, granulated
1/3 cup sugar, brown packed
1 teaspoon vanilla extract
Preparation
1. Preheat the oven to 350 degrees F.
2. Beat the margarine and brown sugar until light and fluffy.
3. Add the walnuts and flour; mix well.
4. Reserve 1/2 cup of the crumb mixture; press the remaining crumb mixture into bottom of a 8″ square pan.
5. Bake at 350 degrees for about 10 minutes.
6. Combine the softened cream cheese, granulated sugar and vanilla; using an electric mixer, mix at medium speed until well blended.
7. Add the egg; mix well.
8. Layer 1/2 cup of the Smarties or M&M candies over the crust; top with the cream cheese mixture.
9. Combine the remaining candy and reserved crumb mixture; mix well.
10. Sprinkle the crumb mixture over the cream cheese mixture.
11. Bake at 350 degrees for about 20 minutes.
12. Let cool completely before serving.