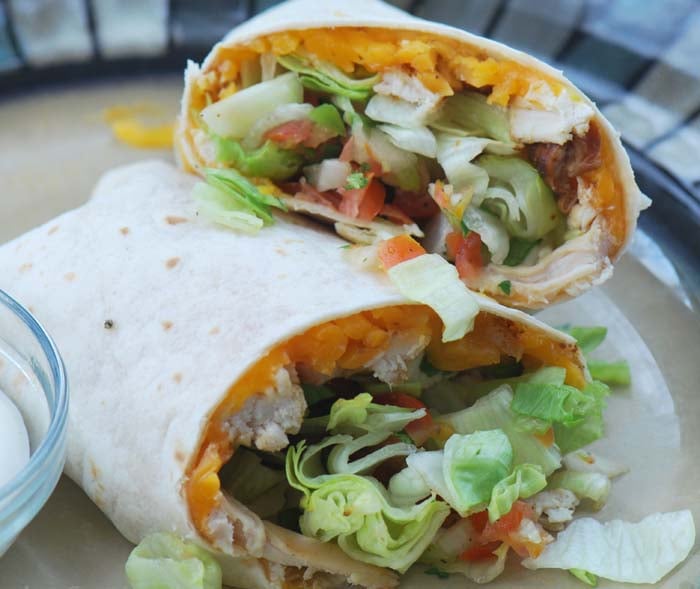 I think I found my new favorite lunch! The pico de gallo and lettuce you can have already in your fridge. You can buy one of those rotisserie chickens and have that already diced up to. Once it's lunch time, lay out your flour tortilla, add the cheese, chicken, and some seasoning, and before you'll know it you'll have a tasty wrap for lunch. I've been in a lunch rut lately as one of my previous posts stated, but now I think I won't be any more. This is so delicious and I love to dip it in some low fat ranch.
This is my version of the Chicken Fajita Rollups at Applebee's, my favorite thing to get there. They serve it with some fries and chipotle dipping sauce on the side.  My Mom and I ate lunch there awhile ago and she had a Cheeseburger Quesadilla. Might have to try making that one myself too. 😉
I think I'm going to start taking a screen capture of the Nutrition info that I find and posting the label on my blog instead in image format. What do you all think of it this way instead of just typing it all out?
Had to re-calculate points since WW wasn't matching up with my Nutrition info.
1 wrap = 9 points
Ingredients
1/3 cup of chopped shredded lettuce
2 oz reduced fat cheddar cheese (1/3 cup)
2 oz cooked boneless skinless chicken breast (1/3 cup
1 low carb, high fiber tortilla – such as Smart and Delicious
Pico de Gallo
1 pint cherry tomatoes
1/2 small onion
1/2 green bell pepper
1 bunch of cilantro
salt
pepper
Instructions
1. Combine all the veggies in a food processor and pulse until chunky. I only pulsed mine about 4 times. You don't want it to end up looking like salsa.
2. Combine cooked chicken, cheese and fajita seasoning. Layer onto a tortilla and cook in microwave until cheese is melted.  I used about a 1/3  cup of cheddar cheese, 2 ounces of cooked chicken and a dash of fajita seasoning.
3. Spread some lettuce about 1/3 cup onto your tortilla and some pico de gallo. Roll up the tortilla into a wrap. Enjoy!