Fresh strawberries are in season right now and the ones I picked up at the grocery store this weekend were ginormous! I've been eying this strawberry cake that's been on pinterest lately. This cake is very moist and delicious even without the whole stick of butter it called for. If I ever make this cake again, which I probably will… I'd add a lot more strawberries than what the cake called for. This cake would be good even with rhubarb in it which I have plenty of that in my garden right now. This cake used to be 469 calories and 16 grams of fat per serving with all that butter. I got it down to 191 calories  and 4.7 grams of fat per serving and made the slices a little bit smaller.
I like to experiment with baking and see how much butter I can get rid of in a recipe and still have it taste good. Some recipes call for 2 or 3 sticks of butter sometimes, and lately I've been getting away with only using 4 tablespoons of butter. I still think baked goods need at least some kind of fat in them whether it's butter or oil. Otherwise, they just don't seem to taste right using real healthy ingredients ya know?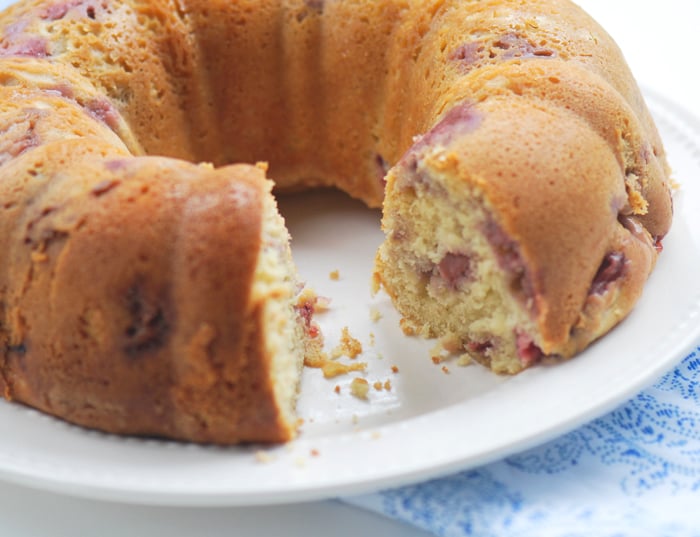 Recipe adapted from Food.com
Servings: 15
Points Plus: 5
Ingredients
1/4 cup of butter, softened
1 cup of sugar
3 eggs
3 tablespoons of lemon juice
1 lemon zested
2 1/2 cups of all purpose flour
1 /2 teaspoons of baking soda
1/2 teaspoon salt
8 oz of plain fat free greek yogurt
12 oz of fresh strawberries
Directions:
1. Preheat oven to 325*. Grease and flour a 10 inch Bundt pan. Sift together the 2 ¼ cups of flour, baking soda and salt. Mix in the lemon zest and set aside.
2. With an electric mixer, cream together the butter and sugar until light and fluffy. Beat in the eggs one at a time, then stir in 1 Tb. lemon juice. Alternate beating in the flour mixture and the yogurt, mixing just until incorporated.
3. Toss the strawberries with the remaining ¼ cup of flour. Gently mix them into the batter.
4. Pour the batter into the Bundt pan. Bake in the preheated oven for 60 minutes, or until a toothpick inserted into the center of the cake comes out clean.