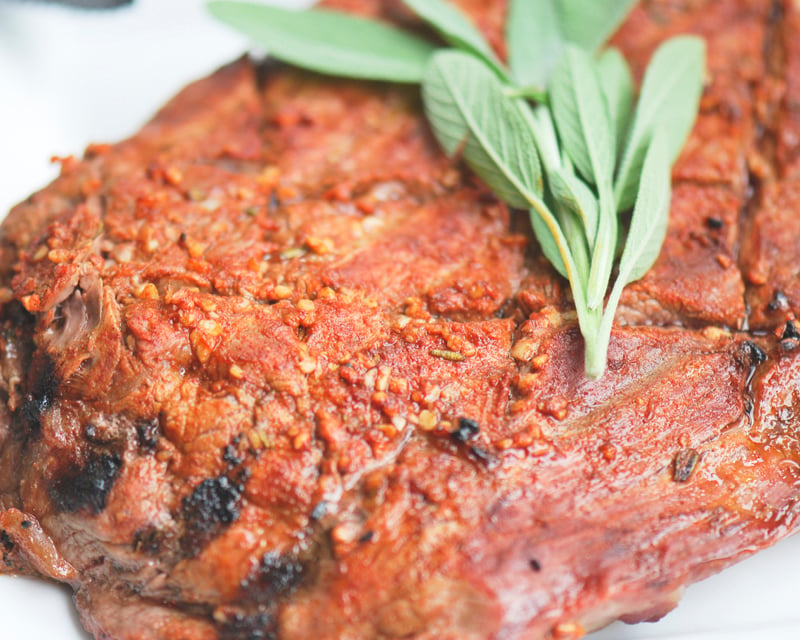 Vampire steak. It's blood red from the smoked paprika and garlicy to keep the vampires away. I saw this recipe in the July issue of Cooking Light's magazine and decided to give it a try. Just because I like vampires. I'm a big fan of the show Vampire Diaries on the CW. That's how I came up with the title of my blog. I just combined recipes and the word diaries together and there you have it. I do like that show a lot better than  Twighlight. In the Vampire Diaries the description of the vampire is better and there's a lot more drama and hotter men. 🙂 I'm really disappointed at the CW for taking away my witch show still. Hope it comes back.
Ben had the idea to put a black rose in the picture. We've had those black roses sitting in our bathroom since Halloween.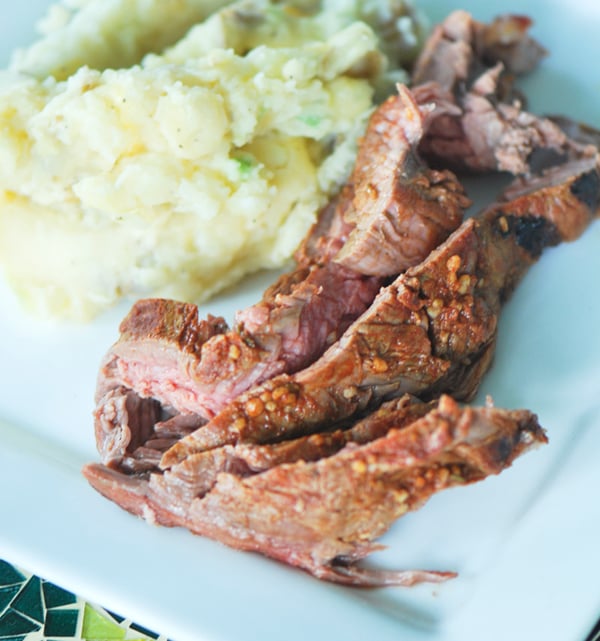 Flank steak is a really lean protein, and only 3 oz of this is 4 points. That's a pretty good deal. I made some garlic mashed potatoes to go a long with it.
Calories: 166, Fat: 2.4, carbohydrates: 1.4g, Fiber: 0.4g, Protein: 24.7g
Points Plus: 4
Ingredients: from cooking light

4 teaspoons minced garlic
1 tablespoon fresh lemon juice
2 teaspoons Spanish smoked paprika
2 teaspoons chopped fresh tarragon
1 (1 1/2-pound) flank steak, trimmed
1 teaspoon kosher salt
1/2 teaspoon freshly ground black pepper
Cooking spray
Preparation
1. Combine first 4 ingredients. Score a diamond pattern on both sides of steak; rub juice mixture evenly over both sides. Cover; refrigerate 1 hour.
2. Preheat grill to high heat.
3. Sprinkle both sides of steak evenly with salt and pepper. Place steak on grill rack coated with cooking spray; grill 6 minutes on each side or until desired degree of doneness. Remove steak from grill; let stand 5 minutes. Cut steak across grain into slices.