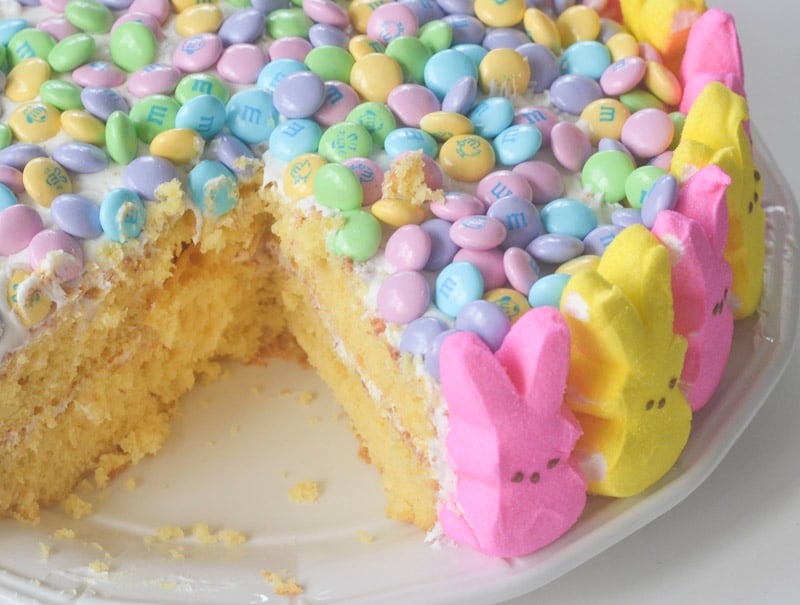 Happy Easter everyone! We all know the best part about Easter is the candy right? Just kidding!
There was a cake at my grocery store that inspired me to make this. The cake was a two layer cake with marshmallow peeps around it and M&M's on top. They wanted 20.00 for the cake too, and my only thought was that is way too expensive! I made this cake for under 10.00 using boxed cake mix. Had all the ingredients at home to make the cake, and just had to go out and buy some peep marshallows which were 1.29 a box, and a bag of pastel colored M&M's for the top. Oh yah, and the frosting I had to buy too. Hope you like it!
Make sure the cake is completely cooled when you frost it. The super moist cakes are kind of hard to frost too begin with since they're so delicate and moist. Be careful as you can see what happened below when I tried to frost mine. 🙂
I actually have to admit something to everyone. The cake had a little accident. One of the sides ended up collapsing so I just took some photos around that part. You see?
Ingredients:
1 box of Yellow Cake Mix
1 container of frosting (white)
2 boxes of different colored peeps
1 bag of pastel colored M&M's
Directions:
Make cake according to package. 2 tiered. Once the cake is cooled frost the two layers. Arrange the peeps every other color around the cake. Top the cake with M&M's and enjoy!