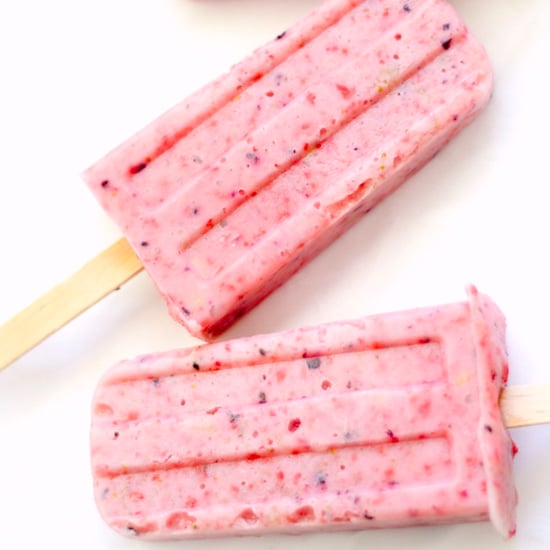 I just love making ice pops in the Summer time. They are fun and easy to make if you have two kitchen utensils. A blender/food processor and some ice pop molds. I used to have these dinky plastic molds for ice pops that I got at Target I believe. They work fine but they weren't the fancy mold that actually looked like popsicles. They are pretty simple to get out of the molds. Just run some really warm over them and when you can feel them start to move inside the molds that is when you can take them out. It doesn't take that long either! I've tried the one method where you leave them sitting in water for a couple of minutes but then the ice pops start to melt inside and you don't get fancy mold.
This is just a base I used. I had some leftover fruit from making that fruit salad and I just threw the fruit that was leftover into a food processor with 1/2 cup of yogurt and about 1 to 2 teaspoons of honey. Puree the mixture until it is smooth and pour them into the ice pop molds. Pretty simple. They take about 4 to 6 hours t to freeze in the ice box.
Print
Strawberry Yogurt Ice Pops
Ingredients
1/2 cup of yogurt (whatever you have on hand)
1 1/2 cups of strawberries
1 to 2 teaspoons of honey
12 popsicle sticks
Instructions
In a food process/blender puree fruit and yogurt until smooth.
Pour the fruit and yogurt mixtre into ice pop molds and place the stick in the middle. Freeze for up to 6 hours.