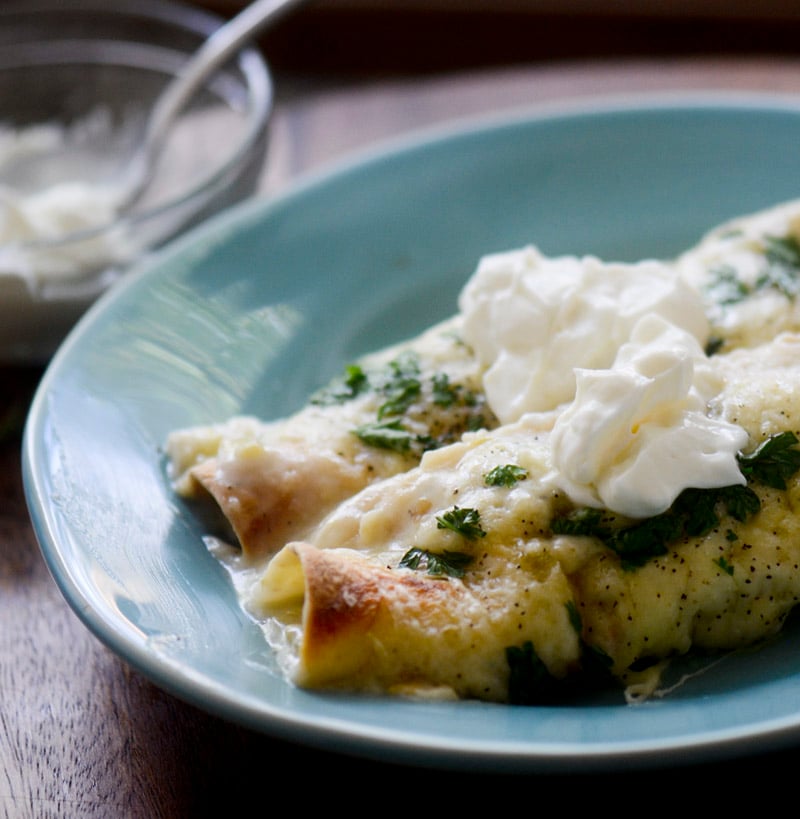 Have you ever cooked just a bunch of chicken in a crock pot before? If you haven't done that yet, you should do it one time. The chicken can then be made into ANYTHING like these white chicken enchiladas. I like to shred the chicken but my husband prefers to have it whole. We split it down the middle. And that my friends, is how you make marriage work out. j/k
I was so excited to try this recipe because I had all the ingredients to make this on hand. LOVE when that happens. AND, since I had the chicken already cooked it was super fast to put together. These enchiladas are so good. This may seem weird, but gruyere cheese really works with this recipe.  There's also something about watching cheese bubble under the broiler and when the sides of the tortillas start to brown. I like to prop the broiler open a tad, just to watch that.
White enchiladas use a roux made with flour, butter, and chicken broth.  What makes it white is the sour cream.  Red Enchilada sauce is always good too. I prefer either one. Enchiladas are my favorite to order at Mexican restaurants.
Print
White Chicken Enchiladas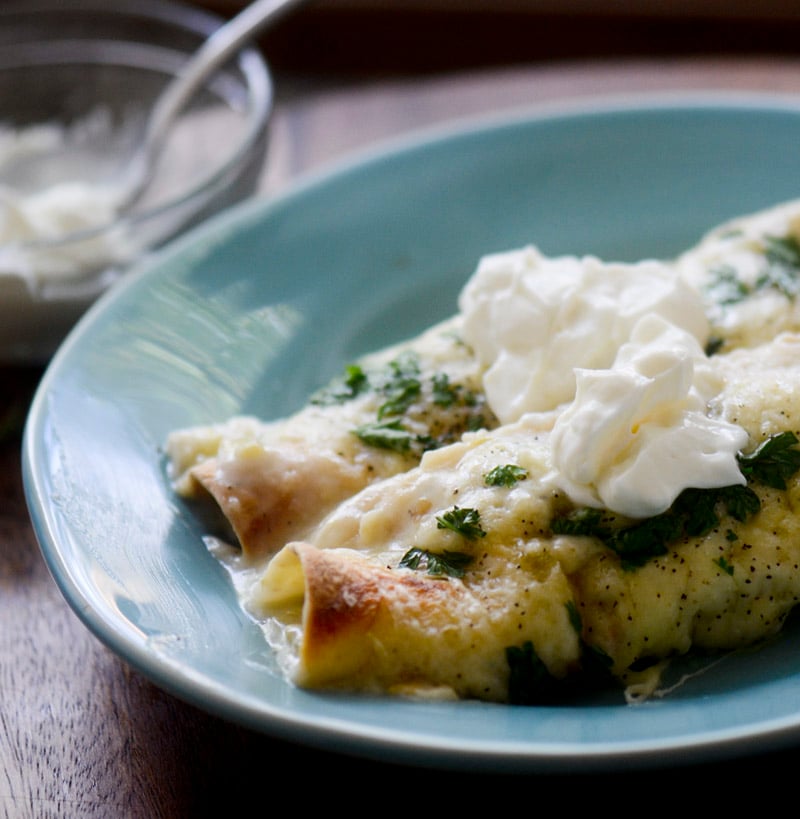 Ingredients
10 soft taco shells (I used flour) (I used Tumero's Cut Da Carb Wraps for 1 smart point)
2 cups cooked, shredded chicken
2 cups shredded Monterey Jack cheese
3 Tbsp. butter (lite butter)
3 Tbsp. flour
2 cups chicken broth
1 cup greek yogurt
1 (4 oz) can diced green chillies
Instructions
Preheat oven to 350 degrees. Grease a 9×13 pan
Mix chicken and 1 cup cheese. Roll up in tortillas and place in pan.
In a sauce pan, melt butter, stir in flour and cook 1 minute. Add broth and whisk until smooth. Heat over medium heat until thick and bubbly.
Stir in greek yogurt and chilies. Do not bring to boil, you don't want curdled the yogurt.
Pour over enchiladas and top with remaining cheese.
Bake 22 min and then under high broil for 3 min to brown the cheese.
Notes
Recipe adapted from Joyful Mama's Kitchen
If using a low point tortilla like Tumero's these enchiladas come out to be 5 smart points. If not they are higher and more like 7.