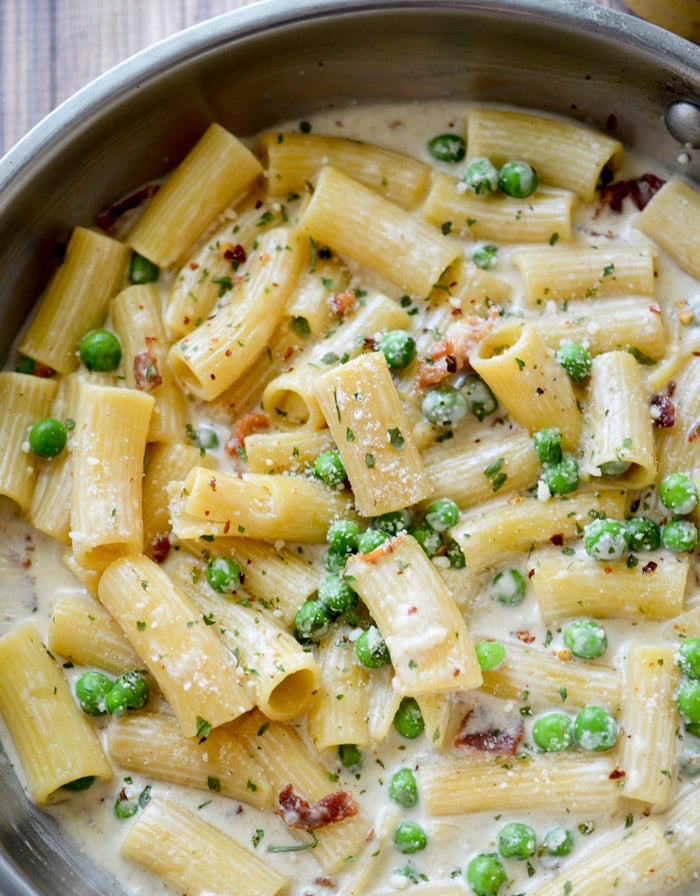 Bacon, peas, and pasta in a hot tub full of creamy bacon-y alfredo sauce. That's whats for dinner tonight folks. Drop your dinner plans today, go to the grocery store, and get all the ingredients to make this now. Or…. you could always just go tomorrow and get the ingredients. It's almost 7pm here, and by now I would assume most people would have eaten already.
This is one of the most amazing alfredo sauces I've had in awhile. Why? Because the alfredo sauce is cooked in leftover bacon that was stuck to the bottom of the pan. That is where the flavor is! The peas are for a little bit of healthiness, and the bacon is just there because everything is better with bacon.
,
I've been trying to learn how to cut back on making pasta recipes. This weekend I made some lasagna pasta and it was WAYyyyyyyyyyy too much. I had enough to feed an army. For just two people or one person all you need is a cup of pasta and that is about it. Scale the recipe way back as well. No more cooking a crap ton of pasta.
Print
Creamy Alfredo with Bacon and Peas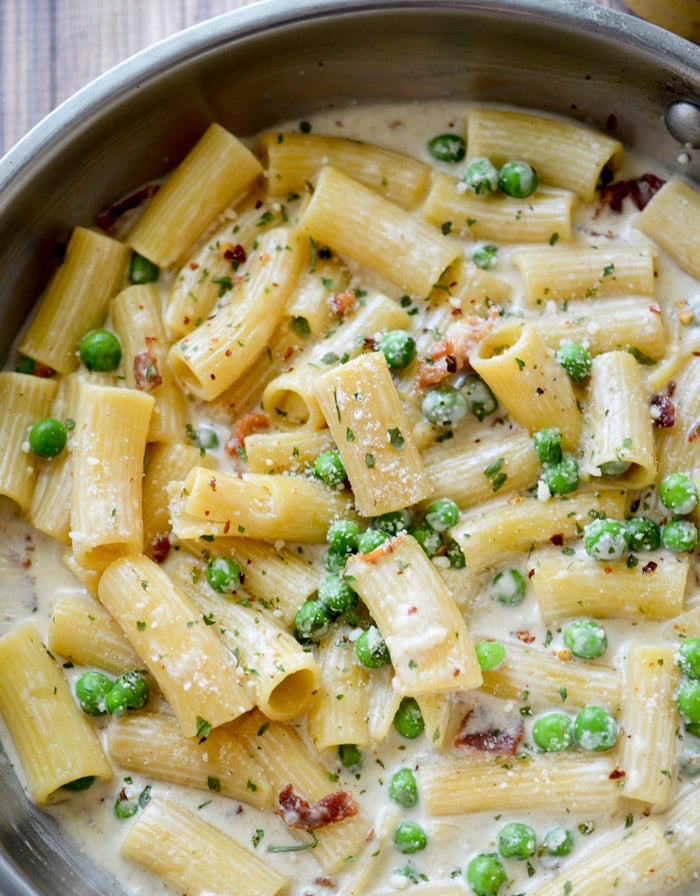 Ingredients
4 slices thick-sliced bacon, coarsely chopped
2 cloves garlic, minced
8 ounces dried rotini, penne, or rigatoni pasta
1 14 1/2 ounce can chicken broth
1 cup water
1/2 teaspoon salt
1/4 teaspoon freshly ground black pepper
1 cup frozen peas
1/4 cup whipping cream
1/4 cup grated Parmesan cheese (1 ounce)
Crumbled, crisp-cooked bacon (optional)
Instructions
In a large deep skillet cook the 4 slices bacon until crisp. Stir in garlic; cook and stir for 30 seconds more. Stir in pasta, broth, the water, salt, and pepper. Bring to boiling; reduce heat. Simmer, covered, for 12 to 15 minutes or until pasta is tender, stirring once. Stir in peas, whipping cream, and Parmesan cheese. Cook and stir about 2 minutes more or until heated through. Serve immediately. If desired, top with crumbled bacon.
Nutrition
Serving Size:

4

Calories:

378

Sugar:

4

Fat:

13

Saturated Fat:

6

Carbohydrates:

49

Fiber:

3

Protein:

16