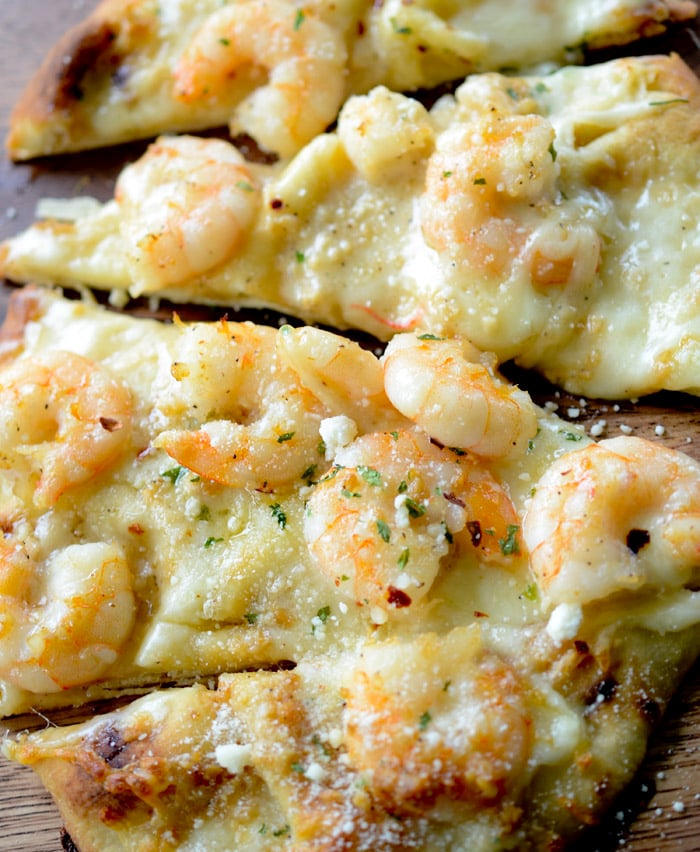 Well tomorrow is another Monday.  Not looking forward to going back to work tomorrow. In case any of you are wondering, I work your typical data entry job from 6 to 2:30 M- F. Currently going back to school for an Associates degree in Web Design. Being a full time blogger would be the ULTIMATE job and  I've been working very hard on this site.  Trying to take better food pictures,  getting more visitors to this site, you know the usually blogging thing, etc… *Sigh
This shrimp scampi pizza is the bomb.com.
You can choose to grill it or bake it in the oven.  If you're looking for something different to grill give pizza a try. The grill gives the pizza crust this nice little charred flavored.  It's your typical shrimp scampi flavors: lot's of garlic, butter, olive oil, and shrimp. The bonus part is the crust and cheese. How can this be bad? If you're a fan of shrimp scampi you'll love this pizza!
How to Grill Pizza:
Start off by grilling the flat bread. Cook on one side for 4 minutes or until you start to see bubbles forming on top of the dough. Flip the dough over and start adding on the toppings. If you'd like you can marinade the shrimp withe garlic and olive oil and put them on a skewer. Shrimp do not take very long to grill. Just about 2 to 4 minutes or until they start turning pink. Take the shrimp off the kabobs and place them on the dough.  Add the melted butter and top with cheese.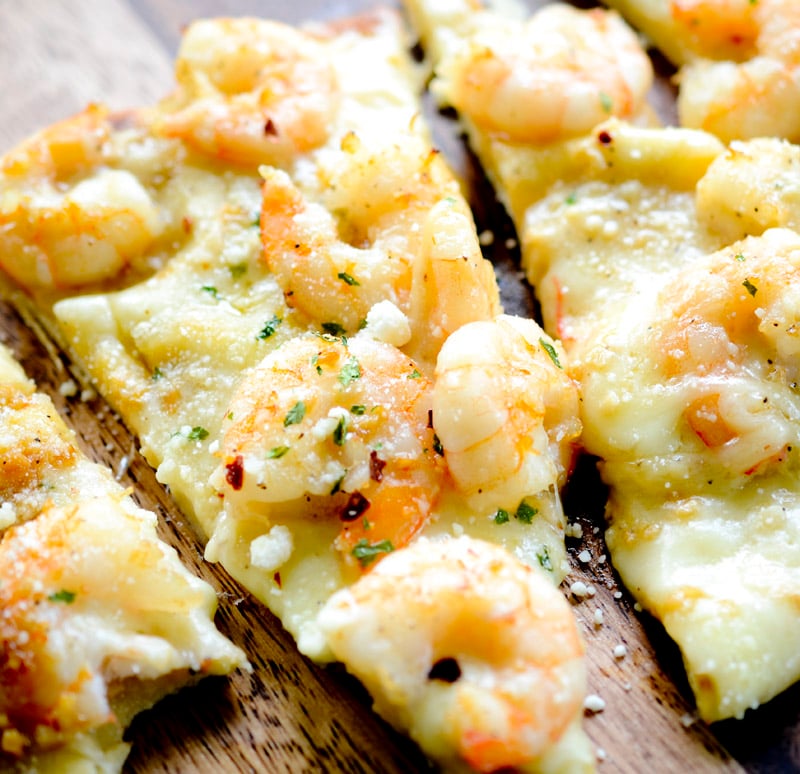 Print
Grilled Shrimp Scampi Flat Bread Pizza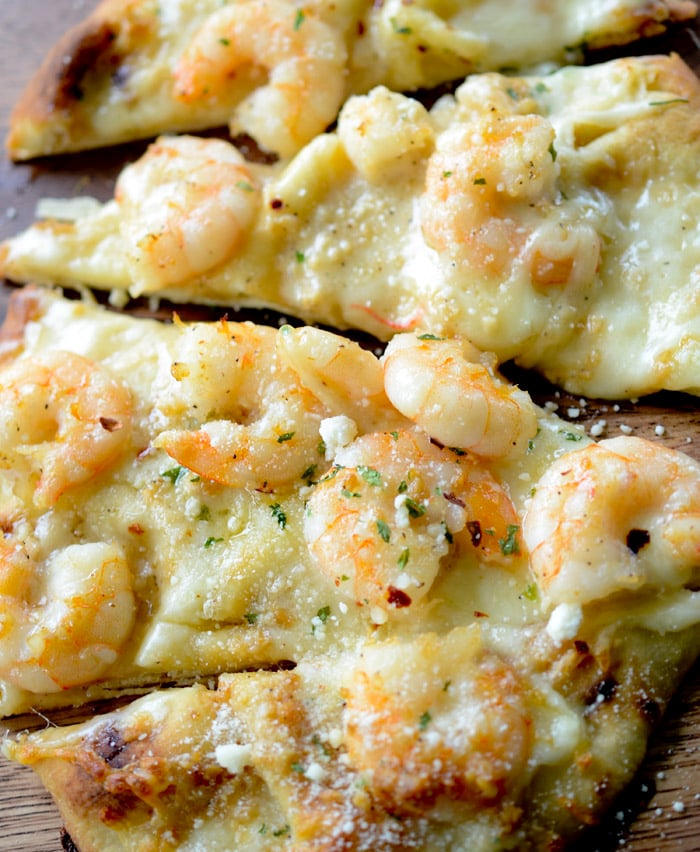 Ingredients
1 8 inch flat bread (such as Joseph's Lavash Flatbread)
8 to 10 large jumbo shrimp, peeled and devine
1/4 cup of mozzarella cheese
2 to 3 teaspoons of garlic, chopped
1 tsp of butter
1 tsp of olive oil
1/4 cup of chicken stock
Parmesan Cheese
Crushed Red Pepper Flakes
Parsley
Instructions
In a skillet, heat the butter and olive oil. When the butter has melted and bubbly, and the garlic. Wait for the garlic to start turning a golden brown color. Add the chicken stock and cook until the liquid has reduced in half. Add the shrimp and cook on each side until pink. Flip the shrimp and cook until the other side is pink.
Layer the mozzarella cheese on top of the flat bread. Add the cooked shrimp and sauce. Bake in an oven for 10 minutes at 400 degrees.
Garnish with parmesan cheese, parsley flakes, and crushed red pepper if you like the heat.