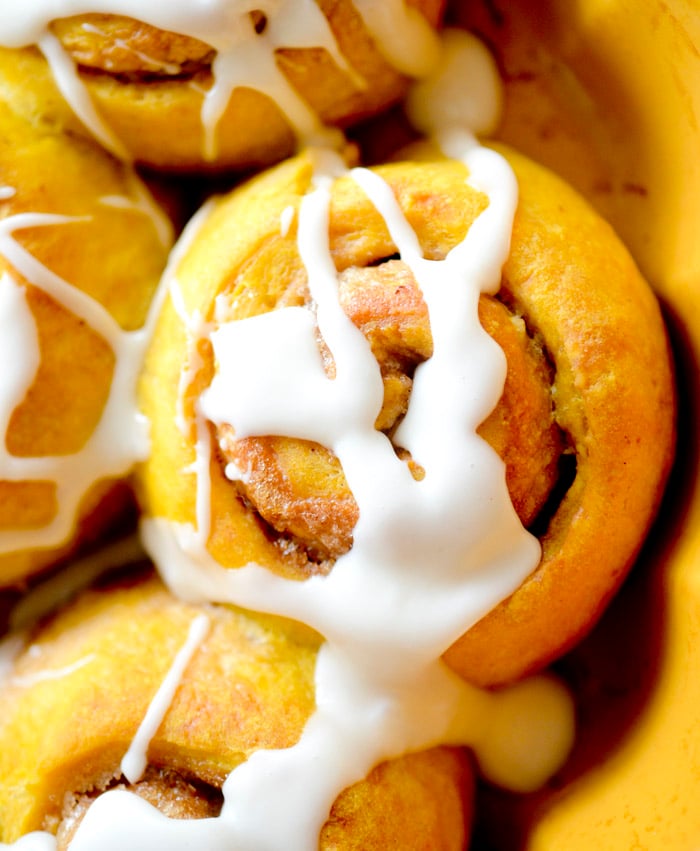 This week has been so busy! On Thursday, my brother and his wife were up here for the funeral and on Friday I was out of town all day. I haven't had much time to cook anything at all.
The Fall season is approaching really fast. I went looking at all my past pumpkin recipes on this blog, and noticed they needed major picture updating. Like these pumpkin cinnamon rolls. You can see the original pic here on this link. Pretty terrible pictures, but the new pics make me feel like I've come a long way in my food photography.
Cinnamon rolls are so easy to make. Just make sure to have fresh yeast. Once you got the dough kneeded in the mixer, the easy part is over with. Seriously, the mixer is your friend. There is no reason to take out the dough after it is all mixed and kneed it on the table with your hands. If you have a Kitchen Aid mixer the dough hook kneeds the dough for you! Now, all you need to do is just wait and let the dough rise. If only there was a way to this part faster. I've tried that quick acting yeast, but I think the regular yeast is the best to work with. These cinnamon pumpkin rolls are best served warm on a crisp Fall morning with some kind of breakfast casserole for protein.
The cinnamon rolls are 6 points per serving and have that Fall pumpkin flavor every one loves and they each 219 calories. Not bad, not bad at all for a cinnamon roll. Most cinnamon rolls are about the size of your head these days.
Print
Skinny Pumpkin Cinnamon Rolls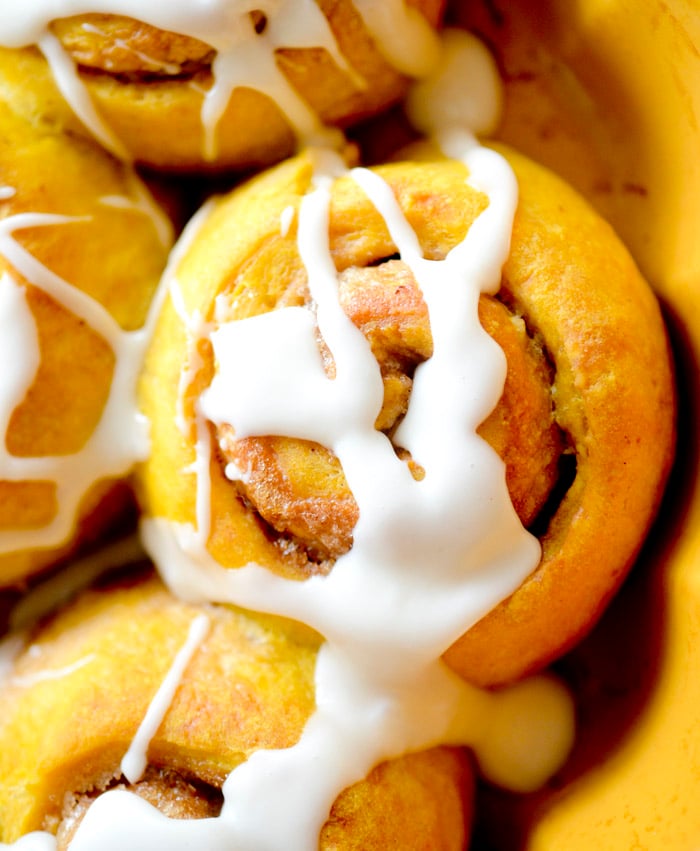 Ingredients
Buns:
1 package dry yeast (about 2 1/4 teaspoons)
1/4 cup warm water (100° to 110°)
2 3/4 cups all-purpose flour, divided
1/2 cup Pumpkin Puree
1/2 cup 1% low-fat milk
1/4 cup butter, melted
1 tablespoon granulated sugar
1 1/4 teaspoons salt
1/4 teaspoon ground nutmeg
Cooking spray
3 tablespoons granulated sugar
3 tablespoons brown sugar
2 tablespoons all-purpose flour
1 1/2 teaspoons ground cinnamon
2 tablespoons chilled butter, cut into small pieces
Glaze:
3/4 cup sifted powdered sugar
1 tablespoon hot water
1/4 teaspoon vanilla extract
Instructions
To prepare the buns, dissolve yeast in warm water in a large bowl; let stand for 5 minutes. Lightly spoon flour into dry measuring cups, and level with a knife. Add 2 cups flour, pumpkin, and next 5 ingredients (pumpkin through nutmeg); beat with a mixer at medium speed until smooth. Turn dough out onto a floured surface. Knead until smooth and elastic (about 10 minutes); add enough of the remaining 3/4 cup flour, 1 tablespoon at a time, to prevent dough from sticking to hands (dough will feel tacky).
Place the dough in a large bowl coated with cooking spray, turning to coat top. Cover and let rise in a warm place (85°), free from drafts, for 45 minutes or until doubled in size. (Press two fingers into the dough. If an indentation remains, the dough has risen enough.)
Combine 3 tablespoons granulated sugar, brown sugar, 2 tablespoons flour, and cinnamon in a small bowl. Cut in butter with a pastry blender or 2 knives until mixture resembles coarse meal.
Punch dough down; cover and let rest for 5 minutes. Roll the dough into a 12 x 10-inch rectangle on a floured surface. Sprinkle with brown sugar mixture. Roll up the rectangle tightly, starting with a long edge, pressing firmly to eliminate air pockets; pinch seam and ends to seal. Cut roll into 12 (1-inch) slices. Place slices in a 9-inch square baking pan coated with cooking spray. Cover and let rise 25 minutes or until doubled in size.
Preheat oven to 375°.
Bake the rolls at 375° for 20 minutes or until golden brown. Cool for 15 minutes in pan on a wire rack.
To prepare the glaze, combine the powdered sugar, 1 tablespoon water, and vanilla extract in a small bowl, stirring with a whisk until smooth. Drizzle glaze over buns. Serve warm.
Notes
WWP+ per cinnamon roll = 6
SmartPoints: 8
Nutrition
Serving Size:

12

Calories:

213

Sugar:

15.6

Fat:

6.2

Saturated Fat:

3.75

Carbohydrates:

36.9

Fiber:

1.2