I saw Valerie Bertininelli make these Southwestern Egg Rolls with Salsa Dipping Sauce so many times on her show recently and they looked so good. You know how Food Network likes to re-show the same show over and over again? That right there, just sucked me in, and I had to try these out. Also, have you noticed how Food Network has been giving shows to stars that do acting on tv shows? Varerie and Patricia Heaton now have their own cooking shows on FN.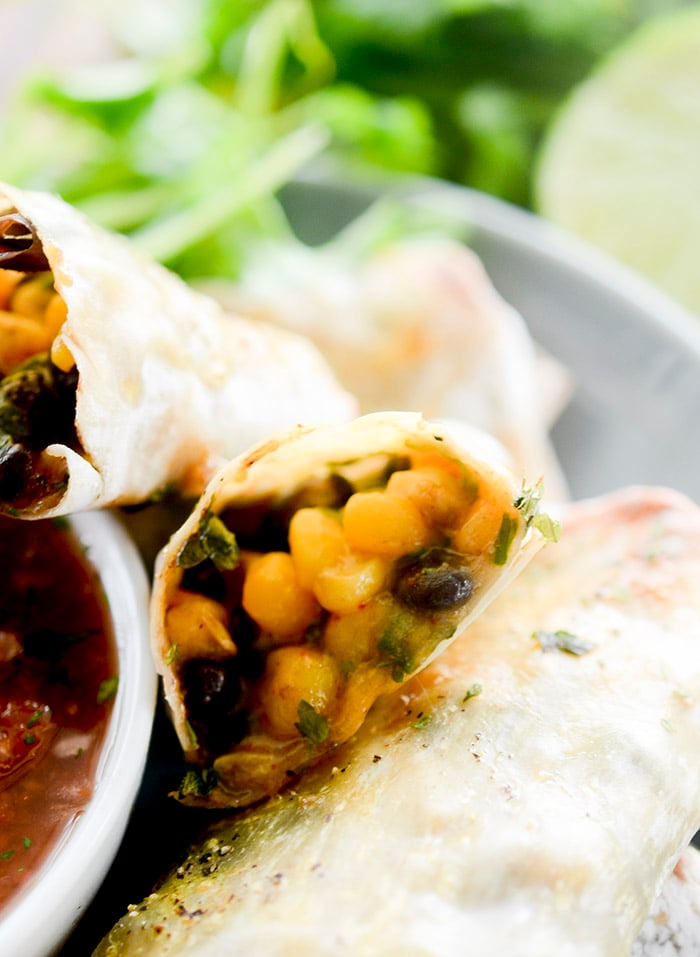 These egg rolls  are stuffed with black beans, corn, cheese, and South Western seasonings such as chili powder, cumin, and cayenne. Then, they are baked in the oven until they become golden brown and crispy.  Dip these babies in some homemade blender salsa that takes less than 5 minutes to make. The original recipe calls for fresh tomatoes, but you can used canned as well. You've got lunch, dinner, or an appetizer ready in no time.
And have you tried making your own salsa before? You are missing out. If you have canned tomatoes, an onion, and some cilantro with the spices listed above this you've got salsa. No need to go and buy the stuff in the jars at the store. Too much sodium anyway. P.S I always buy canned products with no salt/sodium so I can control the salt that goes into the recipe.
Print
Southwestern Egg Rolls with Salsa Dipping Sauce
Ingredients
Nonstick cooking spray
2 1/2 cups shredded Mexican blend cheese
2 cups frozen corn, thawed
One 15-ounce can black beans, rinsed and drained
One 10-ounce package frozen chopped spinach, thawed and squeezed dry
One 4-ounce can diced green chiles, drained
4 scallions, chopped
1 teaspoon ground cumin
1/2 teaspoon chili powder
1/4 teaspoon cayenne pepper
1 1/2 teaspoons kosher salt
One 16-ounce package egg roll wrappers
1 egg, slightly beaten
Salsa:
5 plum tomatoes, quartered
1 small clove garlic, minced
1/2 jalapeno, seeded and finely chopped
3 scallions, white and light green parts only, finely chopped
1 cup loosely packed cilantro leaves and stems, finely chopped
Juice of 1/2 lime
2 teaspoons kosher salt
Instructions
For the egg rolls: Preheat the oven to 425 degrees F. Spray a rimmed baking sheet generously with cooking spray.
In a large bowl, combine the cheese, corn, beans, spinach, chiles, scallions, cumin, chili powder, cayenne and salt. Stir together, making sure to break up the clumps of spinach.
Have a small bowl of water ready for moistening your fingers.
Lay one egg roll wrapper out on a work surface and moisten the edges with your finger. Scoop 1/4 cup of the filling into the center of the wrapper; mound into a 1-inch wide log arranged diagonally across the wrapper, with about an inch of space to the corners. Fold the corners over the filling, gently pressing down on either side to secure the fold. Then, starting at one of the unfolded corners, gently but firmly roll up the egg roll. Place on the prepared baking sheet and repeat until all of the filling has been used.
Brush the tops and sides of the egg rolls generously with beaten egg. Bake until golden brown all over, 15 to 20 minutes.
For the salsa: Meanwhile, pulse the tomatoes, garlic and jalapeno in a food processor until the tomatoes are almost smooth. Add the scallions, cilantro, lime juice and salt; pulse just to combine.
Serve the egg rolls with the salsa on the side, for dipping.