On Monday, I went out with a couple of friends to exchange some Christmas presents at Olive Garden. Since it was Christmas, I decided to splurge a little and get Olive Garden's Baked Tilapia with Shrimp. The dish was 16.98. It's the perfect low carb dinner packed with protein and it's not boring at all. Don't want to spend 16.98 on such a fancy meal you can make at home? Well guess what you're in luck. Grocery stores often have sales on tilapia. Mine had tilapia for 6.99 a pound. Got two fairly decent size tilapia filets for only 3.65. Yep, the shrimp I got at Sam's club awhile back, so I already had that.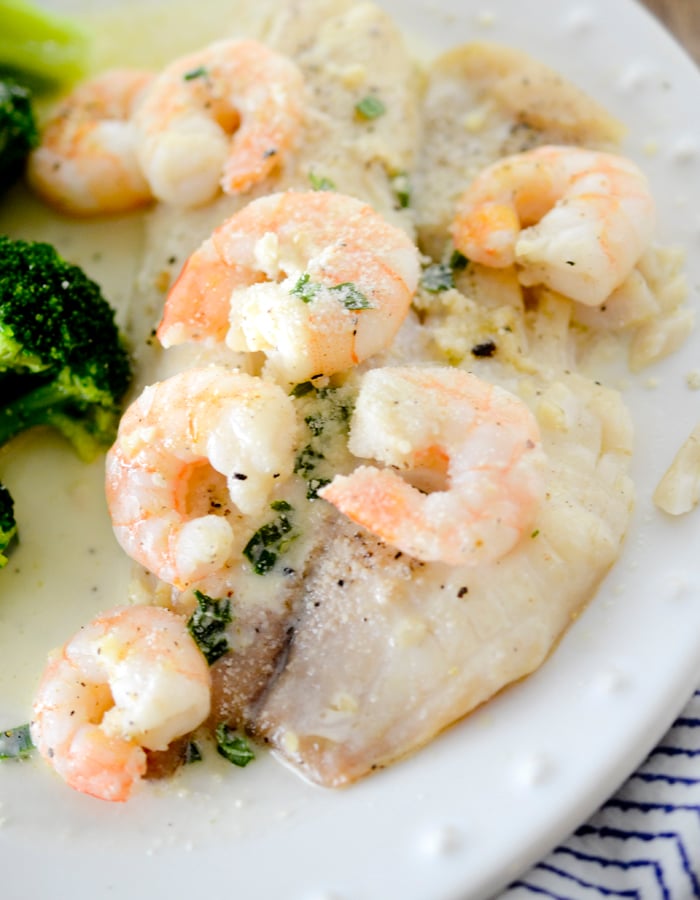 The sauce I decided to change up a bit. I'm not a fan of wine but Olive Garden used it in their sauce. Chicken stock works just as good as white wine does. To make the sauce, simmer a 1/2 cup of chicken stock until about reduced to 1/4 cup. Add in some butter and heavy cream. The sauce doesn't sound very healthy, but in the low carb world, heavy cream is considered low carb. Yes, I kid you not.
To make the baked tilapia, peel and devine the shrimp. Place the shrimp on one half of a lined sheet tray with parchment paper and the tilapia on the other half of the baking sheet. Bake the tilapia and shrimp at 425 for 6 minutes. Take the pan out and flip the shrimp and tilapia to the other side. Bake for another 4 mintues.
Print
Olive Garden's Baked Tilapia with Shrimp
Ingredients
2 fresh tilapia filets *4 ounces
12 frozen shrimp, defrosted and tails removed
1/2 cup of low sodium chicken stock
2 tablespoons of heavy cream
1 tablespoon of butter
1 tsp of black pepper
1/2 tsp dried chives
Instructions
To make the baked tilapia, peel and devine the shrimp. Place the shrimp on one half of a lined sheet tray with parchment paper and the tilapia on the other half of the baking sheet. Bake the tilapia and shrimp at 425 for 6 minutes. Take the pan out and flip the shrimp and tilapia to the other side. Bake for another 4 mintues.
To make the sauce, simmer a 1/2 cup of chicken stock until about reduced to 1/4 cup. Add in some butter and heavy cream and the chives. You can use fresh if you want.
To serve, place the shrimp over the fish. Top the tilapia filets with 2 tablespoons of the sauce. Enjoy
Notes
SmartPoints: 6
Points Plus: 9
Nutrition
Serving Size:

2

Calories:

328

Sugar:

.05

Fat:

19.12

Saturated Fat:

11.46

Carbohydrates:

1.94

Fiber:

.7

Protein:

37.86