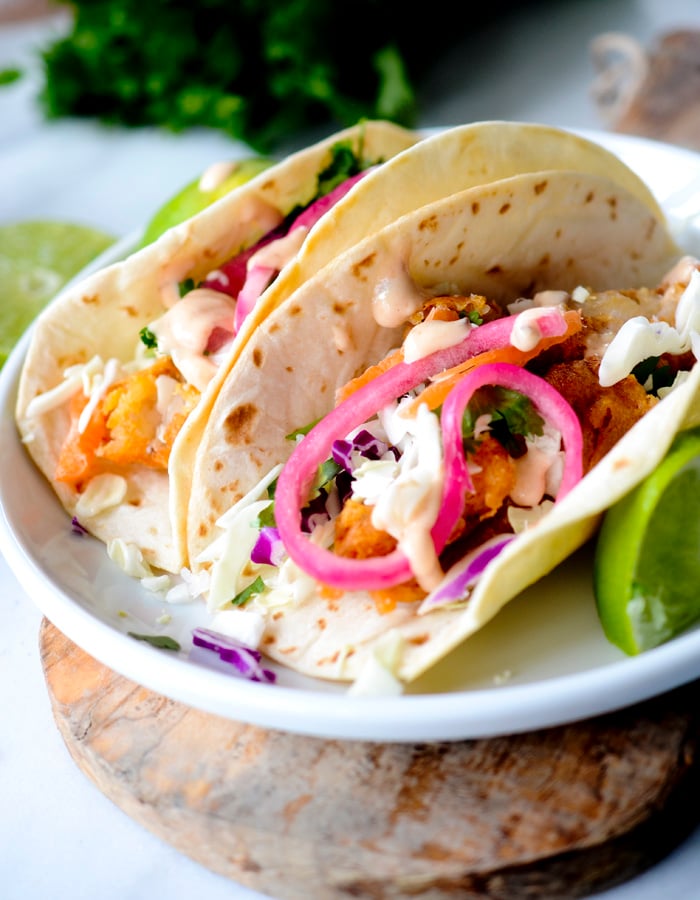 I probably should be cooking up something with ham in it or funeral potatoes for Easter and writing up a blog post about it. Easter is not my favorite food Holiday. Ham is only a twice a year type meal for me and sometimes it can get to be really salty. The desserts are kind of blahsey also.  I'm in no mood to make an Easter bunny cake right now or make some kind of dessert with an Easter egg nest on top of it. I could eat just jelly beans and cadbury eggs by themselves though. If only you could go back to being a kid again and hunting for Easter eggs or getting that Easter Bunny basket the next day, that would be totally awesome. Those chocolate bunny eggs were the best.
Awhile back, I bought this cookbook that has nothing but Mexican recipes in it called The Best Mexican Recipes from America's Test Kitchen. I plan on cooking my way through it. Every recipe in there looks good and this was the first one I tried. The pickeled onions just make the fish tacos and instead of getting Mexican crema, I just made a chipotle mayo to go on top of the tacos for the sauce.  To make pickled onions, all you do is boil some vinegar in a pot with some sugar until the sugar dissolves and pour the vinegar over onions. Let the onions sit for awhile in the vinegar. Slice the onions really thin using a mandoline. Your tacos will look extra special and you can always buy pre shredded cabbage slaw to save time.
Print
Baja Fish Tacos with Pickeled Onions and Cabbage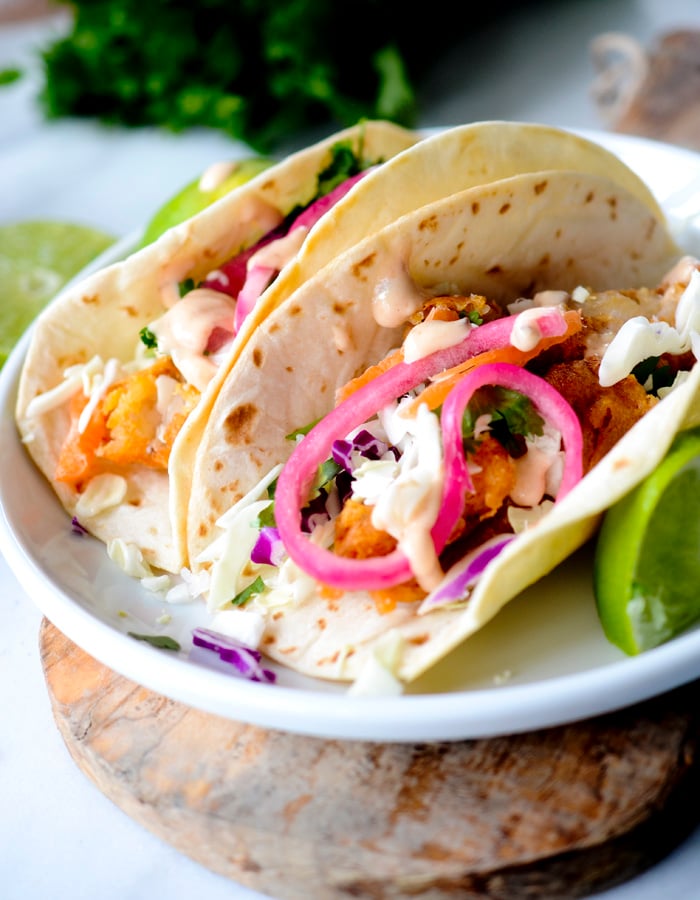 Ingredients
2 pounds of skinless whitefish fillets such as cod, haddock, or halibut
3/4 cup all purpose flour
1/4 cup cornstarch
1 teaspoon baking powder
1 cup of beer
1 quart peanut or vegetable oil
18 corn tortillas, warmed
1 cup fresh cilantro leaves
1 cup Mexican Crema
Pickeled Onions
1 small red onion, halved and sliced thin
2 jalapeno chiles, stemmed and sliced into thin rings
1 cup white wine vinegar
2 tablespoons lime juice
1 tablespoon sugar
salt and pepper
3 cups of shredded green cabbage.
Instructions
Adjust oven rack to middle position and heat oven to 200 degrees. Set wire rack in rimmed baking sheet. Pat fish dry with paper towels and season with salt and pepper. Whisk flour, cornstach, baking powder, and 1 teaspoon salt together in a large bowl. Add beer and whisk until smooth. Add fish to batter and toss to coat evenly.
Add oil to large Dutch oven until it measures about 3/4 inch deep and heat over medium-high heat to 350 degrees.
Remove 5 to 6 pieces of fish from batter, allowing exces to drip into bowl, and add to hot oil, briefly dragging fish along surface of oil to prevent oil temperature between 325 and 350 degrees. Fry fish, stirring gently to prevent pieces from sticking together and turning as needed, until golden brown and crisp. 8 minutes
Transfer fish to prepared wire rack and place in oven to keep warm. Return oil to 350 degrees an repeat with reamining fish, working with 5 or 6 pieces at a time. Serve with warm tortillas, cilantro, crema, and PIckled Onion and Cabbage.
Combine onion and jalapenos in a medim bowl. Bring vinegar, lime juice, sugar, and 1 teaspoon salt to boil in a small saucepan. Pour vinegar mixture over onion mixture and let sit for at least 30 minutes. or refridgerate for up to 2 days. Transfer 1/4 cup pickling liquid to a second medium bowl, add cabbage, 1/2 teaspoon salt, and 1/2 teaspoon pepper and toss to combine.
Notes
Recipe from The Best Mexican Recipes – America's Test Kitchen