This weekend, I went a little kitchen appliance crazy. I got a new Ninja Blender and food processor. I was tired of my previous Cuisan Art Blender not crushing ice or blending properly and lately, I've been on this smoothie kick. The food processor was bought because a part on there had broke and I figured by the time I found the part that was broken online, it would have probably cost the same amount as a new food processor. Time to get a new food processor. I sadly do not have a fridge that produces ice and have been on the hunt for some decent ice cube trays. I'm pretty excited about my new blender. I want to invite some friends over for chips, salsa, and margaritas. I'd only have to dirty one dish!
This is the first recipe I made in my food processor.  Strawberry Banana Sorbet.
Strawberries, check
Bananas, check
Almond Milk, check
Got all the ingredients for sorbet. LOVE it when that happens. Whenever you have ripe bananas and don't  know what to do with them, slice them up and put them in the freezer for smoothies later on! It's easier when they're sliced up trust me! Stupid me, tried taking a frozen banana out of the freezer this weekend and tried slicing it with the skin on. How dumb is that?! The skin was the hardest part to try and get off.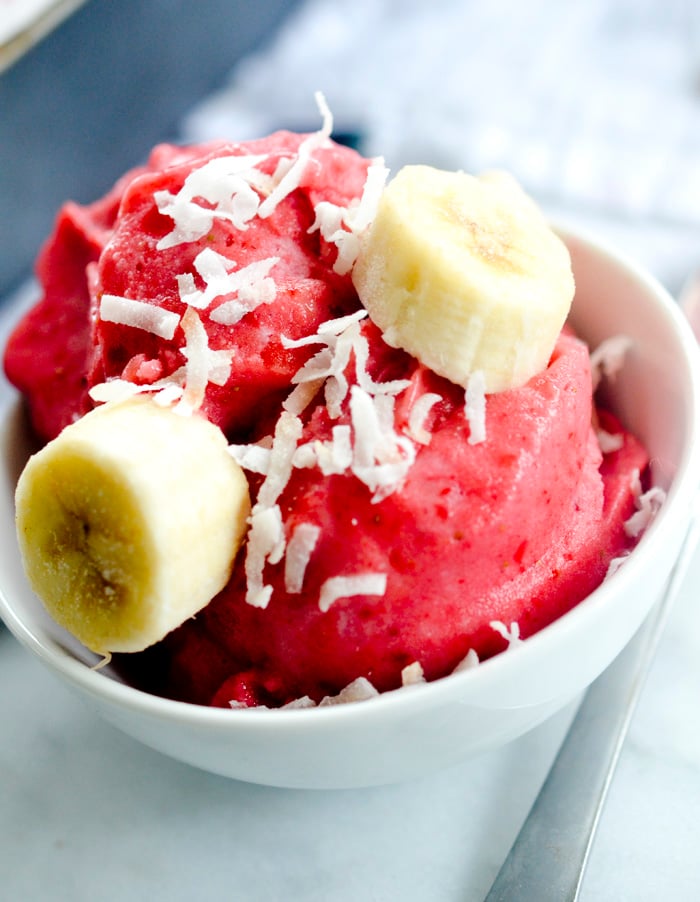 You can garnish this sorbet with toasted coconut, nuts, chocolate chips, whatever your little heart desires.
Print
4-Ingredient Strawberry Banana Sorbet
Ingredients
1 banana, sliced and frozen
2 cup strawberries, frozen
2 tablespoons almond milk
½ teaspoon vanilla
Instructions
Place all of the ingredients in a food processor and blend until smooth. The consistency should be like sorbet.
Transfer to a freezer-safe container large enough to hold 2 cups, and freeze for at least 3 hours.
Scoop with an ice cream scoop and serve cold.