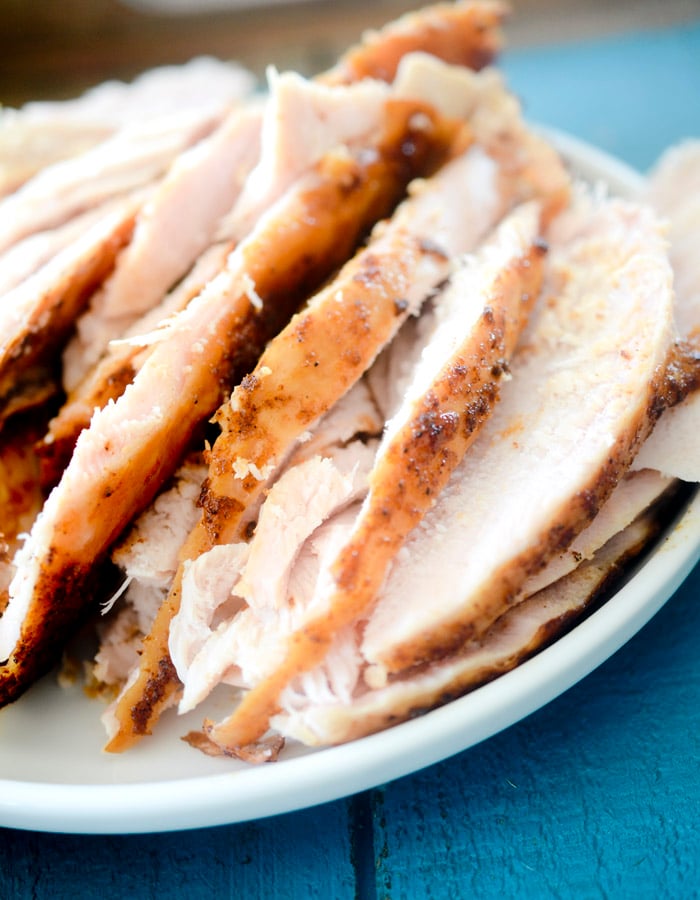 I thought instead of posting another sweet recipe, which I have been doing a lot lately, I would post something savory instead.
I love my smoker. It is a lot easier than lighting a charcoal grill and waiting FOREVER for the stupid coals to light up. All you do is flip the switch and turn it to whatever temperature you want to smoke at. All the other food blogs out there like to grill, and there is nothing wrong with that. This girl likes to smoke her meat instead. 🙂
This turkey breast was almost 4 pounds and took only 1.5 hours to smoke. A 7 pound turkey breast would take up to 3 hours. If you've never had a smoked turkey before, you must try it. I think it is by far better than any deep fried turkey or oven roasted turkey that you'd have for Thanksgiving. Not to mention the turkey is super moist and delicious and great for making a club sandwich the next day. The rub makes this.
The type of wood chips I used was Applewood. I have a Traeger grill and used their chips to smoke them.
Print
Applewood Smoked Turkey Breast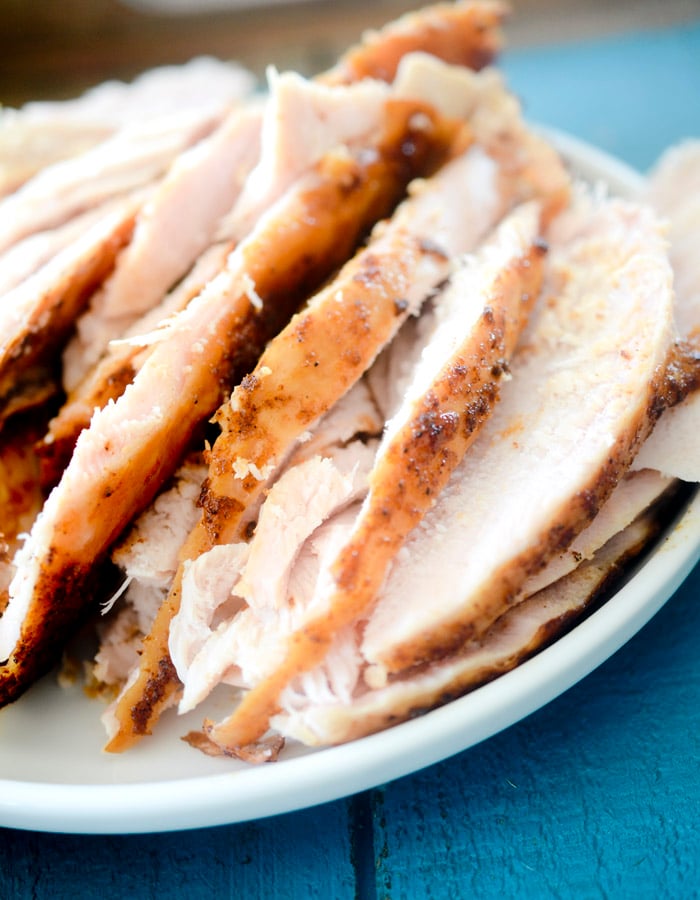 Ingredients
brine
1 cup kosher salt
1 cup maple syrup
1/4 cup brown sugar
1/4 cup whole black peppercorns
4 cups cold bourbon (I used Apple Jack Brandy, did not have any Bourbon)
1 1/2 gallons cold water
1 (7-pound) turkey breast
turkey
3 tablespoons brown sugar
1 1/2 tablespoons smoked paprika
1 1/2 teaspoons chipotle chili powder
1 1/2 teaspoons garlic powder
1 1/2 teaspoons salt
1 1/2 teaspoons black pepper
1 teaspoon onion powder
1/2 teaspoon ground cumin
6 tablespoons unsalted butter, melted
Instructions
Before beginning, make sure your bourbon, water and chicken stock are COLD.
To make the brine, combine the the salt syrup, sugar, peppercorns, bourbon and water in a large bucket. Remove any pieces from the turkey, like giblets or the neck, reserving to the neck for the gravy. Make sure to refrigerate it a resealable bag. Once the turkey is cleaned up, it in the liquid and refrigerate it for 8 to 12 hours.
Remove the turkey from the brine and pat it completely dry with paper towels. Place it on a baking sheet and refrigerate it for an hour or two so it dries thoroughly.
Preheat your smoker to 300-325 degrees F, adding your wood chips to the burner.
In a bowl, combine the sugar, paprika, chili powder, garlic powder, salt, pepper, onion powder and cumin, mixing well to combine. Gently lift the skin of the turkey and rub the melted butter all over the meat. Use it all up! I use both my hands and a spoon to drizzle it down in spaces that I can't reach. Take the spice rub and rub it all over the meat as well, underneath the skin. Rub the rest of it all over the outside of the skin, covering the turkey.
Smoke the turkey breast for 1.5 hours at 375 degrees.
Recipe adapted from How Sweet Eats