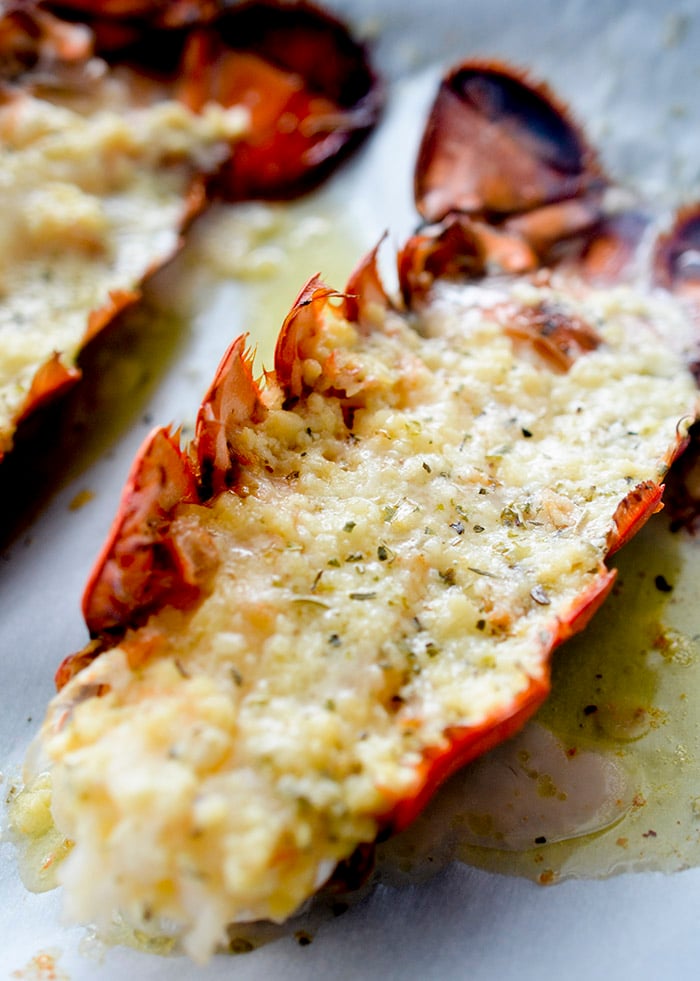 Baked lobster tails – luscious lobster tails coated in garlic, butter, and parmesan cheese and then baked in the oven. This will be your new favorite lobster recipe!
I love New Year's because it's really the only time of year that I get to eat my favorite seafood ever. Lobster! It goes on sale, so when that happens, I'm looking up recipes for Lobster tails. Usually, I would just boil lobster tails until they were done but I discovered that you can bake lobster too! So much easier than boiling. Just remove the clear shell on the outside and bake the tails in the oven for only 15 minutes!
Oh yah, I loved that Garlic Butter Salmon recipe so much I decided to try it out with lobster tails. DELICIOUS! In a bowl add some melted butter, parmesan cheese, lots of garlic and Italian seasoning. Brush the lobster tails with the garlic butter, bake in the oven, and enjoy!
P.S. I might be going back to the store to get some more lobster tails so be on the look out for more Lobster recipes.
Print
Baked Lobster Tails with Garlic Butter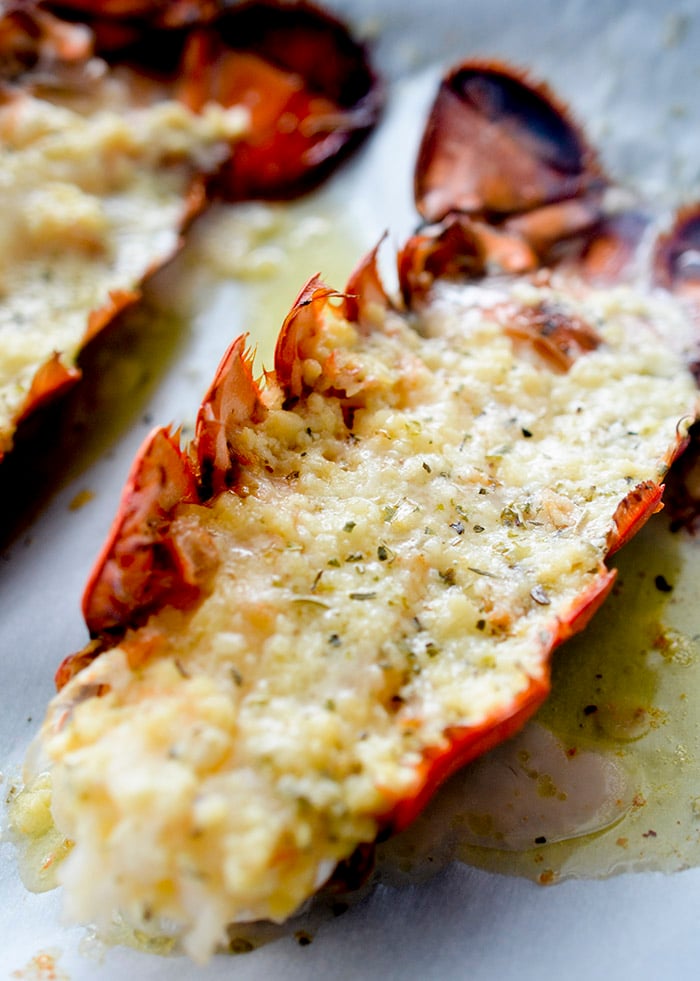 Ingredients
4 lobster tails
5 cloves garlic, minced
1/4 c. grated Parmesan, plus more for serving
Juice of 1 lemon
1 tsp. Italian seasoning
4 tbsp. melted butter
Instructions
Preheat oven to 350 degrees F. In a medium bowl, mix together garlic, Parmesan, Italian seasoning, and melted butter and season with salt.
Using a scissors, cut the the clear skin off the lobster and brush the lobster tails with the garlic butter seasoning.
Place the lobster tails on a baking sheet lined with parchment and bake the lobster tails for 15 minutes.
Notes
1 Lobster Tail: 6 Smart Points
Larger lobster tails will take longer cooking time. The cooking time is for smaller lobster tails.
Nutrition
Serving Size:

1

Calories:

222

Sugar:

1

Fat:

14

Saturated Fat:

7

Carbohydrates:

2

Protein:

21