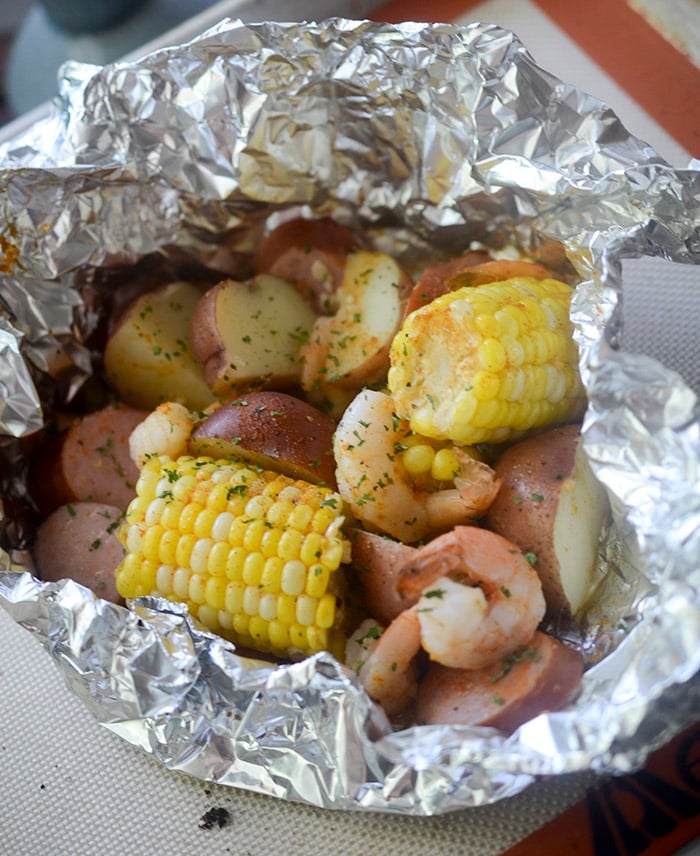 Healthy Baked Shrimp Boil Packets – corn on the cob, potatoes, shrimp, and sausage all baked together in a foil packet for super easy cleanup!
I saw this recipe floating around for baked shrimp boil packets about a couple of years ago, and I didn't know why I waited this long to try it? My readers loved the oven baked sausage and potato recipe  and this recipe has a  somewhat similar baking method. Just think of shrimp and corn on the cob added to the potatoes and sausage. 🙂
The originally recipe for  baked shrimp boil packets calls for a lot of butter. You can make this super healthy by switching the butter for spray butter and use as much as you like. I'm not certain how many sprays you can have to reach a certain amount of calories but I believe it's 15 sprays for only 12 calories. Depends on which brand you use.  Everything gets baked in aluminum foil and all the butter leftovers just end up at the bottom of the foil. This equals yummy sauce drippings that can soak up your corn, sausage, potatoes, or shrimp. Mmmm… Also use a low fat sausage or chicken sausage to keep this dish low cal.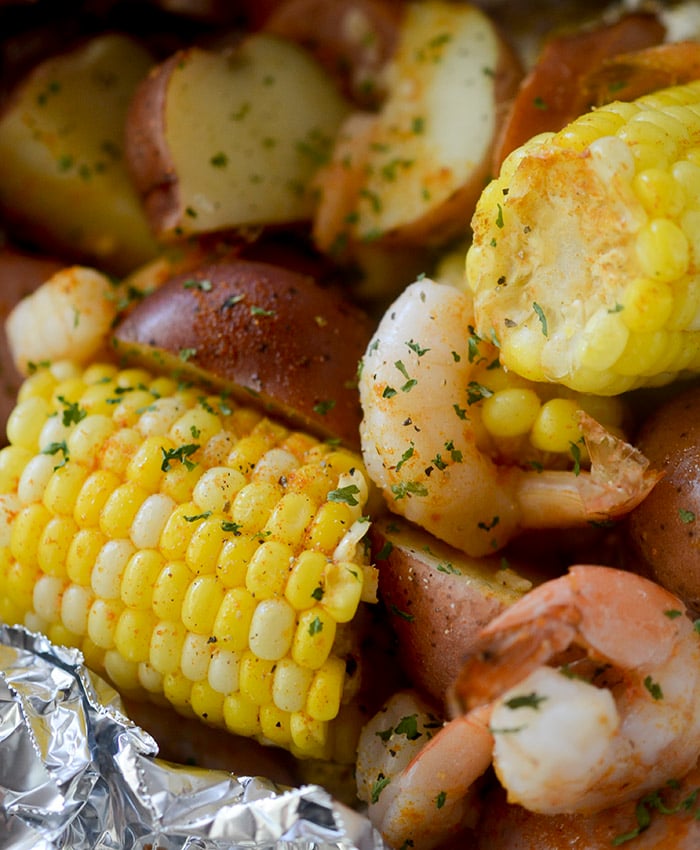 This recipe can also be made on the grill. See recipe instructions for both baking and grilling. Super easy both ways no matter which method you decide to do. You know me, I like easy recipes!
Print
Healthy Baked Shrimp Boil Packets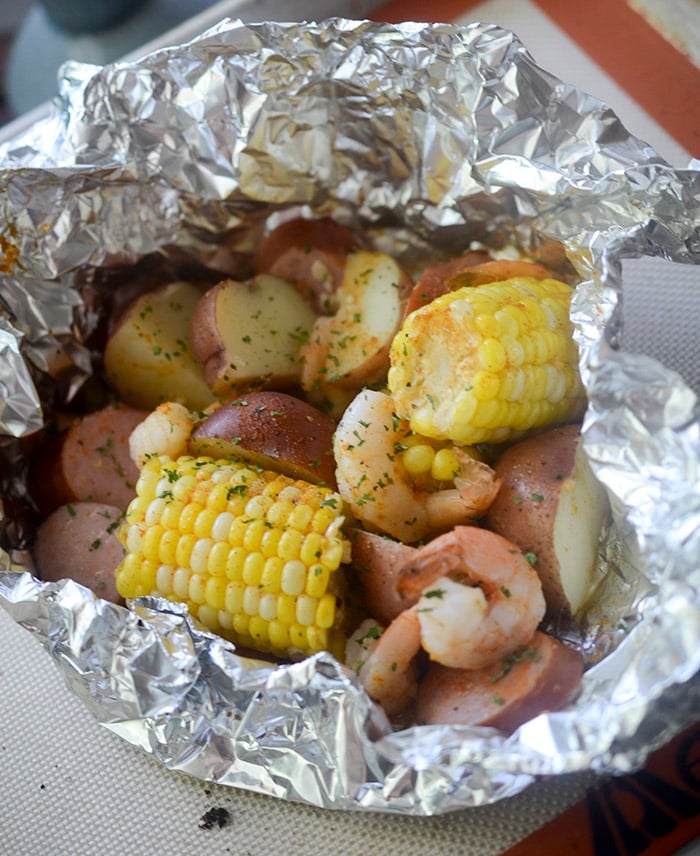 Ingredients
2 links of chicken sausage
1 lb of shrimp, uncooked
2 ears of sweet corn, cut into chunks
1 lb of red baby potatoes, boiled in water for 10 to 15 minutes
3 tsp of garlic
20 sprays of garlic butter (5 sprays per foil packet)
3 tsp of cajun seasoning or old bay seasoning
Instructions
Chop corn into thirds. Set aside. Chop potatoes into 2 inch pieces. Boil corn and potatoes for 10 minutes. Drain and set aside.
In a large bowl combine shrimp, sausage, corn, and potatoes. Spray with spray butter and season with cajun seasoning and garlic.
Divide between four 12×12 inch sheets of aluminum foil. Gently fold the sides of foil up so that all the food inside is wrapped around the foil.
Grill Method: Cook on preheated grill over medium-high heat for 8-10 minutes on one side, then flip and cook another 5-6 minutes on the second side.
Baking method: Preheat oven to 400 degrees and bake foil packets 15-20 minutes.
Notes
Makes 4 servings
4 smart points
Nutrition
Serving Size:

1

Calories:

301

Sugar:

5

Fat:

7

Saturated Fat:

2

Carbohydrates:

36

Fiber:

4

Protein:

39