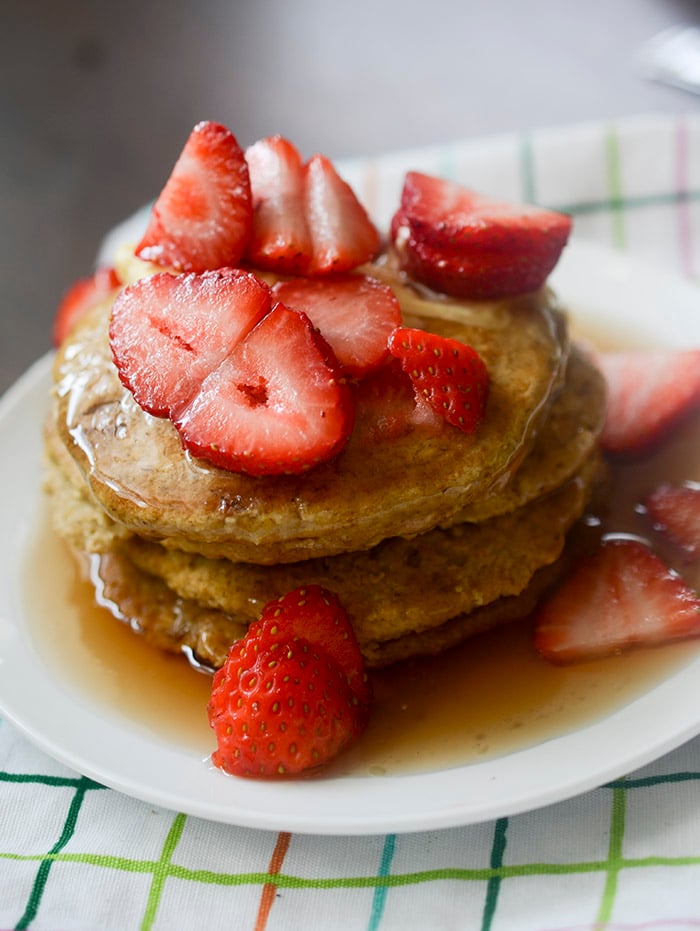 These healthy oatmeal pancakes are dairy free and gluten free! Make them on any day you meal prep and freeze the pancakes,  so all you have to do is take them out for breakfast in the morning and microwave them.
I was getting kind of sick of having plain old oatmeal in the morning and one morning I was really craving pancakes.  To make oat flour, simply grind up the oats in a food processor until it looks like flour. Then add in the baking soda, pinch of salt, unsweetened almond milk, and egg whites. I had a carton of egg whites which I like better than separating the eggs. Heat up your griddle and then cook them on one side until they start to bubble and flip. Then repeat until you have no leftover batter.
You can top these pancakes with whatever types of fresh fruit you have on hand or frozen fruit. I used some sugar free maple syrup. 2 pancakes contain 19 grams of protein. Isn't that great?
Print
Healthy Oatmeal Pancakes – Dairy Free and Gluten Free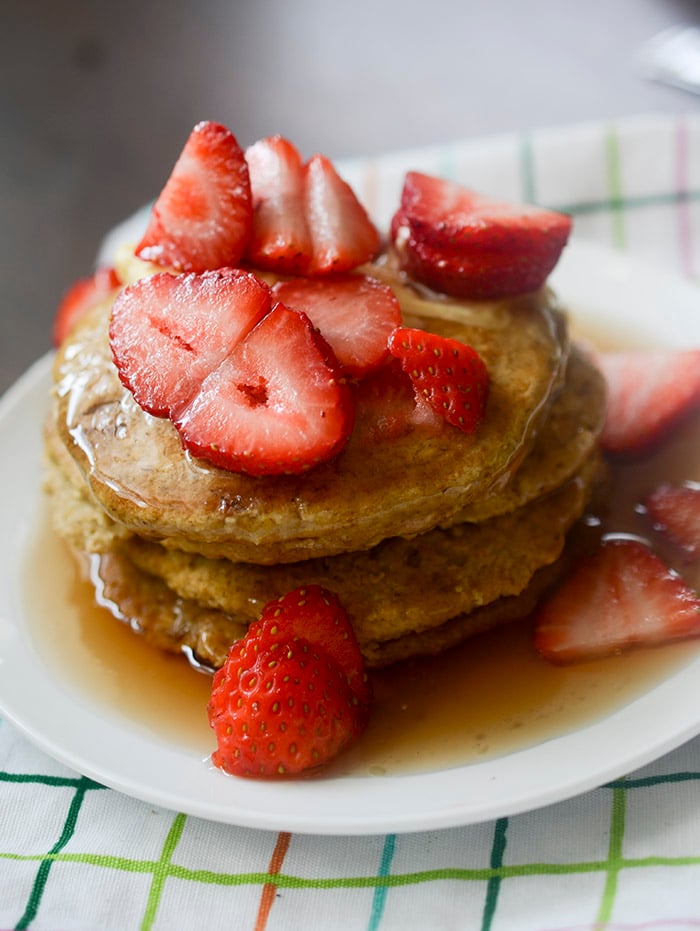 Ingredients
2 cup of oat flour – (grind 1cup old fashioned oats in food processor)
2 tsp of baking powder
4 egg whites
1.5 cup of unsweetened almond milk
1 tsp vanilla
A pincsh of salt
Instructions
Pulse the oats in a food processor until they look like regular flour. Add in all the rest of the ingredients and pulse again until well combined. The pancake batter should be on the thin side.
Preheat your griddle or skillet and add the pancake batter. I used an ice cream scoop that had about 2 tablespoons and dropped the batter onto the skillet. Cook on one side until the pancakes start to bubble and then flip. The pancakes are done when the bottom is golden brown.
Notes
Makes 8 pancakes
Smart Points: 3  (1 pancake) 
Nutrition
Calories:

169

Sugar:

0

Fat:

3

Saturated Fat:

0

Carbohydrates:

26

Fiber:

4

Protein:

9