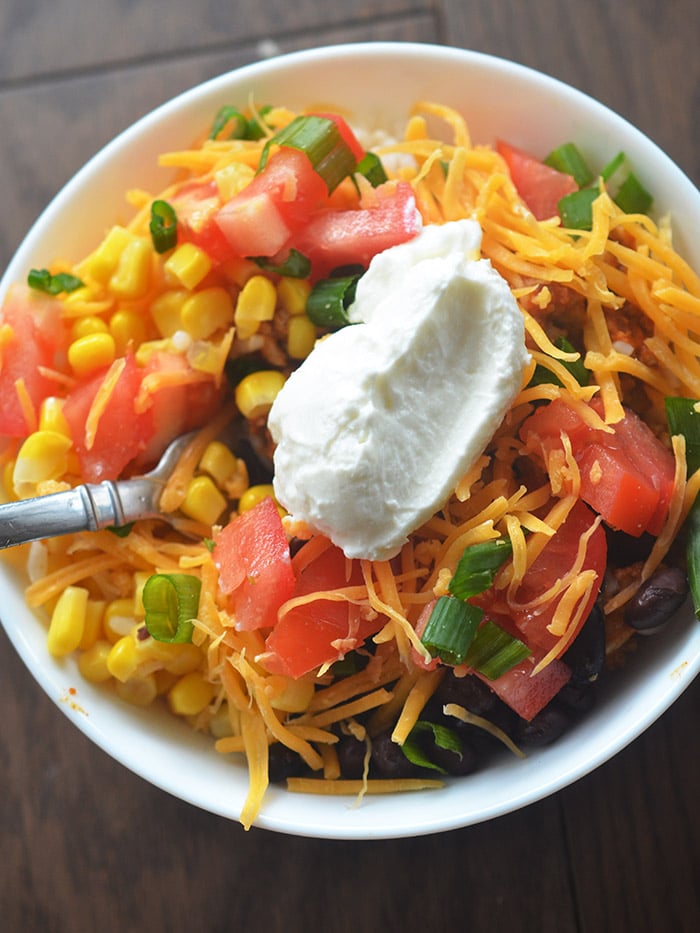 Hey everyone who actually reads these blog posts. If you want to see how these burrito bowls are made check out my youtube channel. I posted a whole entire video on What I Ate in a Day on the new Weight Watchers Freestyle Program. I've got so many recipe ideas running through my head for low smart point recipes and can't all post them in a day. I really like this new program. It makes me eat healthier and you could eat 0 smart points for breakfast, lunch, and dinner if you wanted or switch it up how ever you want. I am pretty terrible when it comes to snacking and need to get it under control some how.
Since chicken is now 0 on the plan, I'll tell you how these burrito bowls came to be 3 smart points.
Chicken – 0
Black Beans – 0
Corn – 0
Tomatos – 0
Green Onions – 0
Kraft Fat Free cheese – 0
Greek yogurt aka sour cream – 0
1/2 cup of Rice – 3 smart points
Seasonings I don't normally count since it's just spices anyway. This was very filling to my surprise and kept me full. I did end up frosting some sugar cookies later on during the day and watching the movie Elf. I might have eaten  4 of those which is a good thing that this burrito bowl is 3 smart points. I'm happy the Holiday Season is almost here and happy that it is coming to an end soon. All these sweets and treats lying around are very tempting to eat.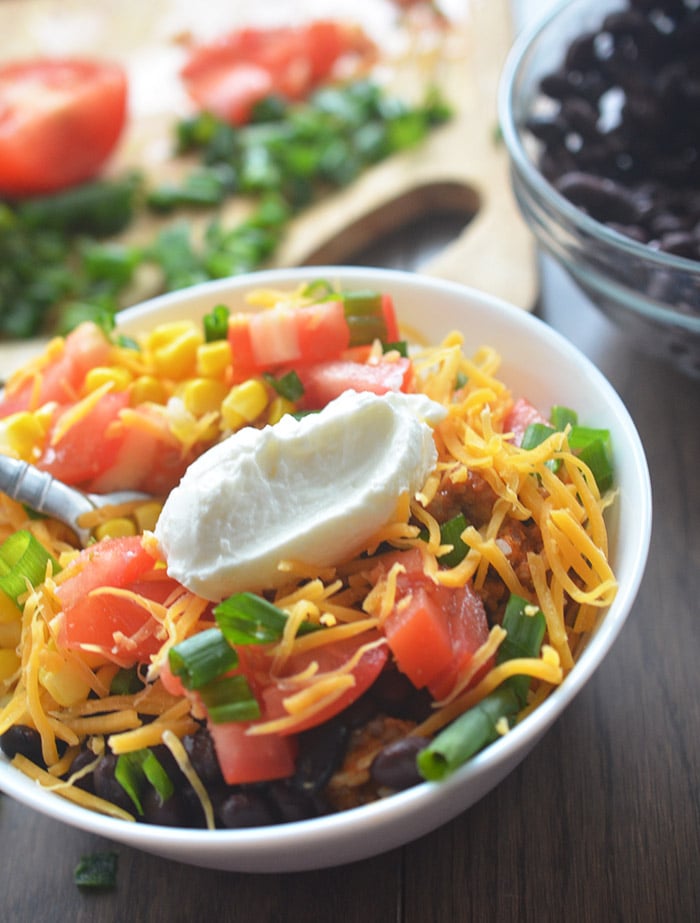 Print
Weight Watchers Burrito Bowls 3 Smart Points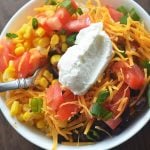 Ingredients
1 1/2 pounds of chicken – ground
1 packet of Mrs. Dash low sodium taco seasoning or any taco seasoning packet
1 15 oz can of black beans
1 15 oz can of corn
4 roma tomatoes, chopped
1 bunch of scallions, chopped
Fat Free Salsa
Fat Free Cheddar Cheese
1 cup of Instant Rice – cooked
1 dollop of Greek Yogurt ( optional)
Instructions
In a non stick skillet cook the chicken until brown and no longer pink. Add the taco seasoning packet and 3/4 cup of water. Simmer for 3 to 5 minutes and remove from heat.
Gather or prep all the ingredients while the ground chicken is cooking. Open the can of black beans and corn. Dice the tomatoes and green onion.
In a medium sauce pan add 1 cup of Instant Rice and 2 cups of water. Bring to a boil and remove from heat and cover until all the water is absorbed.
Now it's time to make the burrito bowls. Add 1/2 cup of rice to a bowl and then top with all the ingredients you just prepared. Enjoy.
Notes
3 smart points per serving 1/2 cup rice + all the rest of the 0 smart point ingredients (add as much as you like, I usually do half of cup each).
Makes 5 servings