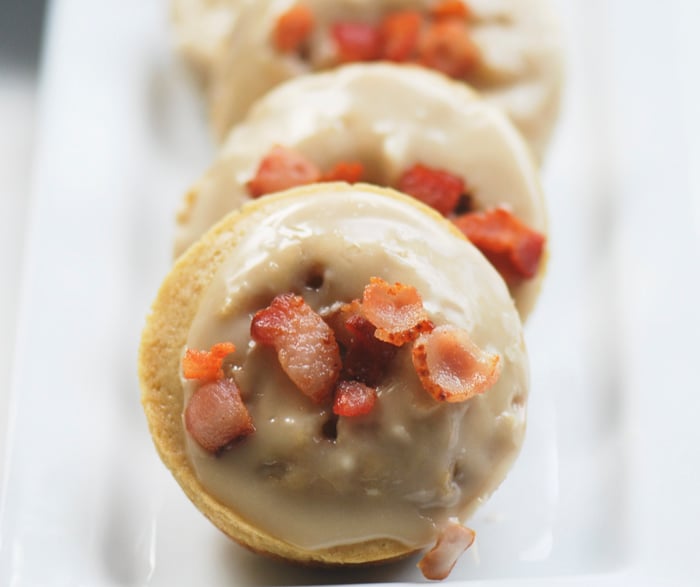 In a quest to make maple bacon donuts I didn't really succeed. The maple flavor just wasn't really strong enough. These donuts tasted more like a pancake to me and that's why I decided to call them Bacon Pancake Donuts. The donut texture is a lot like pancakes and what do pancakes get on top of them? Syrup. Really good pure maple syrup. Only one donut is 4 points and that even includes the bacon on top. I love it how you can still have bacon and be on a diet at the same time. Isn't that awesome?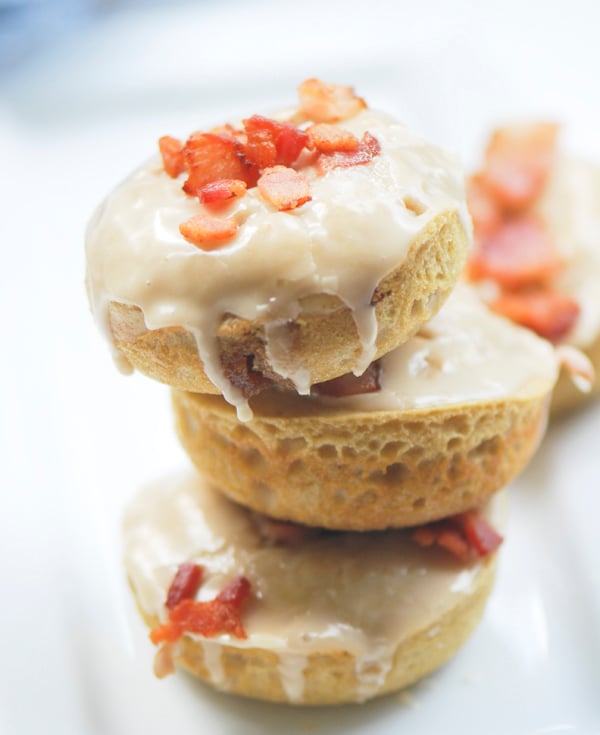 Servings: 10
Points Plus: 4
Calories 144, Fat 2.15g, Carbohydrate 26.94g, Fiber 0.5g Protein 4.16g
Ingredients
1 1/2 cups of flour
1 teaspoon baking soda
1/4 teaspoon salt
2 tablespoons of brown sugar
4 tablespoons of maple syrup
1/2 cup of buttermilk
1 egg
Frosting:
1/2 cup of powdered sugar
1 tablespoon of powdered sugar
1 tablespoon of 1% milk
Topping:
4 slices of bacon
Directions:
Preheat oven to 350
In a medium, combine flour, baking sodar, salt, and brown sugar. Stir together. Form a whole in the
middle of the flour mixture and add the maaple syrup, buttermilk, and egg.
Spoon two tablespoons of the donut mixture into the donut pan (hole). Makes about 10 donuts.
Bake at 350 for 12 minutes.
While the donuts are baking cook the bacon over the stove top until crispy. I cut mine into
chunks. Make the frosting: in a small bowl combine the powdered sugar, maple syrup, and milk.
Let the donuts cool once they are done baking in the oven. Dip the donut in the frosting mixture
and sprinkle the bacon on top. Enjoy