I have something to admit. I haven't been going to the gym lately. Instead, there's this website called youtube where you can watch workouts and do them at home. One brilliant thing about doing this, is that you can workout in your bra and underwear. If you wore just that to the gym, you'd probably get kicked out. Jillian Michael's has been kicking my little booty.
I'm also thinking about starting my own youtube channel. Might as well put my ipad to use other than using it to watch videos and going on pinterest. I would have made one for these shrimp, but I got to find some kind of tripod mount for that. The videos will more than likely consist of just action shots on how to make the recipe with text added in. Not good at talking in front of the camera.
Maybe one day, there will be a video on youtube for this shrimp. It's baked instead of fried and the dipping sauce. Oh boy, I just used some Sweet Garlic Chili Sauce and mixed it in with some mayo. There was no leftovers.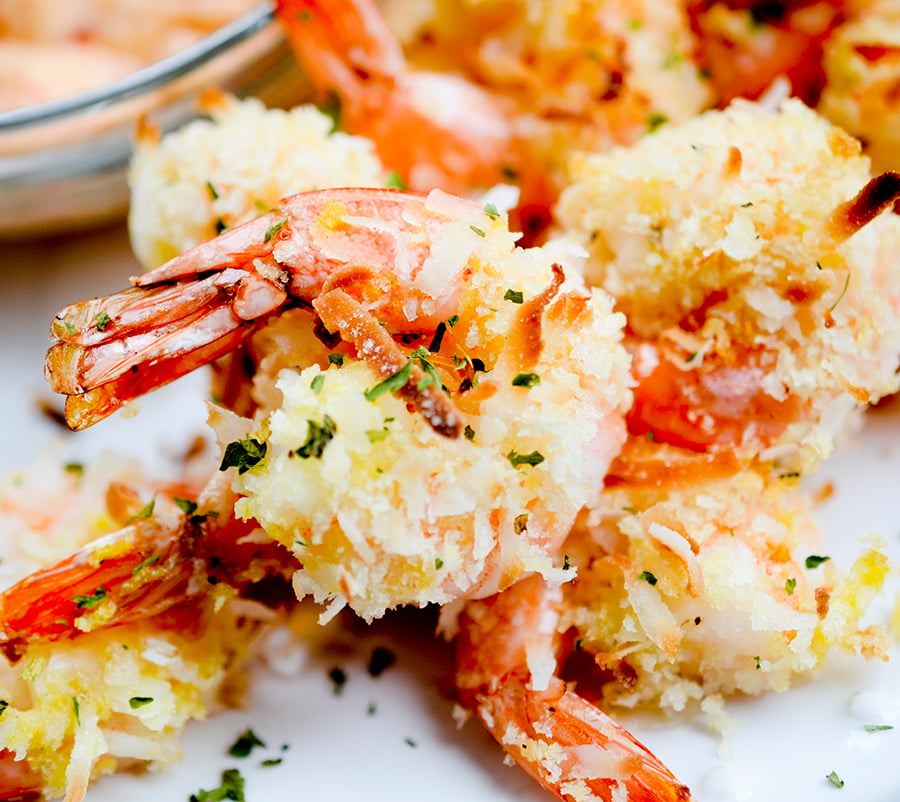 Print
Baked Coconut Shrimp
Ingredients
1 pound of peeled, raw and cleaned shrimp
3/4 cup of shredded coconut
1/3 cup of panko bread crumbs
2 medium eggs
salt and pepper to taste
cooking spray
Instructions
Peel and clean the shrimp.
In a small bowl beat the two eggs together.
In another small dish, combine the panko bread crumbs and coconut flakes.
Salt and pepper the clean shrimp.
Dip the shrimp into the egg mixture, and then into the coconut/flour mixture. Repeat this step until all the shrimp are breaded.
Preheat oven to 400 degrees. Place a wire rack on a back sheet and lay the shrimp on the wire rack.
Bake the shrimp for 15 minutes at 400 degrees.
Nutrition
Serving Size:

4

Calories:

252

Sugar:

7.84

Sodium:

802

Fat:

11.43

Saturated Fat:

6.76

Carbohydrates:

7.9

Fiber:

1.3

Protein:

35.05