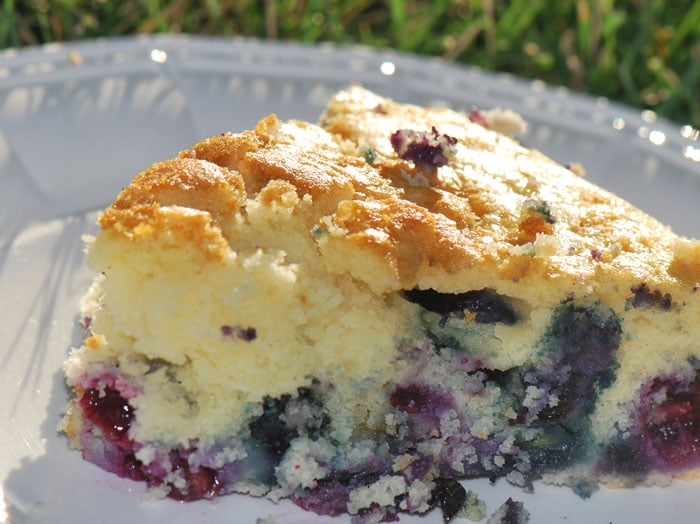 I turned my kitchen into a sauna today by  baking this cake and the Shrimp Jamalaya. Oofta. I hope I lost a little bit of weight making everything. 😉
The cake ended up very moist and I think the only thing it was missing was a streusel topping. The grocery store had blueberries on sale this week: $1.39 for 1 pint. I picked up 3 pints. They also had limes on sale for .25 a piece and I picked up 8 of those. I plan on making this blueberry salsa  for pork chops and a  Mojito marinade for more shrimp later on this week. The man, in the picture eating the cake is my man by the way. If I you ever see me say we had this, it is probably that man. 🙂
Print
Scale
Ingredients
1 ½  cups  all-purpose flour (about 6 ¾ ounces)
1  teaspoon  baking powder
¼  teaspoon  baking soda
¼  teaspoon  salt
¾  cup  granulated sugar
6  tablespoons  butter, softened
1  teaspoon  vanilla extract
1  large egg
1  large egg white
1 ⅓  cups  low-fat buttermilk
Cooking spray
2  cups  fresh blueberries
1  tablespoon  turbinado sugar
---
Instructions
Preheat oven to 350°.
2. Lightly spoon flour into dry measuring cups; level with a knife. Combine flour, baking powder, soda, and salt, stirring with a whisk.
3. Place granulated sugar and butter in a large bowl; beat with a mixer at medium speed until well blended (about 2 minutes). Add vanilla, egg, and egg white; beat well. Add flour mixture and buttermilk alternately to sugar mixture, beginning and ending with flour mixture; mix after each addition.
4. Spoon half of the batter into a 9-inch round baking pan coated with cooking spray. Sprinkle evenly with 1 cup blueberries. Spoon remaining batter over the blueberries; sprinkle evenly with remaining 1 cup blueberries. Sprinkle the top evenly with 1 tablespoon turbinado sugar. Bake at 350° for 50 minutes or until a wooden pick inserted in center comes out clean. Cool in pan 10 minutes on a wire rack; remove from pan. Cool completely on wire rack.
Note: If using peak-season fruit, using 1 ½ cups blueberries instead of 2 cups, and only 1 cup buttermilk instead of 1 ⅓ cups. This will make the batter thicker so the berries won't sink to the bottom.
---
Notes
6 smart points: Makes 15 pieces