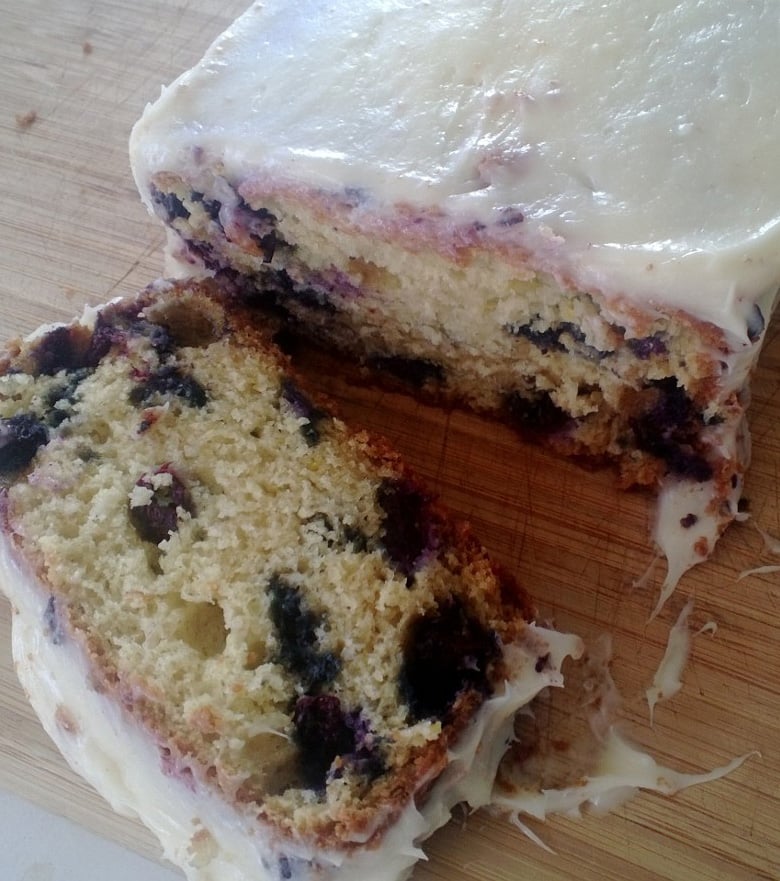 I ordered my new camera last night. I'm getting the Nikon D7000 and I can't wait! Supposed to be getting on Thursday next week. I'm looking forward to taking pictures for my blog with that camera and my auto focus for my 400 mm lens will now work. It didn't with my D60 that I had. You guys have no idea how pumped I am to get that camera. Ha ha.
Blueberries have been really fresh and delicious this season. Not too many sour ones that I've come across. I've been getting lots of blueberries at the grocery store and have been looking at a lot of blueberry recipes. So far, I've made this blueberry pound cake and a frozen gelatin dessert that I plan on posting later. I'd almost like to go and pick a lot of blueberries to make some jam with them but I don't think there are any blueberry fields around here to go pick at. 🙁 This cake reminds me of the lemon poppy seed cake with cream cheese frosting at Carribou Coffee. Nice and moist and I really like the cream cheese frosting. There are no poppy seeds in this cake just bigger looking seeds that are blueberries.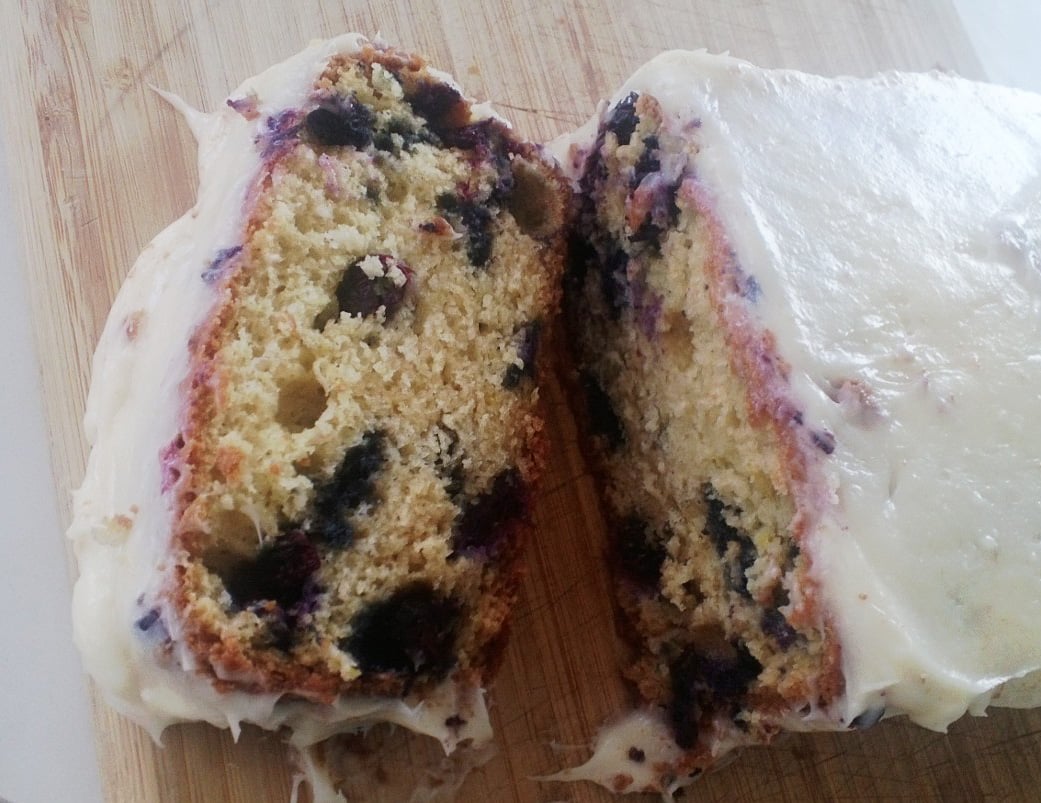 Blueberry Lime Cream Cheese Pound Cake from The Novice Chef
Yield: 1 Loaf Cake
Ingredients:
1 1/4 cups all-purpose flour
1 teaspoon baking powder
1/4 teaspoon salt
1 stick (1/2 cup) unsalted butter, room temperature
4 oz PHILADELPHIA cream cheese, room temperature
2/3 cup granulated sugar
2 large eggs
1 tablespoon vanilla extract
2 tablespoons lime zest
1 cup fresh blueberries
PHILADELPHIA cream cheese frosting:
4 oz cream cheese, room temperature
4 tablespoons unsalted butter, room temperature
1 1/2 cups powdered sugar
1 teaspoon vanilla extract
Directions:
Preheat oven to 350°F. Butter a 9 x 5 loaf pan. Line the bottom of the pan with parchment paper and butter the parchment paper as well. Set aside.
In a medium bowl, whisk together flour, baking powder and salt. Set aside.
In stand mixer, beat together cream cheese, butter and sugar until light and fluffy, about 2 minutes. Add eggs one at a time, throughly mixing each time. Add vanilla extract and lime zest, mixing until combined.
Pour flour mixture over the batter mixture. Using a large rubber spatula, gently fold in the flour until it's completely mixed in and there are no pockets of dry flour. Lastly, gently fold in the blueberries.
Transfer batter to prepared baking loaf pan. Bake for 55-65 minutes, or until toothpick inserted in the center comes out clean. Let sit until cool, at least 30 minutes and then remove from pan.
In a stand mixer or large bowl, cream butter and cream cheese until smooth. Add confectioners' sugar and beat on low speed until combined, then on high until frosting is smooth. Beat in vanilla extract.
Carefully frost on top of the cooled poundcake and store in fridge until ready to serve.