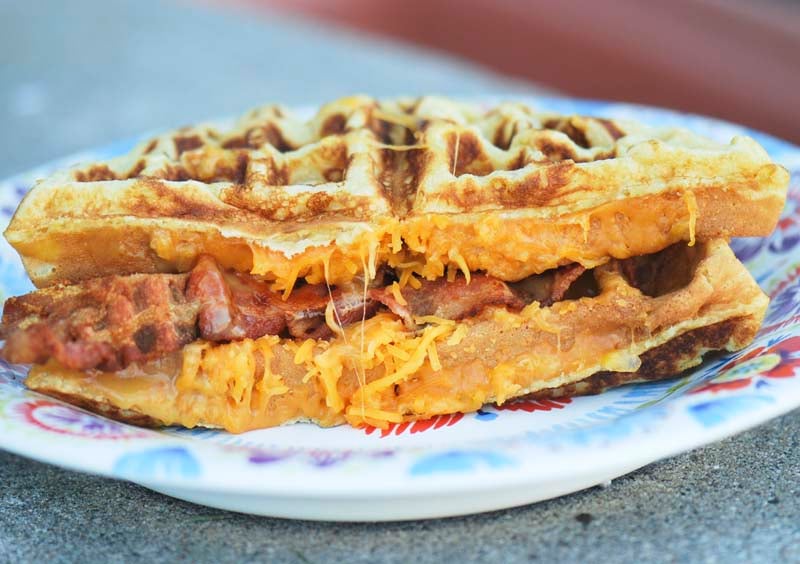 You know what, I'm starting to like the Cooking Channel a lot better. They actually post pictures a long with their recipes un-like the Food Network. There are still a few of my favorites on the Food Network though, like Ina Garten and the Pioneer Woman. I was watching Bobby Flay make this on his show one morning (Brunch with Bobby or something like that) and it looked so good. He made this a long with some peach muffins, a breakfast burrito, and a smoothie that I also have to try to try. I had all the ingredients on hand so I decided this would be my dinner on Sunday night. Ben didn't want to try and he just had a plain old waffle instead of this yummy sandwich.
I made this waffle batter and they turned out great with the corn meal. Never tried making a waffle batter with that stuff before. I came up with about 7 waffles. On Bobby's show he used two waffles to make the sandwich and I thought that would have been way too much, so I just used one waffle and cut it down the middle. The mustard/maple syrup was good over the bacon and cheddar cheese. I tried to figure out this recipe the best I could to make it lighter but to heck it with it. Did you know there's a such thing as low sodium bacon and cheese too? (for those of us who like to watch how much sodium we intake) Who would have thought. This waffle sandwich was the bomb.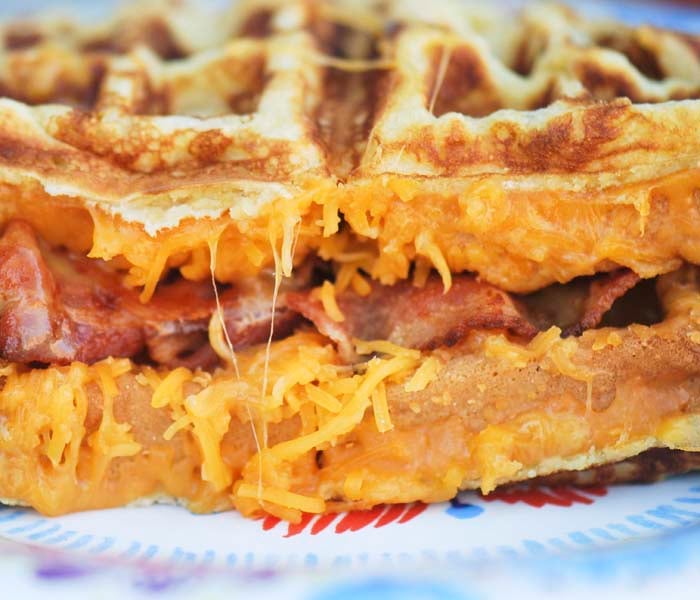 Print
Cheddar and Bacon Cornmeal Waffle Sandwiches
---
Ingredients
1 cup white cornmeal
1 cup all-purpose flour
2 teaspoons baking powder
½ teaspoon baking soda
2 cups buttermilk
5 tablespoons unsalted butter, melted
¼ cup plus 2 tablespoons pure maple syrup
2 large eggs
Nonstick cooking spray
2 tablespoons Dijon mustard
1 ¼ cup grated sharp Cheddar
6 slices bacon, cooked until crisp
Special equipment: a waffle iron
---
Instructions
Preheat the oven to 300 degrees F.
Whisk together the cornmeal, flour, baking powder and baking soda in a medium bowl. Whisk together the buttermilk, butter, ¼ cup of the maple syrup and eggs in a medium bowl until combined. Add the wet ingredients to the dry ingredients, and stir until just combined.
Heat a waffle iron according to the manufacturer's directions. Spray the grates of the waffle iron with nonstick cooking spray. Use a scant ½ cup of the batter per grid, close the cover and cook until golden brown or when the steam stops emerging from the waffle iron, about 4 minutes. Repeat with remaining batter. The recipe will make 6 waffles.
Meanwhile, whisk together the Dijon mustard and the remaining 2 tablespoons of the maple syrup in a small bowl.
Place 3 waffles on a large baking sheet in a single layer and spread some of the mustard over the tops of each waffle. Sprinkle the cheese evenly over the top. Place in the oven until the cheese has melted.
Arrange one-third of the bacon slices on the cheesy waffles and drizzle with a little more of the Dijon mustard mixture. Top with the reserved 3 waffles. Slice on the diagonal and serve warm.
---
Nutrition
Serving Size:

1 sandwich

Calories:

444.5

Sugar:

6g

Fat:

23.3g

Saturated Fat:

9g

Carbohydrates:

40.4g

Fiber:

3g

Protein:

19.8g
Keywords: Cheddar and Bacon Cornmeal Waffle Sandwiches