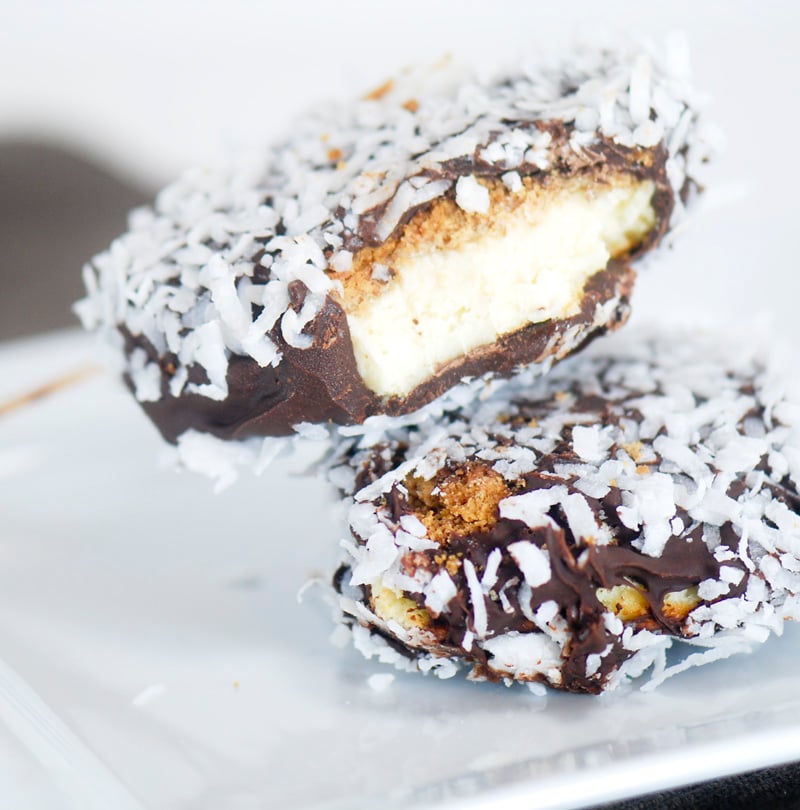 My friends and I went to the street fair this weekend. There's a bunch of artists and crafters that come from different areas of Minnesota, ND, and SD, etc…  My favorite ones to look at are the photography booths. Normally, I don't end up buying any of the art. I go straight to all the food vendors.
Don't you just love fair food? Cheese curds, fried bread tacos, kettle corn, gyros, etc… I had a fried bread taco and pina colada smoothie. That pina colada smoothie was so good and hit the spot, because it was hot and humid. I think all we did was complain about how hot it was when we were there.
At the street fair they had cheesecake on a stick. That intrigued me to make my own version. It's kind of a long but easy process. You make a batch of cheesecake and freeze it. Or… if you're really lazy like I am sometimes or don't want to heat up your house baking cheesecake, go to the store and get a frozen one. Melt some chocolate in the microwave and dip the cheese cake in whatever you like. Sound simple enough, you don't really need a recipe for that. 😉
Next, I might attempt to make my own gyros.
Ingredients
2 1/3 less fat cream cheese
2 eggs
3/4 cup of sugar
1 teaspoon vanilla
1 1/2 cups of graham cracker crumbs
4 tablespoons of melted butter
2 cups of semi sweet chocolate chips
popsicle sticks
coocnut, sprinkles, or any candy topping you want.
Directions:
In a stand mixer beat cream cheese and sugar and grdually add the eggs and vanilla. Crush graham crackers in zip lock bag and crush them with a rolling pin or your food professor. Add the melted butter.
In an 8 in baking dish add the graham crust first and then the cream cheese mixture. I baked mine at 350 for about an hour.
Once the cheese cake has cooled. Divide evenly and place a popsicle
stick in there. You can make small or larger pieces.
Melt the chocolate chips in a microwave and dip the cheese cake
in the chocolate. Coat with coconut, sprinkles, or whatever you chose.