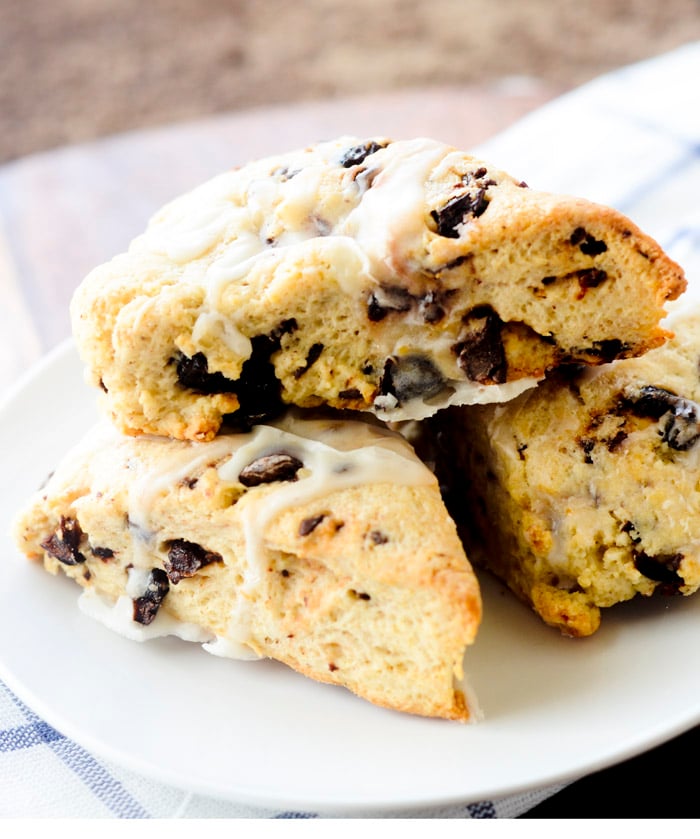 I keep on finding awesome recipes in the Better Homes and Garden Breakfast and Brunch magazine edition. The magazine was on the shelves quite awhile ago, want to say that I picked it up sometime in the middle of Winter. You know how some people are a sucker for the gossip magazines? Well, I'm a sucker for food magazines. Think they do that on purpose at the check out lanes, and put the candy right next to the food magazines. Oh look, this recipe looks good it has chocolate in it! Think I'll pick up a candy bar.
These Cherry Chocolate scones I've been wanting to try in that magazine forever and I finally did this weekend. I couldn't stop eating these scones! Just like chocolate and mint are a food match made in heaven, chocolate and cherry anything go really well together too.
I have to admit, I had 4 of these scones for breakfast yesterday morning. I woke up a little late and didn't eat breakfast until around 10:30, so that would be considered brunch.  These scones are delicious with the chunks of chocolate, dried cherries, and the orange glaze drizzled on top of them. Couldn't stop eating them! If you don't have any heavy cream on hand, sub non-fat plain greek yogurt and if the mixture is a little bit dry, add in some water a little bit at a time until it comes together.
Print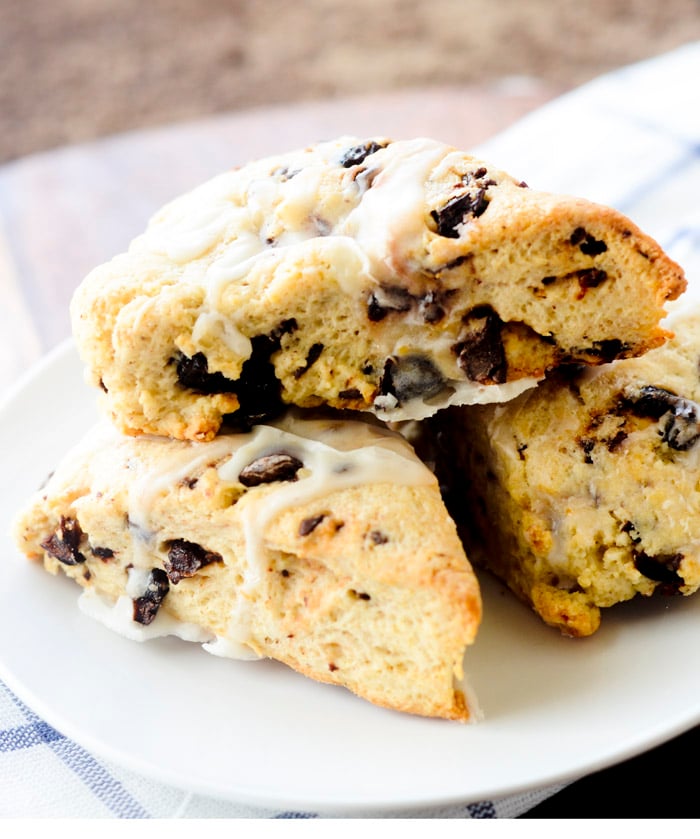 Cherry Chocolate Scones
---
Scale
Ingredients
2 1/2 cups

of flour

2 tbsp

sugar

1 tbsp

baking powder

1/4 tsp

salt

1/3 cup

of butter

2

eggs, lightly beaten

3/4 cup

whipping cream

1/4 cup

snipped dried cherries

1/4 cup

miniature semisweet chocolate pieces

1/2 tsp

finely shredded orange peel

1

recipe for orange drizzle
---
Instructions
Preheat oven to 400 degrees. In a large bowl stir together flour, sugar, baking powder, and salt. Using a pastry cutter, cut in butter until mixture resembles coarse crumbs. Make a well in the center of flour mixture; set aside
In a medium bowl combine eggs, the 3/4 cup whipping cream, the dried cherries, chocolate pieces, and orange peel. Add egg mixture all at once to flour mixture. using a fork, stir just until moistened.
Turn dough out onto a lightly floured surface. Knead dough by folding and gently pressing it for 10 to 12 strokes or until dough is nearly smooth. Divide dough in half. Pat or lightly roll each dough into a 6 inch circle. Cut each circle into six wedges.
Place dough wedges 2 inches apart on an ungreased baking sheet. Brush wedges with whipping cream.
Bake for 12 to 14 minutes or until golden brown. Drizzle with orange drizzle.
Orange drizzle
In a small bowl stir together 1 cup of powdered sugar, 1 tablespoon orange juice, and 1/4 tsp vanilla extra. If necessary stir in additional orange juice, 1 teaspoon to reach drizzling consistency.
---
Nutrition
Calories:

364

Sugar:

11

Fat:

19

Saturated Fat:

12

Unsaturated Fat:

5

Trans Fat:

0

Carbohydrates:

42

Fiber:

1

Protein:

6