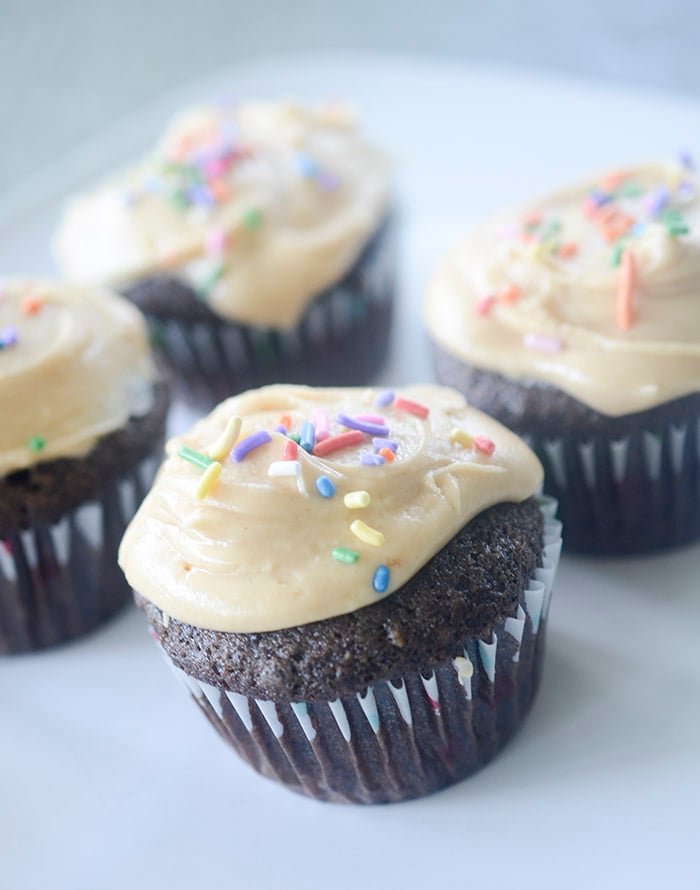 I tried baking without any dairy products, and guess what? I didn't miss any of the eggs or butter that usually goes into regular cupcakes. These chocolate cupcakes were super moist and made with unsweetened almond milk and canola oil. You still have your basic dry ingredients like flour, sugar, and baking soda. The frosting has Vegan butter in it and  Vegan butter has the same consistency as normal butter. It also tastes the same too. Too me it does anyway.
You know what drives me bonkers about going dairy free? Every product that is dairy free costs a lot more. Usually you can get 4 sticks of butter in the store for around $4.00 these day. Vegan butter is almost $1.50 more. Vegan cheese? I'm not to thrilled about that yet, but a bag of cheese is $5.00. Dude, ya know it just has a different ingredient in it and it has to cost so much more. Why the eff why? Someone please explain this to me because I seriously don't get it and it's not fair to people who have an allergy or are lactose intolerant.
I found this chocolate vegan cupcake on Liv B. Her channel is one of my favorite Vegan channels on youtube so check her out. The peanut butter frosting I came up with. 🙂
Print
Chocolate Cupcakes - Vegan | Dairy Free
---
Scale
Ingredients
1 cup

+

2 tbsp

flour

2 tbsp

cocoa powder

¾ cup

sugar

1 tsp

baking soda

⅔ cup

almond milk

⅓ cup

melted coconut oil, vegan yogurt or applesauce

1 tbsp

apple cider vinegar

2 tsp

vanilla
Frosting

2 tablespoons

of peanut butter

2 tablespoons

of Vegan Butter - I used Smart Balance

1 tablespoon

of almond milk

3 cups

of powdered sugar

1 tsp

of vanilla
---
Instructions
Add dry ingredients to a bowl and then add all the wet ingredients. Stir until well combined. Add the batter to 8 lined muffin cups.
Bake at 400 degrees for 20 minutes.
You can mix all the ingredients for the vegan frosting in one bowl. Use a mixer or fork to blend all the ingredients together. I used a fork. 🙂
---
Notes
Makes 8 cupcakes. Serving size is for 1 cupcake.
Nutrition info is just for the cupcake and not the frosting.
Nutrition
Serving Size:

1

Calories:

162

Sugar:

18

Fat:

10

Saturated Fat:

1

Protein:

0