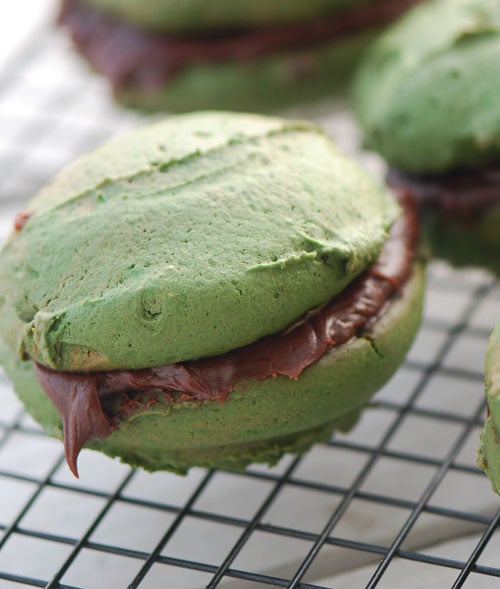 Happy St Patrick's Day! Here are some Green Velvet Whoopie Pies with Chocolate Frosting for you! I'm sorry you can't just take it out of the screen and grab it. That is something new they will have to develop along with that smell-o-vision that Food Network has been trying to get forever. My whoopie pies didn't turn out very green like these did. I tried making the shamrock shape but my batter was too thick and not very green. Some of them even turned an army green color mixed in with a little bit of brown. I didn't have any liquid green food coloring either and maybe that would have helped more. Instead of the normal, cream cheese frosting I decided to use chocolate frosting instead. There was already a big enough mess in my kitchen and I didn't want to dirty any more dishes.
Note: Green Army colored whoopie pies
Shamrock Sandwich Cookies
Recipe adapted from Annie's Eats
Print
Scale
Ingredients
1/2 cup unsalted butter, at room temperature
1 cup light brown sugar, packed
1 large egg
1 tsp vanilla
1 T light corn syrup
2 cups all purpose flour
2 T cocoa powder
1/2 tsp baking powder
1/4 tsp salt
1/2 cup buttermilk, at room temperature
1/2 – 1 oz green liquid food coloring
---
Instructions
Preheat oven to 375 degrees. Line baking sheet with parchment paper, with pencil side down.
Beat butter and sugar in mixing bowl on medium high speed until light and fluffy, about 2-3 minutes. Add egg and beat until well incorporated. Mix in vanilla and corn syrup and beat about 30 seconds more.
Combine flour, cocoa, baking powder and salt in a small mixing bowl. Add 1/3 of the mix to the batter and beat on low speed until just incorporated. Add 1/2 of the buttermilk and beat until just incorporated. Repeat with another 1/3 of the flour mix and the rest of the buttermilk and finally the last 1/3 of the flour mix. Scrape sides of the bowl as needed. Finally add food coloring, start with about 1/2 and mix until the color is uniform but do not over beat.
Transfer batter to a piping bag fitting with a large round tip and pipe onto parchment paper. Bake about 8 minutes until the cookies are set. Cool about 5 minutes on the pan and then transfer to a wire rack to cool completely.
---