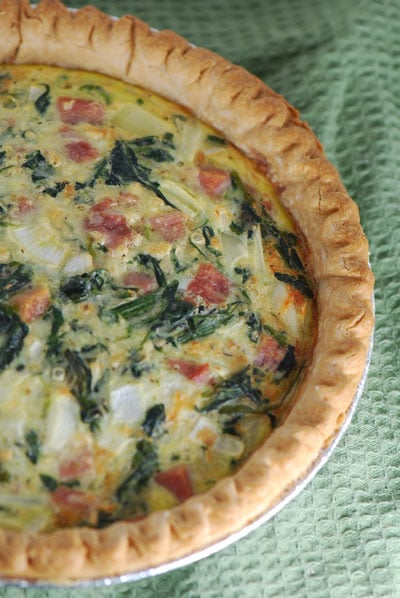 I made this recipe today, to get rid of some leftover ham from Easter. Guess what?! We STILL have ham leftover. I am getting very sick of it fast too. A quiche, can help you with that. I changed things up again in this recipe to make it lighter. The bacon was left out. I used 3 whole eggs, and 3 egg whites, 1 cup of part skim mozarrella cheese, and I just realized I left out the milk. WOOPS! I was planning on using 1% milk and totally forgot it,  in this recipe. Maybe that is why it wasn't very filling?  There was also some spinach added in to give it some more fiber per serving. In the end with the milk added if you so choose to, this Ham and Spinach Quiche recipe ended up being 232 calories, 12.2 grams of fat and 1.4 grams of fiber. There is a total of 6 servings in this recipe.
I will be lightening up a lot of recipes now. Ben and I went and took pictures outside this afternoon because I wanted something to do and a victim to practice with. I've been really thinking about getting into the photography business lately because, I think I'd like that more than building websites. There is a room in our new house that will be great for building a studio with. In one of the pictures that Ben took of me,  I noticed I was getting a little double chin look. Eek! We have our engagement pictures coming up in October and I don't want that. So, I'm going to try and be VERY, VERY good here and not bake any sweets or anything bad for you. I went to Sam's Club this morning and bought this huge bag of Craisins to munch on instead of chips. Thomas Bagel Thins are awesome too. Check them out. I heard they can be found at Wal-Mart too. It is nice to see a bagel that is very low and calories and still tastes good.
Print
Scale
Ingredients
1  (15-oz.) package refrigerated pie crusts
1  egg white, lightly beaten
6  bacon slices          (left out)
½  cup  chopped onion       ( ½ cup chopped onion)
1  cup  sliced fresh mushrooms   (½ cup of spinach)
1 ½  cups  half-and-half    ( 1 cup of 1 % Milk)
1  cup  chopped cooked ham
6  eggs, lightly beaten          ( 3 large eggs, 3 egg whites)
½  teaspoon  seasoning salt
½  teaspoon  black pepper
2  cups  (8 oz.) shredded Swiss cheese    (1 cup of mozzarella cheese part-skim)
2  tablespoons  all-purpose flour
---
Instructions
. Fit 1 piecrust into a 9-inch deep-dish pieplate according to package directions; trim dough around edges of pieplate.
2. Place remaining piecrust on a lightly floured surface; cut desired shapes with a decorative 1-inch cookie cutter. Brush edge of piecrust in pieplate with beaten egg white; gently press dough shapes onto edge of piecrust. Pierce bottom and sides with a fork.
3. Line piecrust with parchment paper or aluminum foil; fill piecrust with pie weights or dried beans.
4. Bake at 400° for 10 minutes. Remove weights and parchment paper; bake 5 more minutes, and set aside. Reduce oven temperature to 350°.
5. Cook bacon in a large skillet over medium-high heat until crisp. Remove bacon, and drain on paper towels, reserving 2 tsp. drippings in pan. Crumble bacon, and set aside.
6. Sauté chopped onion and mushrooms in hot drippings 3 to 4 minutes or until tender.
7. Stir together bacon, onion mixture, half-and-half, and next 4 ingredients in a large bowl. Combine cheese and flour; add to bacon mixture, stirring until blended. Pour mixture into crust.
8. Bake at 350° for 45 to 50 minutes or until a wooden pick inserted in center comes out clean. (Shield edges with aluminum foil to prevent excess browning, if necessary.) Let stand 10 minutes before serving.
---