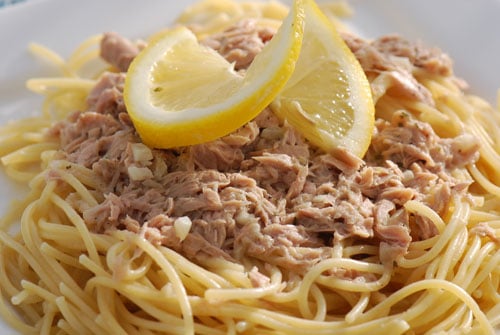 LINGUINE WITH CLAM SAUCE
Found this recipe at one of my daily visit blogs.  The recipe called for canned clams, but instead I decided to try it with some canned tuna. Man was this delicious! Even better with some Parmesan cheese sprinkled on top if it. Lemon and tuna go really well together I think. I'm going to have to do some searching for some more tuna recipes or maybe try and come up with some of my own. I get pretty sick of tuna sandwiches all the time.
I've been having that  a lot for lunch lately with some pickles. Low fat mayo of course. Like I said in a post below this one, that one of the grocery stores here has canned tuna for .$48 a can. What a steal that is. I picked up 5 cans of that so I'm pretty stocked up for awhile. Have any tuna recipes to share? Please do!
Print
Scale
Ingredients
1 pound linguine
1 tablespoon olive oil
2 tablespoons butter
3 minced garlic cloves
1 ten ounce cans chopped clams, drained and juice reserved
3/4 cup white wine
Juice of 1/2 lemon, plus lemon slices for garnish
2 tablespoons chopped parsley
3/4 cup heavy cream
Salt and fresh ground pepper
Grated parmesan
---
Instructions
1. Cook the linguine according to package directions until al dente.
2. Meanwhile, heat olive oil and one tablespoon butter over high heat. Add garlic and clams and cook for 3 minutes.
3. Pour in the white wine, scraping the bottom of the pan with spoon. Cook for 3-4 minutes until sauce is reduced. Add remaining butter and stir to melt.
4. Reduce heat and squeeze in the lemon juice. Sprinkle in parsley and add the cream.
5. Add salt and pepper. Thin sauce with clam juice if needed.
6. Pour pasta into heated bowl. Pour the sauce on straight from the skillet. Toss to combine, and garnish with lemon slices and parmesan cheese
---