Hello all my fellow Weight Watcher followers! I thought I'd start a new series post called Meal Prep Sunday. I'll break down the points for what I have for each meal of the day (more like 4 days a week) and share the recipes. For this weeks meal, I spent a total of around $40.00 for groceries. I'm getting pretty dang tired of having to go to the grocery store every other day to get ingredients for recipes and I'm spending way too much money on food. This is going to help me in the long run, and eventually I'll probably be able to cut my food costs in half.
My salads are all prepped and ready to go in storage containers a long with my cheese and eggs. At night I'll just have to reheat the stir fry in the microwave. No major dishes to clean up after this!
Breakfast
½ cup of cottage cheese (3 points)
1 hard boiled egg (2 points)
¼ teaspoon of Mrs. Dash seasoning or any other seasoning you like. (0 points)
I like this meal because because it has about 19 grams of protein and it's low carb.
Lunch
Low Sodium Taco Salad - (4 points)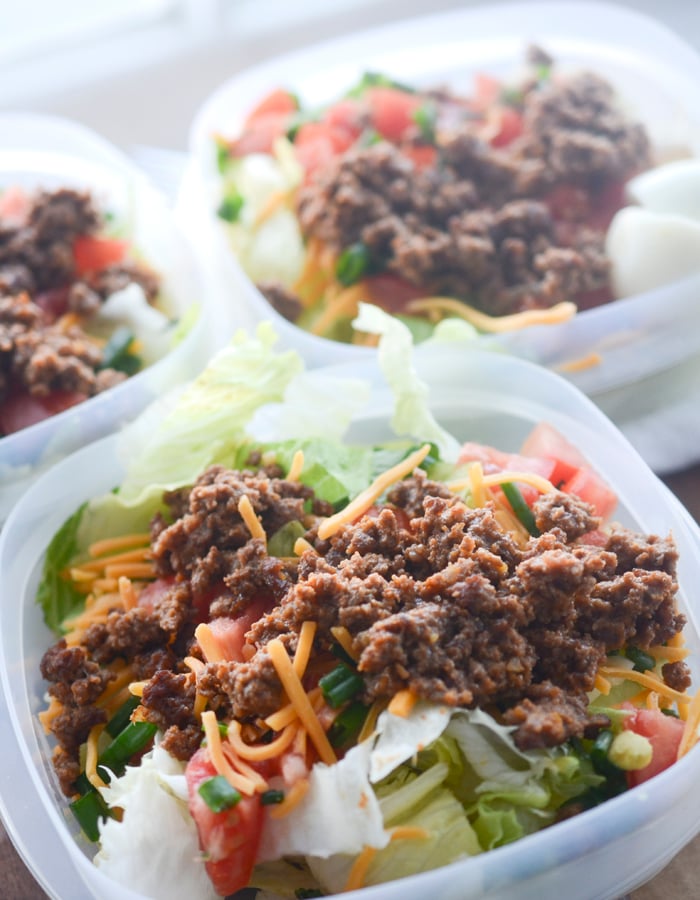 You can change this up how you like it. Add in some black beans or corn. Of course, that will be more extra points. I just like it simple. Lettuce, tomatoes, green onions, cheese, and ground beef.
Dinner
Beef Stir Fry (9 points) this is the first pic
This comes out to be 9 points with one cup of rice. There was a sale on steak and ground beef this week. Eggs were also on sale for .99 cents.
I'll have a piece of fruit in the morning for breakfast so that leaves me with about 11 points to have between lunch and dinner for snacks. I get 29 points a day.