A couple of weeks ago, I heard about the new Weight Watcher Free Style program on this Facebook page I'm a part of called Weight Watchers: Recipes & Tips. I share my recipes on that page as well. My first thought was oh great, another new plan. That means I have to go back and edit all of my recipes again. (you do what you got to do) Weight Watchers updates their program every 2 or 3 years it seems, it was bound to happen sooner or later right? At least one thing I liked about it was the smart points calculations are still the same for figuring out recipes. YAY. I'm really excited to go through some of my recipes and see how much lower in points some of them will be now. Especially my soup recipes.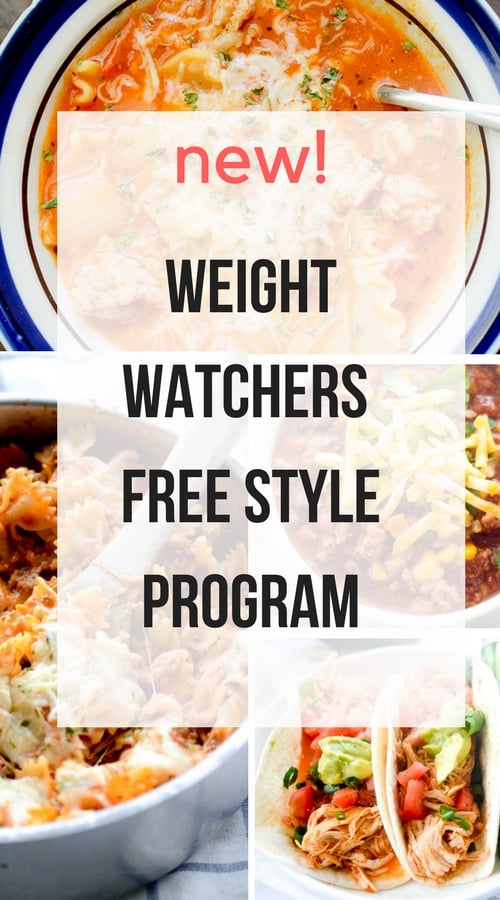 What has changed? Lean proteins are now zero points! Yay. Here is an updated list of all the new zero point food items.
New ZERO Point Food List (FREESTYLE)
Boneless skinless chicken breast
Boneless skinless turkey breast
Ground lean chicken
Ground lean turkey
Thin sliced deli chicken breast
Thin sliced deli turkey breast
All fish and shellfish (this does not include smoked or dried fish)
Canned fish that is packed in water or brine (i.e. canned tuna or canned salmon in water)
Tofu and smoked tofu
Quorn fillets, ground Quorn, and Quorn pieces (meat substitute)
Eggs
Nonfat plain regular and Greek yogurt
Plain soy yogurt
Fresh, frozen, and canned beans and lentils that are packed without oil or sugar (Lentils, chickpeas, black beans, pinto beans, kidney beans, split peas, soy beans, and more)
Fresh fruit and veggies are all still 0 points.
See my list of favorite zero point recipes here.
How many Smart Points do I get on FreeStyle?
Your daily Freestyle SmartPoints allowance will still be tied to your sex, weight, age, height, gender, your activity level and if you are nursing.
Members who previously were allowed 30 points on the SmartPoint program will now only be allowed 23 Freestyle points. However, with hundreds of zero-point foods, this lower number shouldn't be a problem.
If you should run out of points, remember that you still have your rollover, zero point foods, and lots of weekly points to use. Some people save those for the weekend and others use it throughout the week. For lunch or dinner, you can create a salad with 2 cups of lettuce, a handful of grape tomatoes, a sliced hard-boiled egg, and 3 ounces of chopped grilled skinless chicken breast, and a spritz of lemon juice, all for no points. Or you can have a lean protein with your choice of steamed veggies for 0 points. There are so, so, many options out there.
You can head on over to Healthy Weight Forum to figure out how many points you get. They have a pretty accurate calculator here healthyweightforum.org
How points for food are calculated:
Weight Watchers Freestyle is similar to to the previous SmartPoints plan but focuses on making healthier choices. To figure out points for food, they use these 4 items.
Calories
Saturated Fats
Sugar
Protein
Any foods higher in saturated fats and sugar will cost you more points. That is why a lot of people on WW freestyle like to eat sugar-free foods. Foods higher in protein will be much lower than highly saturated fats and sugar based food.
WW Online App
I love the WW online app because it has so many helpful and cool features to help with weight loss. I pay $20.00 a month for my app. A lot of people think that is expensive but check your health insurance first. They might be able to pay for a portion of the cost depending on your insurance. If you are on the fence about purchasing this think about what is more important, and that is your health! Sure you can try to figure out everything on your own for free but trust me, this is the most accurate way to do WW. Or go to their meetings.
Restaurants Points finder
If you scroll down to the bottom of your daily points page, there is an explore section. Tap the restaurant link and it will take you to a page that lists SmartPoints and Restaurant name. These are just 2 different options you can use to find low point foods at your favorite restaurant. Very helpful for when eating out and not knowing what to get.
Recipe Builder
This is by far one of my favorite features on the WW Online App, next to the bar code scanner. I use it to figure out the smart points on the recipes that you see on this page. You can enter in the ingredients to any recipe that you find on your favorite recipe and it will tell you how many points that is. Please do not go by the nutrition info found on recipe websites. This does not take into effect any zero point foods found in the recipe.
Bar Code Scanner
I highly recommend signing up for the online APP that WW has because there are many handy features on that app. I LOVE the bar code scanner. You can use it at the grocery store to scan bar codes on all the items to find lower point food. I used the bar code scanner to find low point granola for my breakfast parfait which is only 2 smart points per serving and many other low point foods at Wal-Mart, Aldi's, grocery stores, Costco, Trader Joe's, etc.
How to estimate points: 
For every 100 calories, Add 3 SmartPoints
For every 4 grams of saturated fat, Add 1 SmartPoint
For every 8 grams of sugar, Add 1 SmartPoint
For every 10 grams of protein, Subtract 1 SmartPoint
What I like about the new FreeStyle Plan
This new plan makes me choose to eat healthier and cook more! If you don't own an Instant Pot I would definitely get one now. I just recently got an Instant Pot and one of the reasons I got one was to start cooking healthier. They can cook zero point foods such as eggs, fish, and yogurt in minutes. If you have frozen chicken on hand and never took some out just place it in the Instant Pot and it will be done in less than 10 minutes! I've been trying to eat less meat and seeing beans and lentils are 0 points now that is pretty great! Air Fryers are also great for making healthy meals as well.
If you crave food like pizza there are plenty of recipes out there to use if following WW Freestyle plan. Check out the recipe for 2 Ingredient Dough. There are so many different ways you can use this dough which calls for equal parts greek yogurt and self-rising flour. Think you can't enjoy pizza while trying to lose weight? Then you're wrong. 🙂
What I don't like:
Fruit and veggies are zero points but when they are blended they do count. If you make a smoothie you have to use the recipe builder app and count it as a drink. There is a check mark for that below where you enter in the instructions for the recipe. If you enter in the ingredients for the smoothie in your points for the day page, then sure they will not count as blended fruit. See WW explanation for this on their page. Some people count the blended fruit and some people don't and I think it's kind of bogus that most of your day will be used up in points if you count a smoothie as a blended drink. This is one reason why I choose to do both WW and count calories at the same time. You can still count calories and have a smoothie and not blow your whole entire days worth of points.
Since sugar and saturated fats are higher point foods people choose to use more fat-free and sugar-free foods. My digestive system does not like sugar-free substitutes and I eat foods with sugar free substitutes in little amounts as possible. Some recipes you see here on this blog call for sugar-free or fat-free options and WW makes it totally doable to enjoy regular foods that aren't sugar-free or fat-free with all the zero point options available out there. If you don't like to use those types of replacements.
More WW Freestyle Articles:
Easy Zero Point Recipes for Weight Watchers
Weight Watchers Low Point Soup Recipes
15 + Weight Watcher Recipe Sites and Blogs
100 Weight Watcher Casserole Recipes with Points
50 Delicious Chicken Dinner Recipes for Weight Watchers