Pumpkin cookies do not have to wait until the Fall to be made.  You can make them any time of year if you keep canned pumpkin stocked in your pantry.  I tend to start busting out the pumpkin recipes towards the end of August, how bout you? 
August is a fun month because you start to see all the stores and restaurants push out their line of Fall products. I love Bath and Body Works especially with their Fall line of candles. A lot of them are repeats most of the time with just a different design on the candle but dang, it still smells good right?
This recipe was originally posted back in 2013. It has been recently updated with better instructions to help you achieve the perfect pumpkin cookies. If you think 2 cups of butter and 2 cups of sugar is a lot remember, this recipe makes 4 dozen. That's a lot of cookies.
If you like pumpkin recipes try Pumpkin Cake Roll Recipe, Pumpkin Muffins with Chocolate Chips, 5 Easy Recipes with Cake Mix and Canned Pumpkin.
Jump to:
Ingredients Needed
Butter, softened - is the most commonly used type of butter in baking, as it allows for more control over the amount of salt in the recipe.
Granulated sugar - Or  regular granulated sugar, I do not use sugar substitutes in any of my recipes but if you know the conversions feel free to do so
Baking powder -  is a leavening agent used in many baked goods, such as cakes, muffins, and biscuits. It is made up of a combination of baking soda, cream of tartar, and sometimes cornstarch.
Baking soda - also known as sodium bicarbonate, is a white crystalline powder that is commonly used in baking as a leavening agent
Ground cinnamon - is a spice that comes from the inner bark of several trees from the genus Cinnamomum.
Ground nutmeg - is a seed or ground spice of several species of the genus Myristica. It is rich in antioxidants and helps protect against signs of aging. 
Eggs -
Vanilla - It is made by macerating and soaking vanilla beans in a mixture of water and Vodka. Use a good pure vanilla instead of the imitation vanilla extract.
Pumpkin - is a versatile ingredient that can be used in a wide variety of recipes, from sweet to savory. Made from cooked and mashed pumpkin, it is commonly used in baking and cooking to add a rich, creamy texture and a subtle sweetness.
All-purpose flour - is a type of wheat flour that is commonly used in cooking and baking. It is versatile and can be used for a variety of recipes, including bread, cakes, cookies, and pastries.
Frosting:
Brown sugar - Is made by combining granulated white sugar with molasses, which gives it a brown color and a slightly different taste than regular white sugar.
Milk - Dairy does not like me at all so I go for a lactose free milk such as Fairlife. It also has more protein in it.
Powdered sugar - Is also known as confectioner's sugar or icing sugar, it is a finely ground sugar that is commonly used in baking and dessert making.
See the recipe card below for a full list of ingredients and measurements.
How to Make Pumpkin Cookies
Preheat oven to 350 degrees.
In a large bowl beat the 2 cups of softened butter with sugar using an electric hand mixer on medium speed for 30 seconds. Next add the eggs, vanilla, and pumpkin and continue beating until well combined.
In another bowl whisk together the baking powder, baking soda, salt, cinnamon, nutmeg, and flour, until well combined.
Gradually add in the flour mixture to the wet ingredients in step 1, 1 cup at a time until everything is well incorporated.
Drop dough by heaping teaspoons 2 inches apart on ungreased cookie sheets. Bake for 10 to 12 minutes or until tops is set. Transfer to wire racks to cool.
For the frosting, in a small saucepan heat the ½ cup butter and brown sugar until melted and smooth. Transfer to a medium bowl. Stir in milk and 1 teaspoon of vanilla. Beat in powdered sugar until smooth. Spread frosting on cookies. Sprinkle with additional cinnamon if desired.
Serving Size: 1 cookie 
Other No-Bake Recipes
Easy Pumpkin Pie Cinnamon Rolls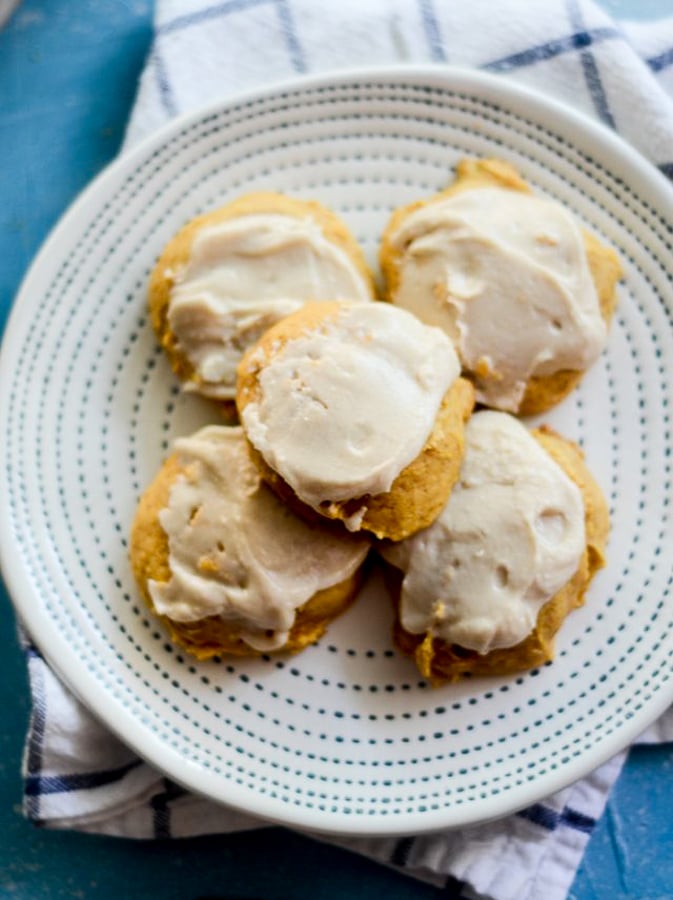 If you tried this  Frosted Pumpkin Cookies  any other recipe on my website, please please leave a 🌟 star rating and let me know how you go in the 📝 comments below. I love hearing from you! Follow along on Tiktok @jennarecipediaries
Print
Pumpkin Cookies
---
Author:

Jenna

Yield:

4

dozen

1

x
Scale
Ingredients
2 cups

butter, softened

2 cups

granulated sugar

2 teaspoons

baking powder

2 teaspoons

baking soda

1 teaspoon

salt

1 teaspoon

ground cinnamon

1 teaspoon

ground nutmeg

2

eggs

2 teaspoons

vanilla

1

15-ounce can pumpkin

4 cups

all-purpose flour
Frosting:
½ cup

butter

½ cup

packed brown sugar

¼ cup

milk

1 teaspoon

vanilla

3

to

4

cups powdered sugar
ground cinnamon sprinkled on top
---
Instructions
Preheat oven to 350 degrees.
In a large bowl beat the 2 cups of softened butter with sugar using an electric hand mixer on medium speed for 30 seconds. Next add the eggs, vanilla, and pumpkin and continue beating until well combined.
In another bowl whisk together the baking powder, baking soda, salt, cinnamon, nutmeg, and flour, until well combined.
Gradually add in the flour mixture to the wet ingredients in step 1, 1 cup at a time until everything is well incorporated.
Drop dough by heaping teaspoons 2 inches apart on ungreased cookie sheets. Bake for 10 to 12 minutes or until tops is set. Transfer to wire racks to cool.
For the frosting, in a small saucepan heat the ½ cup butter and brown sugar until melted and smooth. Transfer to a medium bowl. Stir in milk and 1 teaspoon of vanilla. Beat in powdered sugar until smooth. Spread frosting on cookies. Sprinkle with additional cinnamon if desired.
Serving Size: 1 cookie
Notes
myWW points: Blue  7; Green 7;  Purple  7
Nutrition
Serving Size:

1 cookie

Calories:

200.6g

Sugar:

18.3g

Fat:

10g

Saturated Fat:

6.1g

Carbohydrates:

27g

Fiber:

.6g

Protein:

1.6g