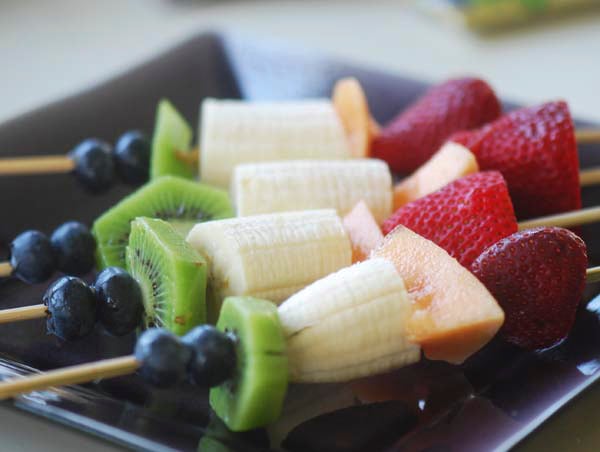 Two things I've been noticing a lot on the internet lately. Rainbow this and Funfetti that. I've seen rainbow layered cakes, rainbow jello, rainbow cupcakes, and popsicles. I really like the look of them and have been noticing gradient colored cakes too. If you ate a rainbow cake for dessert would your urine be ty-dyed in the morning??? 😉
If you're interested, check out my rainbow cupcakes and how to make your own food coloring.
These fruit kabobs are so fun and would make a great summer treat. Just make sure you have a different colored piece of fruit for every part of the rainbow. I used strawberry, cantelope, banana, kiwi, and bluberries for mine. I would have used pineapple for the yellow color, but none of the pineapples at the store were very fresh that day. Plus, if you're doing Weight Watchers all fruit is 0 points!
Rainbow colored pancakes at Tablespoon (where I saw the kabobs)