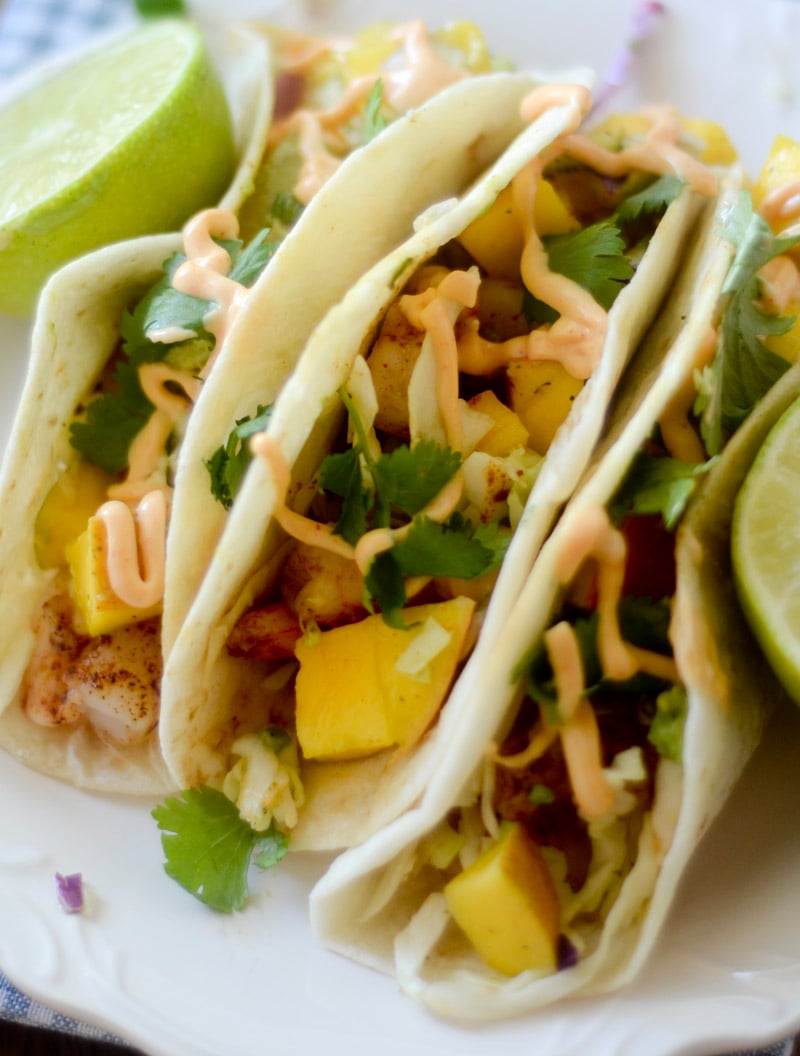 This is a recipe inspired by a lot of recipes and combined into one. Bobby Flay wins for the longest recipe title ever: Grilled Fish Tacos with Avocado Relish, Smoky Tomato-Greek Yogurt Crema, and Red Cabbage-Citrus Slaw. 🙂 If you want to see this title in action you can click here for the full recipe. He made that on his show this weekend. I always end up wanting whatever he makes on his show because everything looks SO GOOD. He is an iron chef after all.
What I ended up doing was making the red cabbage citrus slaw dressing and put that on top of a bag of pre-shredded coleslaw with carrots at the grocery store. You HAVE to make this salad dressing and try that. I'm so lazy and I never feel like buying those big heads of cabbage for only 2 people. That would end up going to waste. I've never been a fan of coleslaw cause it was just a mayo-based dressing on top of that. Not anymore with this dressing. Thai Peanut Dressing is also good on top of coleslaw.
I used the rub Bobby Flay made for his fish tacos and put that on some shrimp. Then, I toasted the flour tortillas in a skillet with a little oil and topped this off with some Sriracha mayo with lemon. Best tacos ever.
How to Make Shrimp Tacos
To print the full recipe please see the recipe card below.
Put the lemon juice, orange juice, honey, mustard, basil and some salt and pepper in a blender and blend until smooth. With the motor running, drizzle in the canola oil until emulsified. Toss on coleslaw with chopped mango and avocado. You do not need all dressing, just to your liking.
Brush the top of the shrimp with canola oil, and sprinkle them with salt, pepper and about 3 tablespoons of the spice rub. Let stand for 5 minutes, then grill the shrimp, spice-side down, over direct heat until the fish is lightly charred and comes away from the grill easily, about 2 minutes. Flip and cook another 2 minutes to sear on the reverse side. Move the shrimp over indirect heat, cover the grill, and cook until the fish is just cooked through, another 3 to 4 minutes; the shrimp should be just firm when squeezed lightly on the sides. Remove the shrimp to a platter and let rest for a few minutes.
Grill the flour tortillas on the until toasted.
Assemble the tacos. Shrimp and then cabbage mango slaw on top. Use whatever kind of sauce you like on top.
Serving size: 1 taco
Other Recipes to Try
Air Fryer Garlic Parmesan Knots
Trisha Yearwood's Charleston Cheese Dip
If you've tried this Shrimp Tacos with Mango Citrus Slaw recipe or any other recipe on the site, let me know in the comment section how it turned out. Snap a picture and upload it to Pinterest.
Print
Shrimp Tacos with Mango Citrus Slaw
---
Scale
Ingredients
For the Citrus Dressing:
¼ cup of lemon juice

¼ cup orange juice

2 tablespoons clover honey

2 tablespoons Dijon mustard

¼ cup fresh basil leaves, chopped

Salt and freshly ground black pepper

½ cup canola oil

1 bag of preshredded coleslaw with carrots

1 mango diced

1 avocado diced
For the Shrimp Rub:
3 tablespoons ancho chile powder

1 teaspoon ground cinnamon

1 teaspoon ground cumin

1 teaspoon kosher salt

1 teaspoon light brown sugar

½ teaspoon ground black pepper

25 Jumbo Shrimp

Canola Oil or Cooking Spray

8 Flour Tortillas
---
Instructions
Put the lemon juice, orange juice, honey, mustard, basil and some salt and pepper in a blender and blend until smooth. With the motor running, drizzle in the canola oil until emulsified. Toss on coleslaw with chopped mango and avocado. You do not need all dressing, just to your liking.
Brush the top of the shrimp with canola oil, and sprinkle them with salt, pepper and about 3 tablespoons of the spice rub. Let stand for 5 minutes, then grill the shrimp, spice-side down, over direct heat until the fish is lightly charred and comes away from the grill easily, about 2 minutes. Flip and cook another 2 minutes to sear on the reverse side. Move the shrimp over indirect heat, cover the grill, and cook until the fish is just cooked through, another 3 to 4 minutes; the shrimp should be just firm when squeezed lightly on the sides. Remove the shrimp to a platter and let rest for a few minutes.
Grill the flour tortillas on the until toasted.
Assemble the tacos. Shrimp and then cabbage mango slaw on top. Use whatever kind of sauce you like on top.
Serving size: 1 taco 
---
Notes
myWW points: Blue 7; Green 7;  Purple 7
Nutrition
Serving Size:

1 taco

Calories:

269

Fat:

8.5

Carbohydrates:

42g

Fiber:

5.2

Protein:

9